News
Chucky: Child's Play TV Series Will Explore Doll's Origin
The Child's Play franchise will live on as a Chucky TV series on Syfy.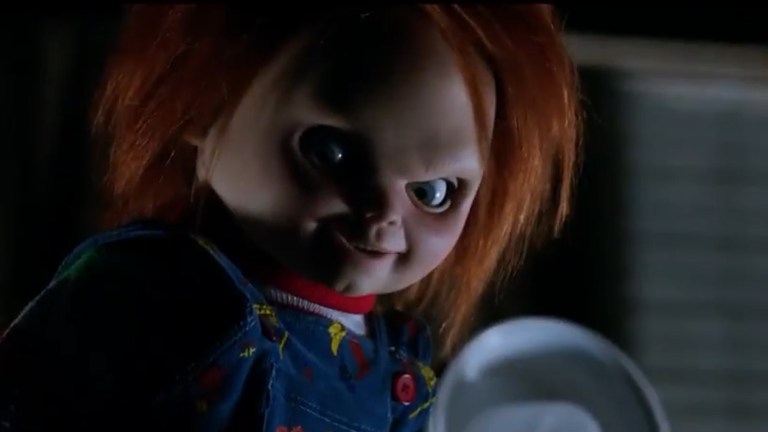 When you think about the '80s horror franchise heavy hitters, your brain instinctively goes for A Nightmare on Elm Street, Friday the 13th, or Halloween. But we've long argued over here that pound for pound, and entry for entry, the Child's Play franchise deserves to stand alongside those titans of horror movie culture, and that Chucky, the extremely disturbing doll possessed by the spirit of serial killer Charles Lee Ray, is as worthy of your stabs as Freddy Krueger, Jason Voorhees, or Michael Myers. 
ANYWAY, known for a while that Syfy has been working on a Chucky TV series set in the universe of the original films not that recent reboot. But the network has gone a step forward and ordered Chucky straight to series. They've also revealed some details about the premise of the show, and it sounds like we're going to learn more about Chucky's history than we ever knew we wanted.
Here's the official synopsis, courtesy of Syfy:
"After a vintage Chucky doll turns up at a suburban yard sale, an idyllic American town is thrown into chaos as a series of horrifying murders begin to expose the town's hypocrisies and secrets. Meanwhile, the arrival of enemies — and allies — from Chucky's past threatens to expose the truth behind the killings, as well as the demon doll's untold origins as a seemingly ordinary child who somehow became this notorious monster."
Don Mancini (the steward of much of Chucky's fate through the years) will executive produce alongside David Kirschner (who produced the original films), Nick Antosca (The Act, Channel Zero), and Harley Peyton (Twin Peaks, Channel Zero). Mancini will serve a showrunner and will direct the first episode.
"The character Don and David created has terrified audiences for over 30 years. The longevity and legacy of Chucky speaks to the creative storytelling and the loyal fans the film series has collected over the years," said Chris McCumber, President, Entertainment Networks – USA & SYFY in a statement. "We are excited to once again partner with Nick and UCP on this new SYFY series, and are incredibly proud to bring Chucky to television for the first time with the original creators."
There's no word yet on when to expect the Chucky TV series, but we figure the earliest (and most appropriate) time would be in October. We'll update this with more information as it becomes available.
Mike Cecchini is the Editor in Chief of Den of Geek. You can read more of his work here. Follow him on Twitter @wayoutstuff.
Read and download the Den of Geek Lost in Space Special Edition Magazine right here!