Reviews
Chilling Adventures Of Sabrina spoiler-free season 3 review
Chilling Adventures of Sabrina season 3 is another winning season of magical mischief for Netflix, says Den Of Geek US...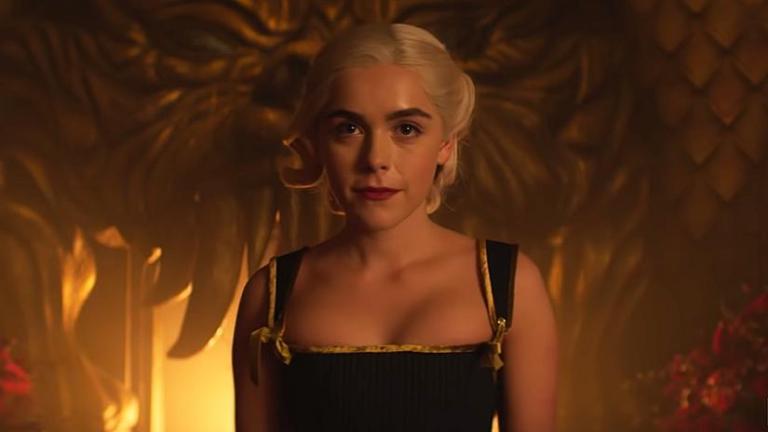 This Chilling Adventures of Sabrina review contains no spoilers, except for some information that was presented in the series' trailers. It is based on all eight episodes of season 3 that were made available to critics.
"It can't be all hell, all the time."
Maintaining a healthy work/life balance is difficult if you are a mere mortal, so imagine being Satan's daughter. Such is the driving theme of Chilling Adventures Of Sabrina's breakneck third season, a joyful romp that propels the series' characters forward while heightening the pull our lead feels between her earthly existence and her hellish responsibilities.
Picking up where last season left off, this latest round of adventures has Sabrina (Kiernan Shipka, now imbuing the role with a much-needed dose of sly humour) desperate to rescue boyfriend Nicholas Scratch (Gavin Leatherwood, who gets a promotion to lead character) from the depths of hell. But things aren't that simple. Hell is in turmoil under the leadership of Lilith (Michelle Gomez, dazzling as ever), and Nick has become her sort of Satanic pet – even as an internal struggle rages on between him and Lucifer Morningstar (Luke Cook).
Solving this problem sets in motion a conflict that spans the course of the entire season, namely that Sabrina finds herself battling for control of the underworld with Caliban (Sam Cortlett) – a hunky Prince of Hell who is "sculpted from clay from the City of Pandemonium." Sure, why not. Naturally sparks between Sabrina and Caliban fly, resulting in more than a little hellish tension. The trouble is that Sabrina, more than ever, wants to live a normal teen life, even going so far as to join Baxter High's cheerleading squad. (A move that results in some goofy musical sequences that are the closest this show has ever gotten to its unofficial sister series, Riverdale).
Or does she?
Sabrina's desire to have her cake and get devilish too remains the series' biggest issue. The battle between her mortal and witch sides has always been a recurring storyline in the show – one that has been danced around more than once. Wisely, however, the program's writing staff faces this head-on throughout the season, leading to a game-changing finale that I'm still not sure is genius or ridiculous. (Probably both, which makes it all the more enjoyable really).
While Sabrina is contending with all of that, life in Greendale continues on as normal … which is to say crammed with supernatural mayhem. Enter a Something Wicked This Way Comes coterie of carnival workers who are, gasp, not what they seem. Their arrival threatens not only the growing relationship between Harvey (Ross Lynch) and Roz (Jaz Sinclair), but the town's coven, and, naturally, the world as we know it.
Although Sabrina's storyline is understandingly the dominating focus of this season, most of the series' supporting characters get rewarding stories of their own. With Father Blackwood (Richard Coyne) on the run, Zelda (Miranda Otto) struggles to give the Academy of Unseen Arts and the Church of Night a new purpose now that they have rejected Satan. Elsewhere, Ambrose (Chance Perdomo) and Prudence (Tati Gabrielle) spend the early part of the season growing close during their shared pursuit of Blackwood, and Hilda (Lucy Davis) continues to forge her own path of independence away from her sister … with monstrous results.
Unfortunately, the arrival of so many new characters this season means that some of our leads find their plotlines backburnered somewhat. Impacted the most is Father Blackwood, whose role this time around is more limited than previous seasons. Yet, what his appearances lack in quantity is more than are made up for by the seismic ways that his actions influence the events of the season and what will occur in Chilling Adventures Of Sabrina's already announced fourth part (to be aired at a yet-to-be-announced later date this year).
Although Michelle Gomez plays two characters – Lilith and Ms. Wardell, who struggles to discover exactly what happened to her – her appearances feel less impactful than in previous seasons. Gomez remains as ever this series' MVP, so admittedly perhaps this is due to the position her characters find themselves in this time around. Theo (Lachlan Watson) gets his own opportunity to shine thanks to a new romance, but of all the leads he gets the least to do, which is a shame given how important this character is to the LGBTQ community.
With only eight episodes to this season, there isn't a minute of wasted screentime. (In other words, don't expect any of the sluggishness that has become the unfortunate calling card of most Netflix series). This isn't always for the best. Big emotional moments sometimes aren't given the time they need to breathe, and the motives of the evil carnies aren't nearly explored as deeply as they should be.
When the season premieres on Friday we will have detailed, spoiler-packed reviews of each episode, as well as an easter Egg guide and other articles providing you the deepest dive into all things Chilling Adventures Of Sabrina possible. But for now know that Sabrina is back and better than ever, and TV is all the better for it.
Chilling Adventures Of Sabrina season three lands on Netflix on Friday the 24th of January.