Reviews
Brooklyn Nine-Nine Season 7 Episode 10 Review: Admiral Peralta
Jake deals with his daddy issues and his daddy's daddy issues on the latest Brooklyn Nine-Nine.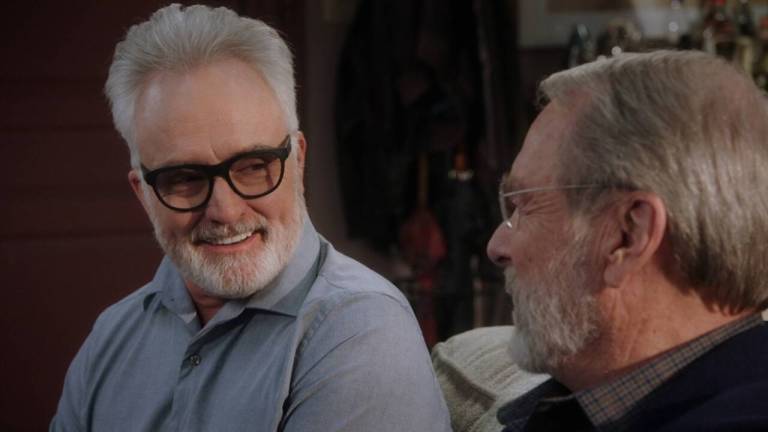 This BROOKLYN NINE-NINE review contains spoilers.
Brooklyn Nine-Nine Season 7 Episode 10
After the excellent, season-best episode "Trying," the Jake-Amy pregnancy storyline has been doled out pretty awkwardly. For instance, after finding out that they're pregnant one episode after "Trying" at the end of "Ding Dong," it takes until this week's episode "Admiral Peralta" for Jake and Amy to tell the rest of the Nine-Nine. Fittingly, the cast reacts with little fanfare, but only because they've noticed Amy trying to hide her figure, a nice in-joke about Melissa Fumero doing the same throughout this season to hide her real-life pregnancy. Perhaps some episodes were reshuffled, and I'm not suggesting that the pregnancy storyline should take over the entire season, it's just that the timing of how it's been deployed has felt unnatural.
Anyway, "Admiral Peralta" centers on Jake trying to reunite his father and grandfather on the day of his forthcoming child's gender-reveal party. Bradley Whitford is always fun when he pops up as Roger Peralta and adding esteemed character actor Martin Mull to the mix is a casting coup. Roger suggests to Jake that if his child is a boy, that the Peralta curse will damn them to have a terrible relationship like every other Peralta father and son. To reverse the curse, Jake attempts to get the pair to fix their rift. Both men behave like monsters, but eventually with the help of Bruce Willis' parenting book Cry Hard with a Vengeance, the duo start to bond.
Unfortunately, during an impromptu game of catch, they destroy the cake meant to reveal the gender of Jake and Amy's child. Boyle, mistaken as Jake's butler, arrives on the scene to help try to repair things, but instead of blue or pink cake, Amy cuts into the dessert to reveal the color green. In all of the blaming and hubbub, Roger cuts off his thumb yet again, after doing the same during Season 5's "Two Turkeys." Even if Roger and his Dad didn't quite make amends, the whole affair at least brings Jake and his dad closer together. Amy eventually finds out the gender of her child at work, after Scully eats Jake's replacement cake. The whole gender-reveal party thing is worthy of disdain, and I hope everyone has their party's ruined by a Scully.
The B-plot, involving the ADA putting pressure on Amy to solve a B&E case that she regretfully handed to Hitchcock and Scully, had a lot potential, but kind of just fizzled out. Hitchcock and Scully took the testimony of a witness, but didn't take down a name or contact info. Instead of just regular Hitchcock and Scully incompetence, it turns out that the partners didn't take contact info for the witness because they were an undocumented immigrant. The story pretty much ends there, with Amy "punishing" the pair with a paid week suspension.
That said, the C-plot is much more entertaining. After the NYPD band loses their flutist, Terry decides to audition. Knowing that Holt has a great ear for classical music, Terry asks him to coach him for his audition. This leads to Holt training Terry whiplash style, being overly aggressive and insulting. Terry ends up getting the gig without even having to play a single note, making Holt's intense training even more pointless. The writers have really done a wonderful job this season giving Holt a ton of material that really brings out his eccentricity.
All in all, despite the appearance of Whitford and Mull, this is a pretty unmemorable episode of Brooklyn Nine-Nine. Not bad, not particularly good, just sort of by the numbers. Next week, Brooklyn Nine-Nine's episode is titled "Valloweaster" promising some sort of Halloween-Heist hybrid episode. Odds are it will be much more satisfying than this installment.