News
Briarpatch: Release Date, Trailer and Details on New Series from Mr. Robot's Sam Esmail
Luke Cage's Rosario Dawson stars in Briarpatch, a USA Network TV series developed by Mr. Robot's Sam Esmail.
Rosario Dawson cemented her exit from Netflix's street-level Marvel shows in 2018; a move that proved prescient with the subsequent cancellation of Luke Cage, Iron Fist, The Punisher, Daredevil and Jessica Jones. Having moved on, Dawson is starring on USA Network crime anthology series Briarpatch, which adapts the 1984 Ross Thomas novel of the same name.
The series is developed by Esmail Corp. and Anonymous Content, the companies of Sam Esmail, the creator of USA Network's hit Internet age series, Mr. Robot. Dawson headlines as Allegra "Pick" Dill, a Washington, DC-based investigator and political fixer who is drawn back to her Texas home town after the car-bomb-caused murder of her decade-younger sister, who was a homicide detective. Back in the Lone Star State, Allegra will field a perilous investigation that will dig a up a dangerous past that's close to home in every conceivable way.
You can check out our advance Briarpatch review and get the details below!
Briarpatch Release Date
Briarpatch premieres on the USA Network on Thursday, February 6.
The network screened the first two episodes during the Toronto International Film Festival, which was held from September 5-15, 2019.
Briarpatch Trailer
Here are some of USA Network's Briapatch trailers.
Briarpatch Photos
The first images from Briarpatch have arrived (via TIFF), showing Dawson's Allegra hustling for justice and… petting a giraffe for some reason.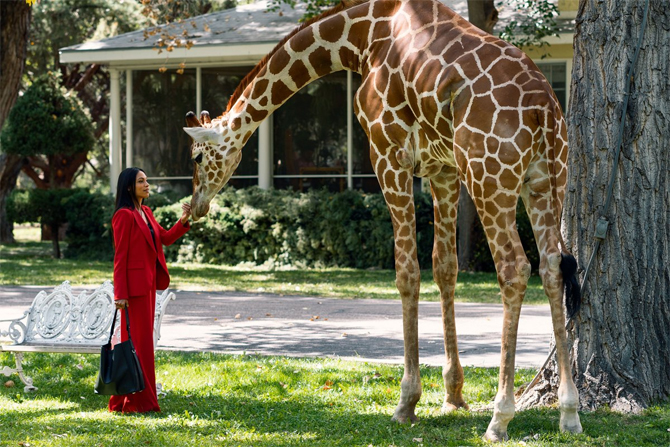 Briarpatch Cast
Here's what's known about Briarpatch's confirmed lineup.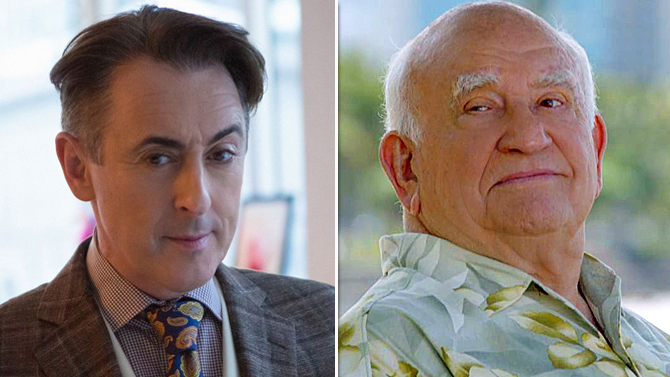 Alan Cumming plays Clyde Brattle, officially described as "an elegant, charming, and murderous arms dealer. Currently a fugitive and the target of a senatorial investigation run by Dill, he arrives in town to wreak havoc and settle some old scores." Cumming, the veteran English actor, has been fielding TV runs for CBS as of late, notably on crime-solver series Instinct and The Good Wife, also known from several films, notably remembered for his role as Nightcrawler in 2003's X2: X-Men United and 1995 Bond breakthrough GoldenEye.  
Ed Asner plays James Staghorne Sr., "the President and owner of the town's only newspaper, The Chronicle. Staghorne Sr. never bothers to hide his racism and resentment and deigns only to speak to his son Jimmy Jr. – unless someone sets off his powerful temper." Asner – who became a household name in the '70s as paper editor Lou Grant on The Mary Tyler Moore Show, from which he starred in a spinoff series – remains as busy as ever at age 89, with several film and TV roles lined up. Amongst an array of roles, he recently fielded runs on Netflix series Dead to Me, and played Johnny's father on YouTube Premium's Cobra Kai, and even fielded a guest role on DC Universe's Doom Patrol. Posterity will also remember him as the voice of the lovably ornery Carl in Disney-Pixar's 2009 feature, Up.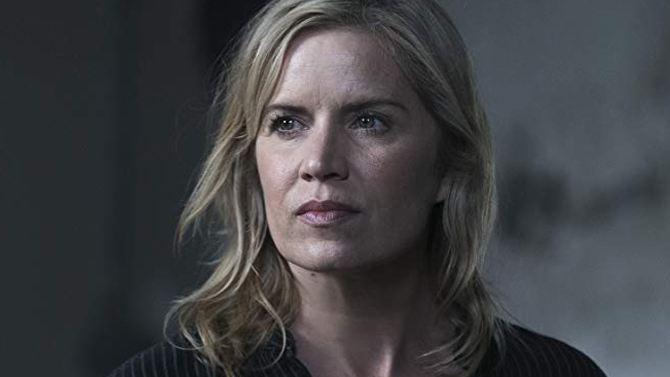 Kim Dickens plays Chief of Police Eve Raytek, who Deadline's report described as "an authoritative firecracker who is committed to finding out who killed Allegra's (Dawson) sister. She's a boot-stomping good old girl who's used to operating in an all-male environment. She knows how to do a shot, read a room and get things done."
Of course, Dickens comes off a run on AMC small screen franchise spinoff Fear the Walking Dead, on which she portrayed main character Madison Clark up until the middle of 2018's Season 4, during which the maternal maimer of zombies was (as far as we know,) killed in a sacrificial explosion. She recently reprised her classic series role as Joanie Stubbs in HBO's Deadwood TV movie, and appeared in Netflix's Kevin Costner/Woody Harrelson-headlined movie, The Highwaymen. She's also fielded runs on shows like Netflix's House of Cards, HBO's Treme and ABC's Lost, amongst film roles in Gone Girl, Footloose (2011), The Blind Side, Thank You for Smoking, Red and Hollow Man.
Briarpatch is an interesting turn for its star, Rosario Dawson, who's banked quite a career, having made her debut in director Larry Clark's controversial 1995 teen drama, Kids, with breakout roles in 2002's Men in Black II and 2005's Rent, amongst myriad high-profile projects that followed. Yet, the last few years of Dawson's career have been dominated by the role of embattled nurse Claire Temple on Netflix Marvel shows Daredevil, Jessica Jones, Luke Cage, Iron Fist and The Defenders. However, those who caught her run on Luke Cage Season 2 know that Claire – who's been Luke's love interest – had enough of the chaos and finally split, potentially leaving New York (and the Netflix Marvel shows,) permanently. Dawson also recently landed the starring role in HBO Max television pilot DMZ, an adaptation of a DC/Vertigo comic book, directed by Ava DuVernay.
The Briarpatch cast also consists of Jay R. Ferguson (The Conners, Twin Peaks: The Return), Brian Geraghty (The Alienist, Chicago P.D.) and Edi Gathegi (StartUp, X-Men: First Class).
Briarpatch Details
Briarpatch adapts the 1984 novel of the same name by Ross Thomas. The book won the Edgar Award for Best Novel in 1985. Besides the obvious change of time setting and context, the series gender-swaps the story's protagonist, Ben "Pick" Dill, for Rosario Dawson's Allegra "Pick" Dill. However, the motivation to find justice for the killing of the character's sister remains the same.
The TV project was among a slew of television projects announced for USA's slate back in April 2018, which notably included Jason Bourne series spinoff Treadstone.
Dawson also serves as an executive producer on Briarpatch, joined in that capacity by the Mr. Robot creator, Esmail, via Esmail Corp. and Anonymous Content's Chad Hamilton. Additionally, serving as scriptwriter and executive producer is Andy Greenwald, a producer on FX's Legion, who also hosts Mr. Robot aftershow Hacking Robot. French helmer Yann Demange serves as director, known for U.K. television work on Top Boy, Criminal Justice and Secret Diary of a Call Girl, as well as the Matthew McConaughey-starring crime movie, White Boy Rick.
As Chris McCumber, President of Entertainment Networks at NBCUniversal Cable Entertainment, expresses in the statement announcing the show's pickup:
"When we were first introduced to the anthology by Andy Greenwald, UCP and Paramount Television, we were immediately struck by the show's unique tone and captivating story." He adds, "And Sam Esmail's incomparable vision and style, coupled with Rosario Dawson's tremendous performance as Allegra Dill, will no doubt leave audiences buzzing."
Last fall, Briarpatch was temporarily affected by an outside narrative connected to the field of presidential candidates. Star Rosario Dawson is dating one such candidate, New Jersey Senator Corey Booker, but when her public appearances with him had lessened, speculation of a breakup arose. However, Dawson revealed that the absences were related to her work (shooting Briarpatch,) which mostly took her away from the campaign trail. Of course, this became a moot point once Booker bowed out of the race.
Joseph Baxter is a contributor for Den of Geek and Syfy Wire. You can find his work here. Follow him on Twitter @josbaxter.