Features
Blood of Zeus Season 2: What to Expect
Netflix's Blood of Zeus tackles Greek mythology in an exciting and unique way, but here's what lies ahead in the show's bloody future.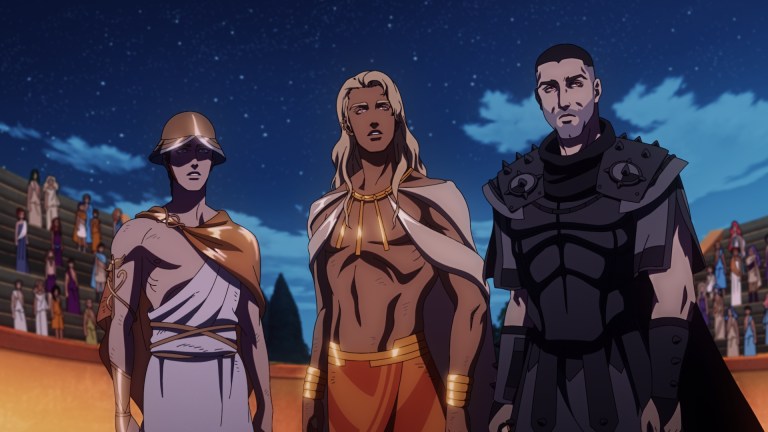 Netflix has taken up more of an interest in animated series for mature audiences and Blood of Zeus is one of the most enjoyable results. The epic show comes from Charley and Vlas Parlapanides and it explores a "lost chapter" of Greek mythology where the bastard child of Zeus, Heron, learns about his roots and tries to embrace his birthright as a hero. 
Blood of Zeus is a staggering achievement in terms of its chaotic animation and fight choreography as well as its take on the subject matter. The show's first season tells a strong story that sees Heron and several other important figures vie for power at Mount Olympus. A second season hasn't officially been confirmed, but there are several threads from the first batch of episodes that indicate where Blood of Zeus plans to go.
Heron's Godly Powers
The entire first season of Blood of Zeus revolves around Heron's knowledge of his connection to Zeus and if he'll grow up to be the kind of hero that can properly follow in the footsteps of his father or any of the other Gods in his inner circle. Blood of Zeus' season finale sees Heron face his toughest challenges yet and in his battle against Seraphim he finally taps into his Godly abilities and unleashes a flurry of thunder and lightning that's reminiscent of Zeus' own abilities.
Heron now knows for sure that he's a demigod and has such powers at his disposal, so it makes sense that the next season will look at his efforts to better understand and master these abilities. At this point it seems as if Heron's God powers are randomly triggered through stress and he has a long way to go until he's as skilled as some of the other forces on Mount Olympus.
A New Ruler For Mount Olympus
Blood of Zeus concludes on the surprising note that Hera actually succeeds in her vindictive scheme and is able to kill Zeus. The first season finale is very caught up in the battle itself and doesn't get the time to look at the power vacuum that Zeus' absence causes, but there's going to need to be a new ruler among the Gods. Heron is a descendant of Zeus and it seems like he's being groomed to be a candidate, but he's still incredibly fresh to all of this.
It'd be premature to put Heron in charge of Olympus and it'd honestly make him a target among the rest of the Gods. However, other characters, like Heron's brother, Apollo, seem like more natural fits to be Olympus' new leader. Apollo has put in his dues and is also instrumental in the war against the Giants that takes place. Season two could even involve some kind of feats of strength that are specifically designed to crown the new ruler of Mount Olympus.
Seraphim In The Underworld 
The most compelling storyline that's teased in Blood of Zeus' season finale is where Seraphim ends up. Seraphim's arc through Blood of Zeus is arguably even richer than what Heron experiences. Their climactic fight ends in Seraphim's death, but a post-credits scene indicates that Seraphim is far from finished. Seraphim appears as a spirit in the Underworld and becomes a new pawn for Hades. It's ironic that Seraphim shifts from being one lunatic's puppet only to become someone else's tool. 
Clearly Hades had big plans against the Gods and he wants to make Seraphim a crucial part of that. Seraphim's resentment towards these deities is also stronger than ever after his fight with Heron. There are several moments during the first season that provide an odd amount of focus to elements of the Underworld and it seems like the purpose is to pay these elements off in what's to come. It wouldn't even be out of place for Blood of Zeus to turn the tables and make Seraphim more of the protagonist in season two in order to provide a unique perspective to everything that's taken place so far.
The Return Of Hera And The Giants 
Blood of Zeus features many antagonists and dangerous obstacles over the course of its first season, but it's Hera who turns out to be the evil mastermind that's responsible for most of this drama. The threat of Hera appears to be over, but her fate isn't as definite as Zeus' and it's possible that Hera is just waiting for the right moment to strike back. Whoever does become Mount Olympus' new leader should be prepared for Hera's inevitable return. Similarly, the Giants are another major force of opposition for the Gods, but the season resolves the drama with them along with Hera.
There's such a rich history and eternal sense of animosity between the Gods and the Giants that it'd be truly surprising if they don't return in some capacity. Season one teases the idea of alliances between these ultimate powers for the sake of a greater good, so perhaps season two will bring back both Hera and the Giants, but as reluctant allies. Blood of Zeus has a lot of options for what it can do with these characters and its story, but they're sure to push themselves and Greek mythology to some ambitious and exciting places.
Blood of Zeus is currently available to stream on Netflix.