Reviews
Big Mouth Season 2 Review (Spoiler Free)
Big Mouth's second season gets even more comfortable in its skin and embraces the weirdness of adolescence that made Season 1 so fun.
This is a spoiler free review.
"Sex is so complicated…"
Puberty is a confusing, disorienting, and overwhelming experience, but it gets easier and more comfortable over time. Curiously, this is not dissimilar from the second season of Big Mouth, Netflix's wild animated ride through budding sexuality. 
The crude animated series is still figuring things out, but its new season is more refined as the show gets a little more comfortable in its own skin and continues to find its (cracking) voice, just like Nick, Andrew, and the other children here who are making their way through puberty. The first season of Big Mouth set a high standard for the series, but its sophomore year does not disappoint and it finds an even greater confidence in its storytelling. So buckle in for more shame spirals and messy learning experiences with the most awkward, hormonal kids in animated comedy!
Big Mouth's first season introduced its characters and the audience to bold ideas like Hormone Monsters, but even though they've become a little savvier, they're far from in control of their bodies. Big Mouth allows its characters to age along with the show, which means that they're now dealing with slightly new issues as they get older each year. This approach makes sense for a show that deals with a topic that evolves as much as puberty. The show's second season operates within that interesting space where children are a little comfortable with their bodies and they're not totally foreign to them anymore, but there are still plenty of complicated changes on the horizon.
Season two of Big Mouth feels like it shifts its focus over onto Nick a little more than Andrew, but it hardly abandons one for the other. It makes for an appreciated subtle balance in character dynamics. On that note, Jessi also gets a huge boost and focus this year and the show's gender divide becomes a lot more equal this season. That's not to say that this was terribly skewed last season, but there were just more males in the cast. This season features a very even balance between the guys' and girls' material, plus the introduction of Gina (Gina Rodriguez) also goes a long ways this year. 
The show's first season opened up Pandora's box of hormones to its cast, but this year looks at how many people go through puberty at different speeds. In this sense, these kids can all deal with these new changes together, but also be on their own solo paths. Accordingly, Big Mouth's second season throws many Hormone Monsters into action in order to represent the varied shades of puberty. There's even a baby Hormone Monster named Tyler (who John Gemberling plays to perfection). Andrew's Hormone Monster, Maury is a great foil, but he's far from alone this season.
Season two of Big Mouth tackles an impressive amount with everything from developing breasts, to early drug experimentation, to the friend zone qualifying as fair game. Even more serious issues like neglectful parents and divorce get attention, from both the angle of the parents and the children. Big Mouth effectively and honestly taps into all of these very real experiences from youth and this remains a show that should be watched by adolescent children. This is a great show for adults, but it's a phenomenal show for growing kids.
This season also drastically ups its game by how it approachesactual sexual dysfunctions and explores more fringe issues to help de-stigmatize certain sexual disorders. It's encouraging to see this show become even more inclusive as it goes on. Both Coach Steve's stunted development and Jay's broken home are put under the microscope in very sensitive ways that provoke empathy but are also seriously funny. Another winning addition to the series this year is the manipulative Shame Wizard (David Thewlis). This new entity appears when someone gets caught in an embarrassing hormonal act.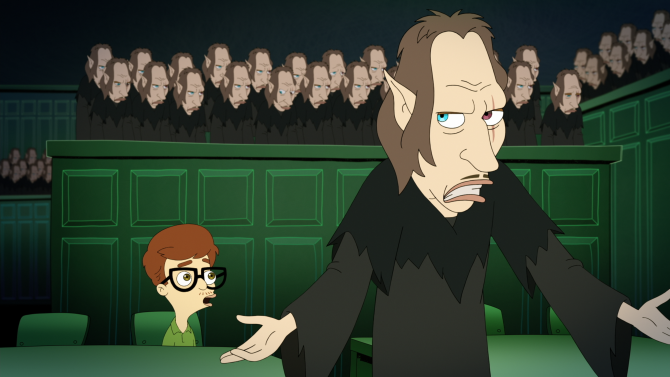 The Shame Wizard creates guilt over sexual acts, rather than celebrate them like the Hormone Monster. He also pushes these characters to their deepest lows and gets them at their most vulnerable, like how we all feel at certain times. However, what's important here is that shame is a necessary part of puberty and this unusual character helps the children realize this. The Shame Wizard's introduction also means that Big Mouth will hopefully introduce more weird monsters as the show continues; perhaps a new one each season. 
As Nick, Andrew, and Jessi continue to figure out their bodies, the series also attempts a few bolder experiments with structure and style this season. There's a brilliant Star Trek-inspired parody about Planned Parenthood that digs into sexual education and negotiating sexual urban legends from reality. It's a real standout episode that feels like a big risk on the show's part, but one that's absolutely worth pursuing. It's episodes like this that really help the show grow and become more than just a funny animated series.
The new season alsofeatures a handful of more crazy musical numbers that cover very unconventional, yet surprisingly helpful topics on the sexual spectrum. Rest assured, there are still plenty of surreal non-sequiturs and outlandish gags. The series also relishes whenever it can break the fourth wall and get particularly meta, but it's always in a way that's clever and doesn't distract. This is still just a show that wants to celebrate the beautiful nature of bodies and their many differences as people begin to get more comfortable with sex and life. The season culminates in an inspiring fashion where sexual honesty and courage results in acceptance rather than ridicule. 
Big Mouth's second season proves that its first year was far from a fluke and that the series is in no shortage of stories to tell. At first glance this new season feels less groundbreaking than the first, but it trades that for a greater confidence and a stronger idea of what the series is. The show is still one of the best places to find super sharp scripts, simple but fluid animation, and superb voice performances with a cast that clearly has too much fun in these roles (Kroll really gets to let loose this season). This season even makes some strong additions to the writing staff, like the incorporation of Alex Rubens (Community, Rick and Morty). This finely tuned machine only becomes more finely tuned this season. 
Big Mouth maintains its reputation as an unpredictable, uproarious piece of comedy that will hopefully see a long life. Even if this show somehow manages to not be to your liking, it's a cartoon that just wants people to accept and embrace themselves. It's hard to be upset with a show that has that as its message. 
Now Netflix just has to greenlight a Bad Mitten six-episode limited series spin-off between seasons two and three, please.
Big Mouth's entire second season premieres on Netflix on October 6.
This review is based on all ten half-hour episodes of Big Mouth's second season.
Daniel Kurland is a published writer, comedian, and critic whose work can be read on Den of Geek, Vulture, Bloody Disgusting, and ScreenRant. Daniel knows that the owls are not what they seem, that Psycho II is better than the original, and he's always game to discuss Space Dandy. His perma-neurotic thought process can be followed at @DanielKurlansky.