News
Better Call Saul Season 6 Episode 7: Finale Release Time and Season Recap
The midseason finale of Better Call Saul's final season is almost upon us. Here's a reminder of what's happened up until this point.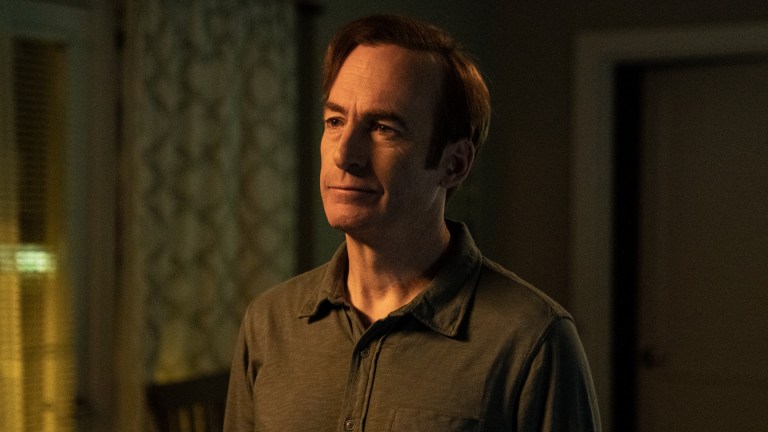 This article contains spoilers for Better Call Saul season 6.
Wait a minute, the Better Call Saul midseason premiere is here already? It feels like just yesterday that Jimmy McGill a.k.a. Saul Goodman returned for the final season of the Breaking Bad prequel. Yes, these six weeks since the April 18 premiere have flown by and now we're on the verge of Better Call Saul season 6 episode 7 "Plan and Execution."
This won't be the final ever episode of Better Call Saul. The series is set to begin its final batch of six episodes this summer, beginning July 11. But "Plan and Execution" will be both the first and only midseason finale of the series run and the long-awaited culmination of Jimmy and Kim's devious plan for Howard Hamlin. With all that in store for audiences, take a moment to find out when episode 7 will air and catch up on all of season 6's action below.
When Does Better Call Saul Season 6 Episode 7 Come Out?
Better Call Saul season 6 episode 7 "Plan and Execution" will premiere May 23 at 9 p.m. ET on cable network AMC and its streaming service AMC+. The episode will air until 10:10 p.m. (including commercials) and then an encore will start once again at 10:10 p.m. Episodes are typically available to stream on AMC.com for cable subscribers the morning after.
Better Call Saul Season 6 Recap
Need a quick refresher on everything that has happened in Better Call Saul season 6 so far? We've got you covered!
Jimmy and Kim's Plot for Howard
The majority of Better Call Saul season 6 has dealt with Jimmy and Kim preparing to follow through on their plan to frame their rival Howard Hamlin for "something unforgivable." What exactly does that plan entail? Well, no one has told us yet. We made our best guess over here as to what's in store for Howard in the finale, but here is an abbreviated version of what Jimmy and Kim have done so far.
Within the first two episodes of the season, Jimmy and Kim start the process of ruining Howard's reputation with his colleague Cliff Main. Jimmy plants a baggie of fake cocaine in Howard's locker for Cliff to find and then convinces the unwitting Kettlemans that Howard has a drug problem, a fact that they immediately tattle to Cliff about.
It takes something major, however, to convince Cliff that Howard abuses cocaine and that moment comes in episode four. Jimmy throws on a spray tan, steals Howard's easily identifiable car, and then makes a show of throwing a sex worker out of said car right in front of Cliff.
All of this is just the start to Jimmy and Kim's plan though. The big finale of it is set to come in what they've dubbed "D-Day" which will occur in the midseason finale. That will involve mediation on the Sandpiper lawsuit, impersonating a judge, and God knows what else.
Gus and Mike Batten Down the Hatches
For the most part, Better Call Saul's story has always been neatly divided between what's going on in Jimmy's legal world and what's going on in Gus and Mike's criminal underworld. Save for one notable exception in which Mike pays Kim a visit, that separation remains the case in season 6. So what's going on with Gus and Mike this season? Not a hell of a whole lot! And that's by design.
In the two-part season premiere, Gus discovers that his plan to have Lalo killed in his home in Mexico succeeding in killing pretty much everyone…except Lalo. Thanks to Hector Salamanca's odd behavior, Gus and Mike know for sure that Lalo is still out there, plotting his revenge. That reality has caused Gus and his team to go on high lockdown. Gus goes to his job at Los Pollos Hermanos or his heavily fortified home and pretty much nowhere else. Mike has his "guys" constantly surveilling every single property associated with Mike, Gus, and everyone else in their orbit.
This paranoid state of affairs can't last forever and it will all certainly come to a head in the midseason finale.
Lalo's Investigation
Though Gus fears that Lalo could appear to enact his revenge at any moment, the Salamanca family's suavest member has elected to be more deliberate in how he approaches things. While he was fully prepared to cross the border at the end of the Better Call Saul premiere, a phone call with his uncle Hector convinces Lalo that he needs proof of Gus's treachery before making a move.
The search for that proof takes Lalo to Germany where he meets with meth superlab contractor Werner Ziegler's wife Margarethe and then later on with one of Werner's workers. It's with that worker in Lalo's thrall in a remote barn in the German countryside that we leave Lalo before the midseason finale.
R.I.P. Nacho Varga
One character who we know is unlikely to turn up in "Plan and Execution" is poor Nacho Varga. After several seasons spent surviving by the skin of his teeth, Nacho finally succumbs to the inevitable in season 6 episode 3. The Salamancas want him dead and Gus Fring needs him dead for merely practical reasons. Outlasting and outrunning one cartel family might be doable, but two? Forget it.
Nacho opts to align himself with the cartel member who he knows will give him the more merciful death and who will make sure his father stays safe. And that's how our boy goes out: on his feet, exonerating Gus for Lalo's murder, while also spitting in the Salamanca's faces.