Reviews
Better Call Saul Season 6 Episode 6 Review: Axe and Grind
Kim's destiny starts to seem more clear but Better Call Saul season 6 is still holding too many cards close to its vest.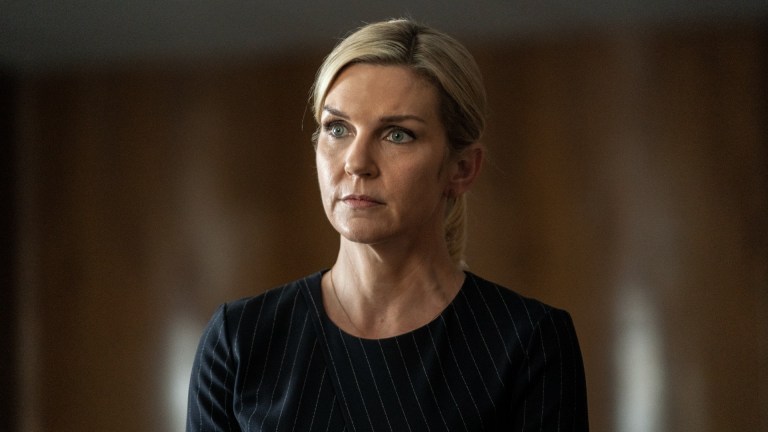 This Better Call Saul review contains spoilers.
Better Call Saul Season 6 Episode 6
Some people need to learn the hard way, and that means sometimes getting caught can be a blessing. If an authority figure or the law can check your bad behavior early, perhaps it can keep that behavior from leveling up an unhealthy notch, reaching an extreme, or skidding off the rails entirely. If Walter White had been busted on his first cook, maybe that ultimately would have been better for him and his family. He would have likely done some time, sure, but think of all the collateral damage and emotional turmoil that could have been avoided. Consequences can keep things from spiraling out of control.
For the first time since Better Call Saul has begun, I think I know where Kim Wexler's story is headed. There's still plenty of time for a swerve to take place and for the writers to surprise me, but it seems like Kim's last-minute double back from Santa Fe, where a legitimate chance at a spiritually fulfilling dream job waits, back to Albuquerque symbolizes a road that will lead to her downfall. Whatever plan Kim has concocted against Howard seems poised to end in disaster, for either Kim's reputation, her status as a lawyer, or maybe her freedom.
The cold open for "Axe and Grind" shows that Kim has had a history getting away with things. Maybe if Kim had a more traditional mother figure, not one that would pretend to be angry at some shoplifting just to get her daughter out of trouble, but one who actually wanted to "nip this in the bud," she'd have been scared straight enough to never attempt anything legally dubious again. It appears that Kim's upbringing is what has made her empathetic to society's most vulnerable individuals, but it also reveals why she might be attracted to Jimmy and his cons. It's a brilliantly revealing scene and Beth Hoyt is once again so believable, in appearance, voice, and mannerism as Kim's mom.
If only the rest of the episode could have been as good. Don't get me wrong; there's nothing particularly off about "Axe and Grind," but as the third languid episode in three weeks, it's a bit of a frustrating, teasing watch. We still know so little about Kim and Jimmy's plan, and while I think it will all be revealed next week, it's hard to be as invested in moments like Jimmy discovering Casimiro's broken arm when we're not quite sure where the man fits into anything. Withholding information is fine — just look at a show like Severance — it's just that with such a limited time left in the show's run, three episodes light on plot movement feels like a lot.
In this episode, we learn that Jimmy has the call-in information for a Sandpiper conference call thanks to Francesca's reluctant participation, that Dr. Caldera has given Jimmy something that has dilated his pupils, that Jimmy's commercial crew is back to help him film a Casimiro impersonator, and very little else. Kim lands a dream meeting with the Jackson Mercer Foundation thanks to Cliff Main, and she reiterates her respect and admiration for Howard to help stifle any doubts about her involvement in any plot against Howard. Even Lalo, who's always good for a little action, visits a former member of Werner's crew in Germany, and while things get tense and bloody, we still must wait until next week to see what exactly Lalo learns. There are some brief moments of intrigue, like Caldera hinting at retirement and showing off his little black book, but the pacing over the last few episodes has been a little underwhelming.
That said, I'm not saying Better Call Saul should abandon its character-driven mindset in favor of breakneck plotting like Barry. One of the best moments of "Axe and Grind" is when we discover how Gus and Mike's paranoia about Lalo and their constant surveillance has impacted Mike's relationship with his family. Mike must watch his granddaughter play with her new telescope from a distance and lie about his location over the phone just to ensure the safety of Gus and their operation. The weariness in which Mike confirms that he'll be calling again the next night, the pain you can feel as he watches his granddaughter just out of reach, is the sort of thing this show does impeccably. I just wish there was a bit more action surrounding it.
It does appear that next week's midseason finale will answer many of the questions about Jimmy and Kim's scheme against Howard and hopefully "D-Day" lives up to not just our expectations, but Kim's as well, because she's given up a significant opportunity to see it through. Maybe if she had learned a lesson about stealing earrings, she wouldn't be in this predicament in the first place. Consequences matter, and I have a feeling that next week's episode will have many.