News
Batwoman Season 2 Trailer Shows Ryan Wilder Taking on "The Batman Rule"
The first trailer for Batwoman Season 2 gives us an idea of what to expect from the new guardian of Gotham, Javicia Leslie's Ryan Wilder.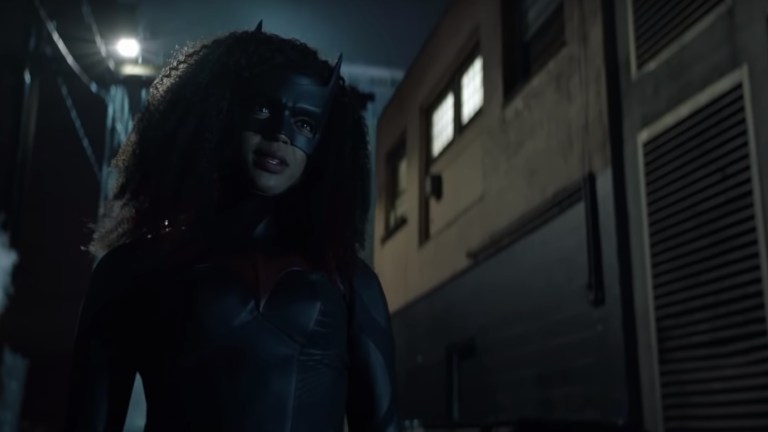 The Batwoman season 2 trailer is out, and while it's only about a minute long, it's chock full of new information to tease us until the premiere in January. There's always a build-up before a new season, but with the longer time gap and Javicia Leslie coming in to play a new Batwoman, this feels like an extra juicy hiatus.
We've seen some stills and behind the scenes footage, but this is our first proper introduction to Javicia's Batwoman – and our first peek at how the Batwoman writers will handle Kate Kane's absence. Let's dive in.
Check it out here…
Alice is still the queen of Batwoman
It doesn't matter that's she's technically a villain or that the show is named after someone else – Alice is clearly still the most magnetic thing happening on Batwoman, though Mary and Luke are giving her a run for her money. Her "twinkle, twinkle little bat" is a nice mix of creepy and somehow making us root for her harder. One of the biggest concerns with Ruby Rose leaving the show has been how it will impact the Alice-Kate sister dynamic.
Based on this trailer, it seems like Alice is still invested in taking on the new hero in town. Might she be even more vengeful of whoever steps into her sister's boots?
Alice still has plenty more irons in the fire. It seems like she's talking to other villains in some of her voiceover here, and there are plenty of options to choose from – other than Mouse, who she killed at the end of last season. Hush, who's now wearing a face that looks just like her cousin, Bruce Wayne? Safiya, who seems to be the only person she's afraid of? Or maybe someone entirely new? There are still more years in Alice's timeline that are unaccounted for, so I'm sure she'll keep finding ways to surprise us.
Whatever happened to Kate Kane?
Why yes, that is a Baby Jane reference. The memorial for Kate – prayer candles, flowers, the works – points to a Gotham in confusion and mourning. As Mary points out in the trailer and the many posters during some kind of rally illustrate, this city needs a hero.
In a way, this brings us back full circle to the show's premiere, which told the backstory of how Kate rose to the occasion after Batman disappeared mysteriously. The real question is, will the people of Gotham start to notice a pattern that for the second time, a millionaire playboi from the same family has mysteriously disappeared at the same time a member of the Bat Family did?
I'm guessing resident gossip columnist Vesper Fairchild (voiced by longtime Batwoman fan Rachel Maddow, dripping with gleeful irony) will float plenty of sordid theories. After all, to the outside world, Kate is a millionaire college drop-out going to parties with one hot woman after another while playing at being a real estate mogul.
Ryan Wilder gets powerful
The only real hint we have about what happened to Kate comes in the form of Ryan, who appears to find the bat suit by accident, down by the water. Maybe at the docks? It looks like Ryan carries the suit around a bit before deciding to put it on, fighting a little crime, and eventually tailoring it to better fit her. We briefly see the van she lives in – maybe this vantage point will allow her to see different people in Gotham who need rescuing.
It's not going to be an easy road for Wilder to become the new Batwoman. Kate's family and friends are in mourning in a big way, and it seems like they're going to be grieving both Kate and the Batwoman she was. Sophie is crying, Mary's sobbing in bed, Luke and Mary are hugging (OK it's not all bad – #HamilFox forever!) Luke Fox, for one, insists Kate is Batwoman. And he didn't enjoy it when Kate played with the gear, even after they got comfortable with each other, so I doubt he'll love Ryan's alterations.
Poor Commander Kane says he won't give up hope looking for his daughter – he now knows that he gave up on Beth too soon, which might make it impossible for him to ever stop looking for her twin, Kate.
But a huge highlight of the trailer is seeing the red Batmobile cruise down the streets, Ryan fighting in a school bus and dropping in from above to scare bad guys. There's a quick clip of her fighting and then a nice shot of her standing tall, ready to square off. Our Batwoman is here, y'all.
Will Ryan Wilder follow "the Batman Rule"?
It's a cardinal rule of the bat family: no killing. Yet hearing Luke Fox say it to Ryan in the trailer, it sounds less like an FYI about a company policy and more like he's talking someone off the ledge, or considering kicking them out of the top spot. Does this mean Ryan Wilder kills someone, wants to, or comes close?
At the end of last season, Kate Kane killed the man who abused Beth, the single human most responsible for bringing about her change to Alice. It was manipulative and hard to watch, and Kate was devastated. It felt like seeing her find her way back to herself and find her honor code not from a place of superiority but from real human failure was going to be a highlight of season 2. Perhaps the writers agreed and decided to find a way to salvage that story line with a new Batwoman?
Whatever way the writers go, Batwoman has long been a flawed character working on some serious soul-searching.