News
Batwoman Episode 19 Introduces Hush
Gabriel Mann will return as Tommy Elliot on Batwoman, but this time he's going the full Hush.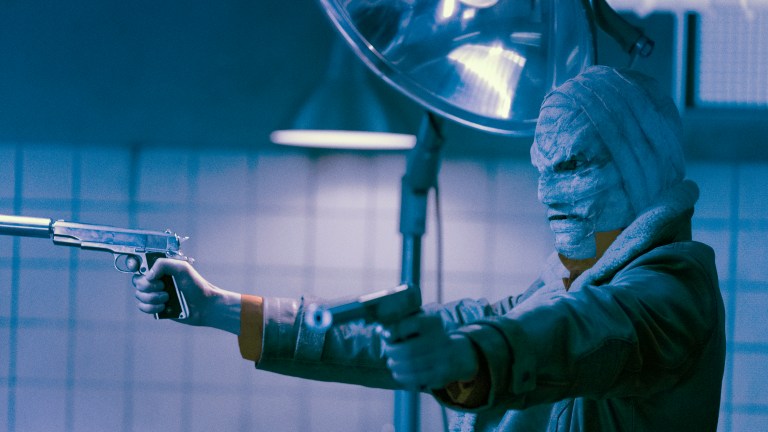 Batwoman has spent most of its season playing around with villains primarily specific to Kate Kane and her world. The show often alludes to some of the biggest, most recognizable Batman villains associated with her more famous cousin, but it hasn't waded into bringing any of them to the screen. And really, most attempts at traditional "villain of the week" stuff would just be overshadowed by the brilliance of Rachel Skarsten's Alice anyway. But that's about to change next week when Tommy Elliot goes full Hush.
That's right, Gabriel Mann is about to return as Tommy Elliot, but this time with a face full of bandages and a trenchcoat. In other words, Tommy Elliot is now Hush. And really, he couldn't possibly look any cooler than he does here. This is a significant upgrade from the Tommy Elliot we met in Batwoman episode 3, "Down, Down, Down."
Hush will make his first "official" appearance in Batwoman episode 19, "A Secret Kept From All The Rest." Here's the official synopsis, which we realize never actually refers to Tommy as Hush: 
"When members of Gotham's intelligentsia begin disappearing, Commander Kane (Dougray Scott), Sophie (Meagan Tandy) and the Crows go searching for the newest homicidal threat to the city.  In the meantime, Kate (Ruby Rose) is consumed with someone's betrayal and starts questioning the loyalty of everyone around her just when she needs them most. So when Luke (Camrus Johnson) and Julia (guest star Christina Wolfe) go missing, Batwoman must rely on Mary (Nicole Kang) and a former foe to deploy her rescue mission.  Meanwhile, Alice (Rachel Skarsten) enlists Tommy Elliot (guest star Gabriel Mann) to help acquire an elusive item that her sister also seeks."
And while that synopsis was careful not to mention Tommy as Hush, this trailer for the episode sure does!
Hush was created by Jeph Loeb and Jim Lee and first appeared in Batman #608 in 2002 in a hugely influential and popular story arc that bore his name. Since then the character has reappeared several times in the comics, and is one of the few modern Batvillains who has started to get some name recognition that could rival big guns like Joker, Penguin, Catwoman, Riddler, and Two-Face, having appeared in video games, animated series, and live action.
Gabriel Mann isn't the first actor to play Tommy Elliot, with the character also having shown up on Gotham a handful of times (played by Cole Vallis and later Gordon Winarick). However, neither of those gentlemen got to don the bandages and cool coat. He was voiced by Maury Sterling in the animated adaptation of that original comics story as well, which can be found on the DC Universe streaming service.
Batwoman episode 19, "A Secret Kept From All The Rest" airs on May 10 at 8 pm on the CW.