Reviews
Avenue 5 Review (Spoiler-Free)
The makers of Veep bring human error to outer space as Avenue 5 takes off on a three year mission.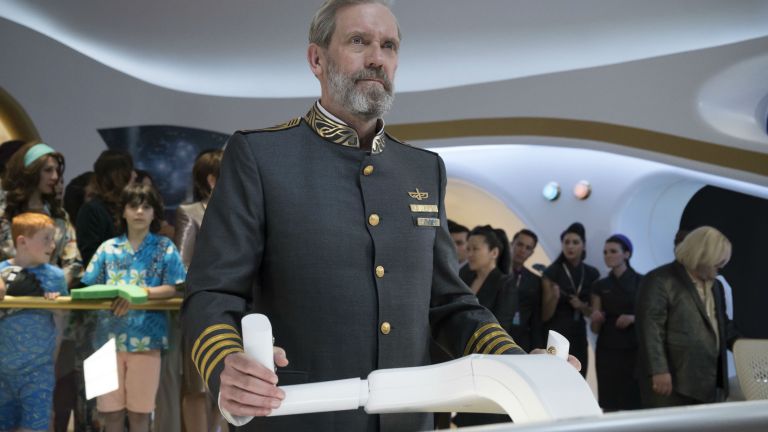 This Avenue 5 review contains no spoilers.
Set your phasers on fun when you watch Armando Iannucci's new HBO series Avenue 5. While it may not be quite the replacement for Veep as it intends, it is as effectively improved over "Avenue 3" as Plan 9 from Outer Space was better than the previous eight plans which were dropped for cult classic status. The series will not be as weighty as the cutting political satire of Veep, but weight factors heavily into the show's arc. Captain Ryan Clark, played by Hugh Laurie, is a lightweight skipper on a recreational space vehicle.
Space tourism is finally reaching America. Next year, NASA will let private citizens walk around the International Space Station. It will cost about $35,000 a day and is being done in cooperation with Elon Musk and Boeing. Until now, you had to taxi to the space stations through a Russian Soyuz spacecraft. Musk has been promising orbits around the moon for a few years now, and there's a good chance a short orbit will be almost affordable to rich people by 2060. Avenue 5 is set when orbital vacations are a burgeoning industry which could still be derailed by one minor catastrophe.
The science fiction comedy is an interplanetary ride on the S.S. Poseidon with Gilligan and the Skipper at the helm. The millionaires and wives come on board expecting a short cruise around our neighboring planets and wind up traversing the solar system. When Star Trek first launched, the crew anticipated an ambitious five year mission exploring strange new worlds and new civilizations. The series only lasted three seasons before the network grounded the enterprise. In Avenue 5, the crew expects to run for an eight week vacation and is equipped with everything to make it feel like home until a routine gravity flip yanks them off course into a three year trajectory.
The actual incident which messes with the travel plans is spectacular. It is terrifying and painfully funny. It is Land of the Giants mixed with The Poseidon Adventure. Families are tossed to and fro across the decks like rag dolls in a dryer. Even the children's bouncy room becomes a plushy toy death trap. The high point of the most physical of humor happens in the most relaxing of safe zones, a hot stone massage room. The rocks become projectiles against naked and vulnerable flesh. It is both cruel and unusual, in the most subtle of their combinations. But it is the corporate mastermind who both sums up the experience best and gives the pilot episode its title: "I was Flying."
Josh Gad plays Herman Judd, the smirking face behind the Avenue 5 project. He is basically playing Elon Musk riding his own Interplanetary Transport System with a few passengers he can ignore at whim. He is a fully self-aware genius. He is so sure of his intellectual superiority he creates scientific fact by sheer will. "Red lights in the dining area will increase meat sale. That's science," he declares before consigning a menial worker to check to make sure it really is science. At another point he disproves an engineering fact by asking "who's the genius here?"
read more: The Best TV Shows of the Decade
Suzy Nakamura plays Iris Kimura, Judd's senior advisor on board. She is his fixer, and what she can't fix, she fires. Her mantra is "who fucked up?" and she keeps a good balance between what is important, her boss and his shareholders. She is basically a translator for whatever utterance he dictates as command. Rav Mulcair (Nikki Amuka-Bird) heads the Judd Mission Control on Earth. She is overworked and under-caffeinated. She's the go-between with the representative from NASA, who takes every slight very personally. Ethan Phillips plays former astronaut Spike Martin. We get the feeling he might be one of the people the crew could go to for expert guidance after the new orbit has been established. He was, after all, the first Canadian on Mars. But he's a little too quick to offer his expertise. One kid on board has him completely pegged when he misdirects Spike in the complete opposite direction of all the young, attractive mothers on board.
Zach Woods (The Office, Silicon Valley) plays Matt Spencer, the head of passenger services. By the fourth episode we realize he really should never be allowed to talk to people, under pretty much any circumstance. He begins making passengers' lives miserable long before the actual catastrophe gives him a chance to say what he really thinks: That all the passengers are un-enjoyable and crimping his style. Matt is a nihilist who was trained to check the soap, not to fix the basic problems of human nature. This is his final cruise before he gets an Earth-based senior position and his solution dispensary is beyond dry. He routinely gives bad advice, cold comfort and smoldering scorn to the world at large. A soon-to-be-divorced couple, played by Kyle Bornheimer and Jessica St. Clair, comes to him to clear up sleeping arrangements and he responds with a video word association game which accentuates the negatives with comic book simplicity.
The passenger with the most complaints, Karen Kelly, played by Rebecca Front, is actually, technically a stowaway but she rises to both become the voice of the passengers and the passenger's vessel to the captain, who immediately sees her value and co-opts her. Kelly soon has to con the passengers the same way she conned her way into a non-transferable ticket and every closed-door meeting she crashes. At one point she dispenses the bad news about a miscalculation by saying to the crowd she was offered five years and she held out for three, as if it science played by some kind of rules of mediation.
The whole vacation is initially presented like a ride at Disney World. It's a small world, after all, and this is a very large Space Mountain to climb. So when the whirling teacup derails, the guests threaten to become unruly, but it doesn't really go beyond threats, at least until about the fourth episode when the last serving of tiramisu is misses the doggie bag and we realize the food supply is finite in the infinity of  space.
Before the gravity yank, the crew congratulates minor events with historic significance. They note a recent group yoga class was the biggest ever in the history of interstellar posturing, that history is, of course, still in its infancy. After the gravity flip, the only member of the crews who has any real utilitarian experience, the enigmatic Joe, is no longer useful. Billie McEvoy (Lenora Crichlow) is second engineer, which makes her the one in charge after Joe's screwdriver incident. She's not the most comforting public speaker, but she does inspire the confidence you don't quite find in the skipper.
Hugh Laurie plays against type by playing into it. He usually infuses his characters with an extreme competence, albeit a dour one even in his most comedic performances. Here he is very good at his job, he inspires cool confidence while doing it, but his job is not what we think it is and when he loses his cool, it is wholly unexpected and entirely funny. Captain Ryan Clark is dashing and picturesque. But he's really a uniformed bell boy on Thomas the Tank Engines tracks. Not quite Ringo Starr, and by no means George Carlin, Laurie drives his own comic path on the trajectory of Avenue 5. He goes from the kind of guy you'd leave limbless because he can handle it to an erect fetal position in search of a thumb to suck in the space of a sentence.
read more – Westworld Season 3: Everything You Need to Know
When Clark completely loses his cool we should give up on him but we don't because he is still quite good at the job he was actually hired to do. Pretend to man a Disney ride on a steady and locked course. He is the first to admit he's out of his depth, and he's the first to come up with ways to deal with the fallout. He even takes a nickname from the fallout. The ship is protected from radiation by a shield of shit, human excrement, which forms a shield around the self-driving spaceship. This is science, and Clark studies up to be prepared for further improv.
The one-liners are nowhere near the rapid-fire delivery system employed by Veep. They come at a measured pace, without any desperation. The insults the characters hurl at each other, the knock downs, are more subtle, less like a mallet to a kneecap. All the characters have annoying quirks, except maybe McAvoy, who is obviously the best chance the ship has of survival. Based on the first four episodes, the Avenue 5 catastrophe could deteriorate into a classic comedy of errors which can easily run the three years promised, and beyond if the situation gets worse, or even better. Iannucci consistently finds failure in the falsest of hopes, especially when the final numbers are run, and the miscalculations don't add up.
Avenue 5 premieres Sunday, Jan. 19 at 10 p.m. on HBO.
Culture Editor Tony Sokol cut his teeth on the wire services and also wrote and produced New York City's Vampyr Theatre and the rock opera AssassiNation: We Killed JFK. Read more of his work here or find him on Twitter @tsokol.
Read and download the Den of Geek Lost in Space Special Edition Magazine right here!