Features
Avenue 5 and the Secret of the Big Episode 1 Twist
The first episode of HBO's Avenue 5 is built on a huge secret that not even the cast was let in on at first.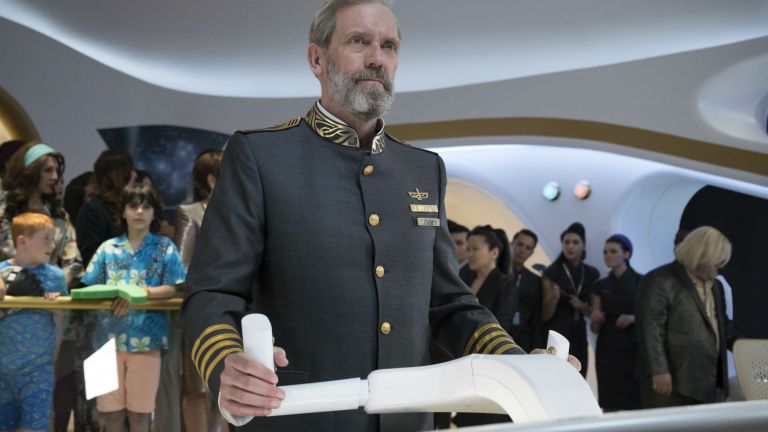 This article contains major Avenue 5 spoilers. If you haven't watched Avenue 5 episode one then think twice before you keep reading. We have a spoiler free review here.
Now that the first episode of Armando Iannucci's highly-anticipated Veep follow up Avenue 5 has hit HBO, let's talk about that massive twist. The show has been sold since its very first trailer as a Hugh Laurie vehicle which would see the beloved House actor taking on the vital role of Captain of the titular spaceship which gets stuck in the outer realms of the galaxy after a cosmically silly disaster. If you've watched Avenue 5 episode one you'll know that's not exactly the case. In fact, Iannucci used your expectations of Laurie and his authoritative American accent to play one of the funniest and most meta TV pranks in a while. 
After the deep space commercial cruiser gets flung off course, the 5000 passengers and crew are horrified and obviously turn to the calming, deep voice of Laurie's Captain Ryan who reassures everyone that everything will be okay. But in a hilarious third act reveal, Ryan shares a deep dark secret with the Judd corporation's CEO Herman (Josh Gad), his assistant Iris (Suzy Nakamura), and the ship's Second Engineer Billie. His shocking announcement comes after he slips out of the famed American accent fans will recognize from House and into his more naturalistic British tones. "I'm not a captain either," Ryan yells. "This is a driverless ship. I was hired just to give the passengers some reassurance. I think it's as insane as you do."
So how do you keep a twist like this quiet? And why was it something that was necessary to the show? At the recent press junket Den of Geek sat down with the creator and some of the cast of Avenue 5 to talk about that massive reveal and how you build a series on a huge secret.
For Iannucci and Laurie, who was always set to be the star of the show, the decision was in part an in joke about the two sides of the Golden Globe winning actor. "From the beginning we'd talked about how in America Hugh has this image of being this authority, this kind of maverick expert," Iannucci explains. "But in the UK he's just seen as this comic actor from all these great shows that he's done. So it was all about blending those two things. With Captain Ryan he's outwardly this authoritative figure, who inside is like 'I don't know what I'm doing, please help.'"
Aside from the fact that it plays into Laurie's dualties, the big twist also works as a smart analogy for a theme that Iannucci was most excited to explore in the series. "One of the themes of the show is what's real and what isn't," he says. "You know, people being true to themselves and people being dishonest to themselves, and Hugh's character Ryan embodies that."
read more: How Avenue 5 Keeps the Legacy of Gene Roddenberry Alive
Keeping that huge secret was clearly key for the writers as cast members Suzy Nakamura and Josh Gad explained that they were not privy to some of the show's biggest reveals, including Ryan's true role on the ship, until the very last moment. "Part of the craziness of this experience was the writers didn't share shit with us," Gad laughs. "They didn't, they really, really didn't!" agrees Nakamura. 
"They kept us in the dark!" Gad continues. "We found out basically the day before the table read when we got the scripts and then we would find out shit that was basically the beginning of that episode," Nakamura shared. 
Crafting a series that so heavily relies on a huge first act twist that won't be revealed until the first episode airs seems like a huge task, especially when it comes to building out arcs for such a large ensemble of characters. For Iannucci it was all about planning and making sure that every choice would pay off later down the line. "It's about having a good roadmap throughout the season so you know exactly at which point we can start revealing things, and therefore, working back, you know reverse engineering other elements set in earlier bits that we can show that are kind of funny of themselves but actually when you reach the next big point you realize why that thing was there." 
Now that the truth is out, how will the cast and crew of Avenue 5 survive and deal with their new status? We'll have to keep watching to find out, but we're incredibly excited to see what other surprises Iannucci and co. have up their sleeves as the strange and surreal space-set comedy continues, as from our chats with the cast and crew we can promise this isn't the biggest shock that Avenue 5 has in store.
You can watch Avenue 5 episode one on HBO now.