News
Are You Afraid of the Dark? Season 2 Trailer Shows a Scary Expanded Scope
Nickelodeon's revival of Are You Afraid of the Dark? returns for a second season with increased episodes and scares.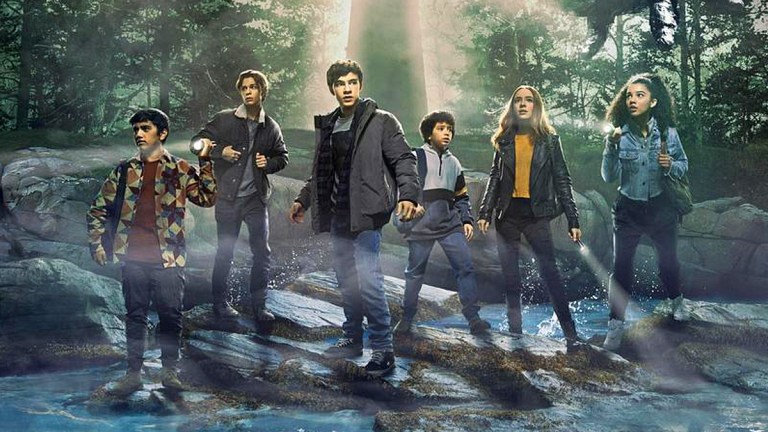 The Midnight Society's campfire was restoked—figuratively and literally—for the 2019 Halloween season by Nickelodeon's Are You Afraid of the Dark? three-episode miniseries, which enticed audiences old and new for more chilling exploits from a new generation of the classic kid coterie of scare-chasers. Thus, the network subsequently greenlit Season 2, this time for six episodes, which begin their weekly run in February.
Are You Afraid of the Dark?: Curse of the Shadows is the title of Season 2, indicating that the series will again eschew its classic single-episode story format to utilize the entirety of a season to tell one epic story, having moved on from the 2019 miniseries storyline centered on demented ringmaster Mr. Tophat and his Carnival of Doom. Moreover, we're already getting an all-new Midnight Society; a lineup tasked with pursuing a mysterious creature called the Shadowman.
Check out the trailer for Are You Afraid of the Dark? Season 2 just below!
Are You Afraid of the Dark? Season 2 Trailer
The Midnight Society's current leader, Connor (Parker Queenan), has seemingly got himself in a pickle, caught complacent during a nighttime hunt for the Shadowman, an elusive mythical creature that—akin to the Slender Man—purportedly haunts the woods, specifically in their seaside town. Consequently, it's up to the leader's fellow scary-tales-telling cohorts to investigate his disappearance and uncover the potentially-terrifying secret behind the Shadowman.
What's apparent, based on the pulse-pounding trailer, is that Are You Afraid of the Dark?: Curse of the Shadows significantly upgrades the scares and stakes from its predecessor season. Indeed, as Matt Kaplan, executive producer and founder of ACE Entertainment (which co-produces the series with Nickelodeon and DHX Media), exclusively tells Den of Geek of the revival's second season, "We are so excited for audiences to meet our new Midnight Society and our terrifying new villain, the Shadowman." Kaplan continues, "I think everyone is going to be surprised by how scary and big in scope this season is. We really wanted to lean into a different type of horror this time around while still maintaining the heart and tone of season one. Everyone be ready to sleep with the lights on!"
Curse of the Shadows' new Midnight Society lineup consists of Luke, played by Bryce Gheisar (The Astronauts, Wonder); Hanna, played by Beatrice Kitsos (Child's Play, iZombie); Gabby, played by Malia Baker (The Baby-Sitters Club); Jai, played by Arjun Athalye; Seth, played by Dominic Mariche (The Christmas Yule Blog, A Gift to Cherish); and Connor, played by Parker Queenan (Party of Five, Andi Mack).
Interestingly enough, the season manifests not only with a new Midnight Society lineup, but a new creative coalition. JT Billings (Beware That Girl, Charming) serves as showrunner and executive producer, notably joined in the latter capacity by Jeff Wadlow, who's also the season's primary director. Wadlow directed Blumhouse's 2020 horror-infused Fantasy Island reboot movie, along with 2013's Kick-Ass 2, 2008's Never Back Down and 2005's Cry Wolf, along with television work on 2017 YouTube premium series Ryan Hansen Solves Crimes on Television. His small screen experience also comes from producing credits on FX's The Strain and A&E's Bates Motel.
Are You Afraid of the Dark? Season 2 Release Date
Are You Afraid of the Dark?: Curse of the Shadows premieres on Nickelodeon on Friday, February 12, at 8 p.m. (ET/PT), after which new episodes will air weekly.