Features
Archer Season 12: Casey Willis On Sterling And Cyril's Emotional Breakthrough
Archer EP Casey Willis and Pierre Cerrato break down the playful and cathartic new episode that deconstructs Sterling and Cyril's bond.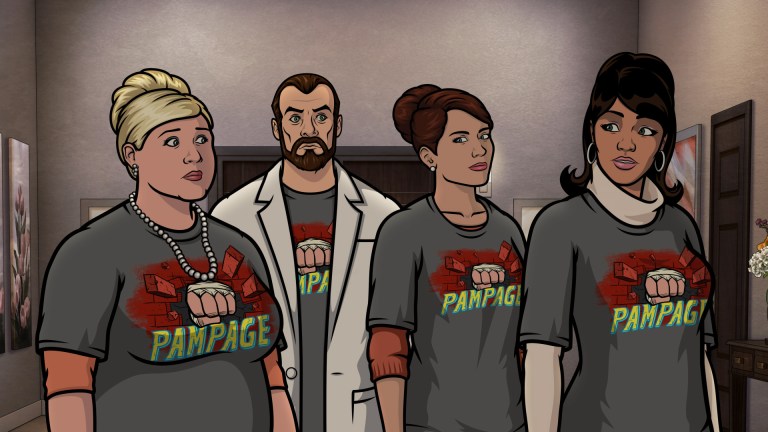 This article contains spoilers for Archer season 12 episode 5.
Archer has a fascinating relationship with change. Major elements like the show's genre have transformed, but a constant through the years are the characters and their relationships with one another. The series has made it clear that these character dynamics are quite toxic in many ways, some of which have left the characters looking for ways to grow. The most recent seasons have prioritized the cause and effect nature of Archer waking up from his coma and returning to work, which has left everyone feeling very raw and vulnerable, including Sterling Archer himself. 
Archer's latest episode, "Shots," dresses itself up as a playful night of liquor and laughs, but it becomes a deep look into Archer's poisonous effect on his friends, specifically Cyril. Archer EP Casey Willis and producer Pierre Cerrato deconstruct the emotional entry and its significance in the season, putting together the glorious "Pampage" sequence, and if those were really the origins of "Sploosh."
Archer Season 12 Episode 5 – "Shots"
Written by Matt Roller
"Sex, drugs, and monster trucks! Archer and the gang celebrate another barely successful mission."
DEN OF GEEK: With this being the half-way point of the season, were there any sort of goals or expectations in check for this point in the season, or was it not thought about in such a precise way?
PIERRE CERRATO: We are definitely thinking about how we are telling the story across the entire season. It may feel like a standalone episode, but I can't really slot this episode anywhere else in our season. We needed to feel that the gang had been on a few missions and could use a break. We also needed to expand on Lana and Robert's relationship a bit. And we really needed to Weekend at Bernie's two different characters. That was a must.
There's a bit of a bottle episode mentality with this installment when it begins and a lot of the entry is contained to the bar. What was the agenda in scaling things down here and was it ever smaller in nature?
PIERRE CERRATO: For the first half of the episode it may feel like there isn't a ton going on narratively and we are just hanging out at a bar, but there are some nuggets in there that will come into play later in the season. While those early scenes may feel small in scale, hanging out in a populated bar comes with its own difficulties. We have to design and layout every individual character that is present at the bar and make sure they are engaged in just enough activity to feel natural, but not enough to take your attention away from our main action. Once we enter the rave, the scale of the episode gets pretty big.
There's a self-aware nature to this episode as the characters reflect on the rut that they've found themselves in and the predictable nature of their dynamics. Why did this feel like the right time to ask these questions?
CASEY WILLIS: This episode was always planned to fall in the middle of the season. It was a great time for the characters to reflect and take stock of their situations. We also planted a lot of seeds for stories that will pay off in the second half of the season. And it was great to have Sandra, with her outside perspective, act as a cheerleader for the team at the start of the episode. However, by the end of the episode she realizes the team is a mess.
The brewing personal drama and stress with Lana and Robert continus to carry over and be present. Talk on that a little and why having that as a throughline through the season rather than them being entirely broken up or on healthy ground?
CASEY WILLIS: We wanted Lana and Robert's relationship to get more complex and a bit messy this season. Is it because Archer is back in the picture, or is Archer just shining a spotlight on some behaviors Lana ignored in the past? This is a season long storyline and we are very excited for everyone to see how Lana and Robert handle these hiccups.
Lana seems to regress in some ways in this episode while she searches for clarity. Can you elaborate on that a little bit?
CASEY WILLIS: We wanted Lana's story to contrast Archer's in this episode. We also wanted her and Sandra's story to connect to the previous episode and just show Lana having some fun. So many times Lana has to play the "wet blanket" role in an episode and it's nice to see her cut loose. In fact, it's Pam of all people who tries and fails to stop Lana from partying with the Prince! When Pam is the voice of reason, your party is off the rails.
The most moving material from this episode is Archer's resolve to "fix" Cyril. This is a major aspect of the previous season, but why did it feel important to readdress it here and go so far as to resolve the problem?
CASEY WILLIS: Last season we saw the decline of Cyril and while Pam tried to rebuild him, Archer and Cyril's relationship was much more contentious. Archer and Cyril had some great moments though, especially in last season's Aleister episode. We wanted to show Archer's growth and him realizing that he does care for Cyril in his own twisted way. Also, we wanted to show Archer having fun in situations we normally don't see him in, while also showing a glimpse into Cyril's free time.
Where is Archer's head at during the end of this, does he actually feel remorse, and will he be closer with Cyril moving forward at all?
CASEY WILLIS: I think he grew a bit, but he isn't emotionally mature enough to share that with Cyril. We purposefully had Archer undercut all the progress he made when Pam called him. Then we further rubbed salt into the wound when Archer used Cyril as a step-stool. It's just Archer's way of showing affection.
The neon visuals during the "Pampage" dance party look gorgeous and are a serious highlight. Was it difficult to construct that scene?
PIERRE CERRATO: Our team went above and beyond to answer the call of the "Pampage." It was a very complicated sequence. The script outlined four different areas in the warehouse that Pam takes the gang to. We needed to figure out what it would look like if there was a rave, a bare knuckle fight and a punk band playing while a monster truck is crushing cars in the back. Everyone did a fantastic job with that specific scene, and it took us a long time to get through it. If you take a closer look at the whole episode, you'll realize just how many beautiful set pieces there are throughout. For example, the game store, the planetarium, Ding Dong's strip club (the logo is my personal favorite), etc. Our artists, designers and animators are pretty incredible across the board.
CASEY WILLIS: Just a quick side note. We never really promote Archer merch because we are so focused on producing the show, however, when creating the "Pampage" shirts that Pam and the gang wore in this episode, we thought it would be great if FX would sell them. For anyone interested, they're available soon via https://shop.fxnetworks.com/collections/archer.
This episode also seems to provide the origins of "Sploosh." Did it feel time to provide some context there?
CASEY WILLIS: Is it the origin or did Lana just think it might be the origin? I am of the opinion that "Sploosh" has an organic origin from deep in Pam's past. Sploosh, the bouncer, was probably bestowed that nickname by Pam, but I doubt he is the origin of the word.
It's not just specific to this episode, but there's some really nice staccato jazzy music that's present throughout the season. How did this season's sound come about?
PIERRE CERRATO: We can thank our amazing composer, JG Thirwell. He has been working with us since season seven and prior to that, we used needle drop for all our music. It worked well, but you can't beat having an original score and developing a musical language with someone as talented as JG.
We had a phone call at the beginning of season 12 to go over our plans and share some musical ideas. We knew that Fabian was going to be a season-long villain, so we made sure to give him his own themes. We usually temp the music in our edit and when JG gets it, he'll put his spin on it. If we use something that he has composed for another episode, he'll tweak it to match the new timing, add extra instrumentation or anything else he feels would work for the scene. We don't really go back and forth too much. We'll generally do a round of notes and we're good.
Our writers' room walkthrough for Archer's 12th season will conclude with this season's eighth and final episode.