Features
6 Questions Servant Season 4 Needs to Answer
Many mysteries must be solved before Apple TV+'s Servant wraps up its fourth and final season.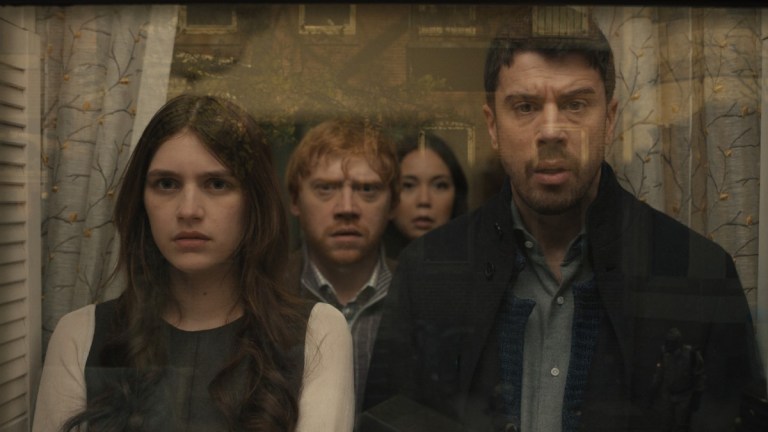 Servant's final season is finally upon us – but as the fourth and last batch of episodes start to play out, they have a hell of a lot of ground to cover.
From the moment Leanne set foot in the Turner's house, you could sense something was off (but then again, this is an M. Night Shyamalan vehicle, we would expect no less!).
However, with a reborn doll suddenly being willed back into reality, a church cult closing in on the Philadelphia home, and a following growing for the nanny, we know things are about to get worse before we get better.
So as Servant returns for one last round, we're recapping all the questions the show still has to answer.
Who Exactly is Leanne Grayson?
Leanne Grayson (Nell Tiger Free) is an ever-growing mystery. Strangers seem to form unbreakable attachments to her, there's a cult after her for some nefarious purpose, and she appears to have some kind of supernatural power.
Not least of which is the ability to will baby Jericho in and out of existence at will – something Dorothy and Sean Turner can't afford to take for granted.
So even though neither of them want to be anywhere near her right now, she is remaining in their home, even while it is literally being destroyed to its foundations due to her apparent abilities. The sacrifices you make for your "kids", folks.
But we still know very little about Leanne's backstory. We know she was involved in a fire that may or may not have killed her parents, that she's of some use to the Church of Lesser Saints, and we know there's a park load of followers now camping outside the Turner house in tents. But what is the ultimate goal here, especially for her?
What's the Deal with Baby Jericho?
Baby Jericho, or at least the baby in his place, has been the central mystery from the get-go.
Longtime viewers know Jericho died after being forgotten and locked in a hot car by Dorothy when she had a postpartum condition (depression or psychosis – the result was the same).
And yet, when Leanne arrived, the reborn doll Sean and Dorothy were using as a healing aid suddenly was replaced with a real life baby, and the debate over whether to treat him as Jericho or figure out who the baby actually belongs to has raged ever since.
There's the outstanding theory put forth by Julian (Rupert Grint) that Jericho is actually Leanne's baby, with her seizing the live-in opportunity with the Turners for both their safety… but it doesn't really fit the creepy goings on or the fact the baby seemingly switches back-and-forth between alive and doll depending on Leanne's moods.
Now, Leanne has been suggested to have powers to bring things back to life – but we're talking bugs that had only just dropped, that's not the same as a baby that had been dead for days before anyone even knew about it, and whose body isn't present.
Will season four finally reveal the truth behind baby Jericho?
Will Dorothy Ever Know What She Did to Jericho?
Dorothy's mental health has been teetering over the edge of sanity since episode one, and has only steadily got worse – even though she is bang on about something being wrong with Leanne.
In the past three seasons, she has transformed from a broken mother who refuses to accept her baby has died and so continues to deny it, to someone who is clearly dangerous for those around her.
The guilt Sean and Julian share for their lack of support in the early days of Jericho (before his initial death) appears to be largely why they're willing to overlook her multitude of sins now… but things have got so out of hand at this point it's hard to understand why they continue to look the other way.
Like… she buried Leanne alive, folks. She's considered suicide, and she still is refusing to accept what actually happened with the initial Jericho, with Sean and Julian still protecting her from her active role in Jericho's death from her (even though she has repeatedly had some flashbacks which suggest she knows things aren't perfect).
When Exactly is Sean's Breaking Point?
Sean has the actual patience of a saint. While simultaneously dealing with his own grief, he has been clinging on to Dorothy, treating her with kid gloves even when she reached levels of unhinged that many would have called it a day by.
He's sacrificed a lot in the name of keeping his family together, with his job taking second place, his success within the family home sidelined for Dorothy's, and his opinion when it comes to the raising of Jericho largely ignored.
But in the three months between seasons three and four, Gourmet Gauntlet is a seeming success, and he's still managed to look after Dorothy as she spent time in a treatment facility for her spinal injury from crashing through the stairs at the end of season three.
But with 10 episodes to go, Dorothy now back in the house and in his sole care, Leanne not being able to leave, and an increasing cult of devotees outside his home… surely he'll have to snap at some point, right? No one can take that much lying down?
Season three saw him find solace in religion at least…
What is the Church of Lesser Saints' Objective?
The Church of Lesser Saints, for a big bad that has left Leanne terrified for her safety, is still another large mystery that looms over the show.
We know they want Leanne, thinking her a "servant to them", and we know the various aunts and uncles who've swooped in to try and take Leanne are involved, but that's pretty much it.
Why have they decided Leanne is so important, and are they as menacing as we have been led to believe? Could they, despite our best instincts, be the good guys when it comes to Leanne?
Uncle George (Boris McGiver), a church member with a continued presence throughout the series, survived being hit by a truck (somehow) and after failing to get back Leanne, is now working more covertly. He was often seen scolding the Turners for what they were doing in the house, and in particular how significant a role Leanne was playing in their lives.
Was he being overbearing, or was he trying to protect them?
They have some messed up practices, that's for sure but perhaps after seeing what's happened in the past, he's trying to prevent it happening again.
Or maybe he's convinced the Turners, and Leanne, are part of a bigger plan, and wants to make sure this is executed.
What's with Leanne's Collective/Cult?
Over the course of season three, a collective of homeless people has steadily grown in the park opposite the Turner house. While it was initially assumed it was due to Sean handing out gourmet food to them, it seems they're actually far more interested in Leanne.
By the start of season four, a full three months after season three's cliffhanger finale, there is practically a full-blown tent city back there, among them Roscoe – Julian's PI friend who later got attached to the Church of Lesser Saints.
But why exactly does Leanne manage to attract such followers wherever she goes? She seems to almost be a siren for the lost and confused – which could be why Dorothy was so attracted to her as a nanny in the first place.
Guess we'll find out soon enough.
Servant airs Fridays on Apple TV+.