Features
15 Licensing Battles Fought by TV Shows
Real-world products and locations don't always welcome association with TV shows. Here are 15 times shows struggled with permissions...
This article comes from Den of Geek UK.
Forget the saying – not all advertising is good advertising. Companies will do almost as much to avoid the wrong use of their brand as they will to get plaster said brand all over our screens.
Take Tupperware. Instead of thanking Antonio Banderas for featuring its product in his 1999 directorial debut Crazy In Alabama, they forbade him use of the name. All because they didn't want it thought that Tupperware was as useful for preserving decapitated human heads as lunchtime leftovers. "We had to call them plastic food containers," remembers Banderas.
Here are 15 times TV shows struggled to get permission to use their first-choice brand or location, and how they worked around it…
1. For realism, Seinfeld mostly used actual brand-names rather than generic equivalents and largely, says Castle Rock studio president Glen Padnick, nobody minded. With viewers in the tens of millions, it's not hard to see why. One plotline though, in season seven's The Rye, caused a problem. When Kramer takes over a pal's Central Park horse-drawn carriage for a week, the script had him feeding the horse tins of Beefaroni, which made it extremely flatulent. Food company Chef Boyardee kicked up a stink about it, which is why Kramer tells the horse it's eating Beef-a-Reeno and sings it a made-up jingle for the fictional brand.
2. Fans of JJ Abrams' late-nineties college drama Felicity will have noted that its eponymous lead was an undergraduate of the University of New York, not New York University (TV workplace of, among others, Ross from Friends). According to this EW article, that was because NYU felt nervous about the "racy" topics Felicity might portray and so refused permission for its name to be used. They shouldn't have bothered. As far as we remember, all anyone was interested in was her hair.
3. The penultimate episode of Breaking Bad finds Walter White preparing to hole up in a remote New Hampshire cabin. It's a basic set-up, explains his landlord, TV reception is "pretty much nil… mostly you'll be limited to DVDs." Walt looks through the small collection and notes, "Mr. Magorium's Wonder Emporium. Two copies." "I'm not much of a movie guy," explains the cabin's owner.
Because the Dustin Hoffman fantasy is a 20th Century Fox film, the Sony-produced Breaking Bad wasn't allowed to show the actual DVD cover in the scene. Mr Magorium's screenwriter Zach Helm, who's been vocal about his dislike of the finished product, said of the Breaking Bad scene, "That is exactly two more copies than are allowed in my house."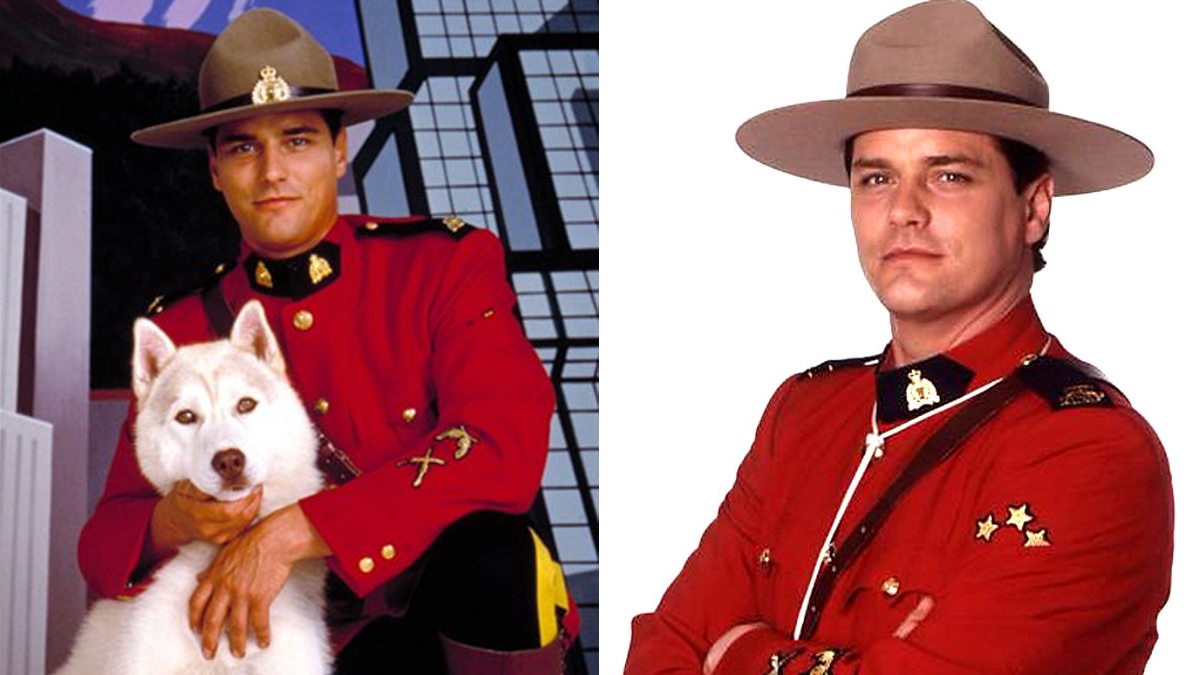 4. Attention continuity nerds: look closely at Paul Gross' Mountie costume in nineties TV series Due South and you'll notice something strange going on. In the original TV movie and series pilot, the Royal Canadian Mounted Police denied permission for use of genuine RCMP uniform for fear that the organization wouldn't be portrayed positively on screen. A shield was added to the character's hat, the belt switched shoulders and the white lanyard was dropped.
After the pilot, when the RCMP had approved use of the real uniform, Benton Fraser wore the real thing. But whenever Due South borrows pilot footage to use in later episodes, the inaccurate uniform can still be seen.
5. The Walking Dead character Hershel Greene was a god-fearing Christian, always ready with an apt bible verse and some moral reflection. That though, wasn't known to the owners of the house in Senoia, GA that The Walking Dead picked to play the Greene Family Farm in season two. The real-life house-owners considered their religious beliefs in conflict with the show's apocalyptic themes, and therefore refused filming permission. Enter, then-showrunner Frank Darabont, who succeeded where his locations team had failed and convinced the owners to let them film there.
6. Game Of Thrones came up against resistance from regular filming location Dubrovnik old town in season five. The Croatian city stands in for the location of Westeros capital King's Landing. When it was announced that season five would culminate in the character of Cersei Lannister being forced to walk naked through King's Landing's streets as penance for her sins, Dubrovnik Cathedral protested due to its policy against public nudity. The production team had to agree to film the scenes away from the Cathedral site, using instead the Jesuit Staircase on the south side of Gundulic Square.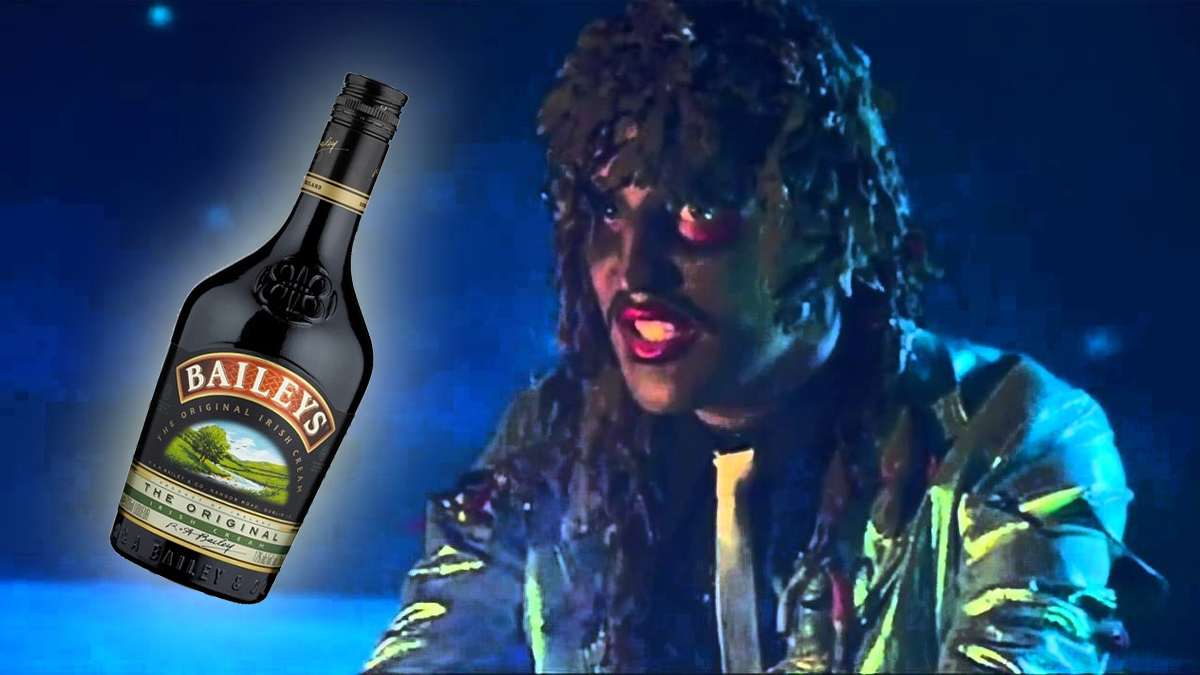 7. "Have you ever drunk Baileys from a shoe?" is one of no fewer than six mentions of Irish cream liqueur in The Mighty Boosh episode Legend Of Old Gregg. Baileys is the tipple of choice of scaly man-fish Old Gregg. He drinks it, he paints watercolours of it ("This one's as close as you can get to Baileys without getting your eyes wet"), and attempts to seduce Howard Moon using it.
When Howard takes a sip of Baileys, "delicious" is his verdict, while Gregg repeatedly mentions the drink being "mmm, creamy." That was Baileys' condition of its product being mentioned by name and its distinctive bottle silhouette being seen  in the show. The Mighty Boosh was allowed to use it, as long as the words delicious and creamy were said in association, as heard in BBC Three documentary A Journey Through Time And Space.
8. In the first series of Dave's comedy Dave Gorman's Modern Life Is Goodish, the team were refused permission to show the cover of Hello Magazine. In this Digital Spy interview, Gorman explains that the channel's legal team advised that he would only be allowed to show the magazine cover for "comment or review" and his planned joke—a comment on the cover design—wasn't judged to fit that description.
Gorman's solution was to use the cover and announce that Hello Magazine had denied permission but the show's legal team said it was okay in the context of a comment and/or review. His chosen comment and/or review? "This is the worst cover I have ever seen, the people who did this are a bunch of idiots." After that, said Gorman "the lawyers at Dave have been a little more relaxed with us."
9. The Phillie Phanatic—a large, green bird—is the official mascot of the Philadelphia Phillies Major League Baseball Team. When long-running FX sitcom It's Always Sunny In Philadelphia wrote the mascot into season five episode The World Series Defense, the show was denied official permission to use it, or to feature official Philadelphia team signage in the episode.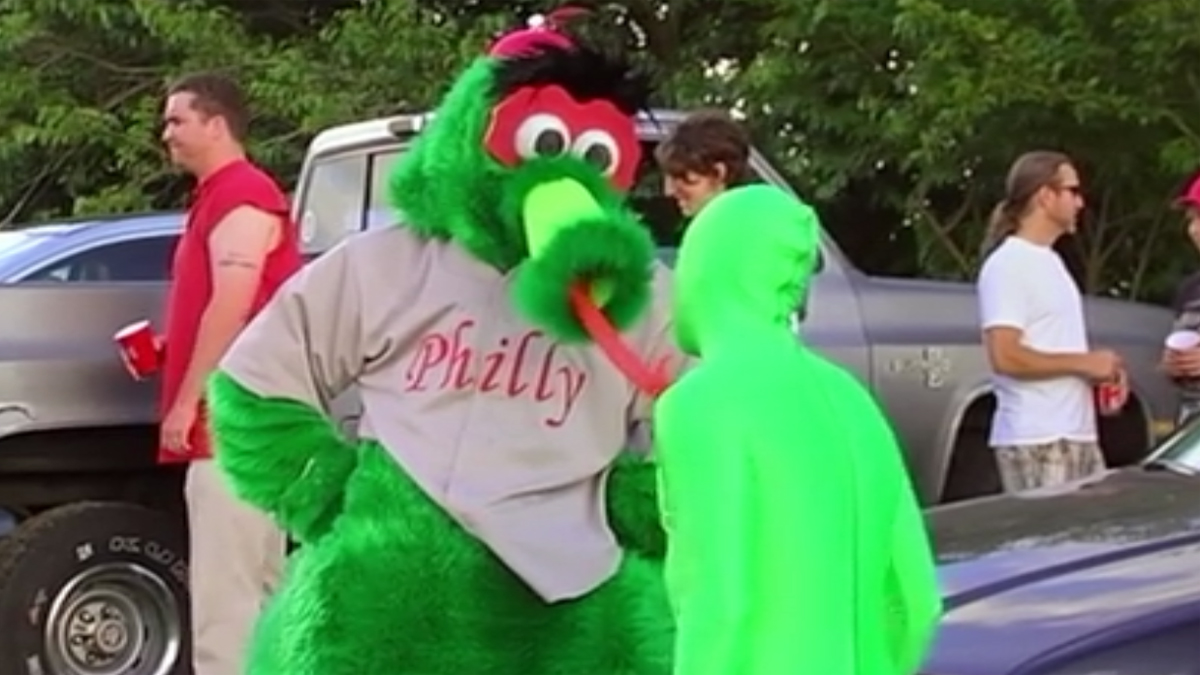 Always Sunny's solution was a TV tradition—slightly changing the name and look so as not to infringe on copyright. The result was the episode's 'Phillie Phrenetic', with whom Charlie Day's character has a fight over his own proposed team mascot, Green Man.
10. Camilla Hammerich, a producer on Danish political drama Borgen producer, revealed here that the Danish government did not cooperate willingly with the show's production. Hammerich and team fought hard to be granted permission to film inside the titular Borgen, or Castle, the informal name for seat of Danish government Christiansborg Palace. Permission was denied, and only exterior filming was allowed, necessitating the reconstruction of historical rooms on a sound stage.
It was, fittingly, all a political move, says Hammerich. A right-wing official had warned the board not to grant interior filming permission because Borgen would be a left-leaning drama. "This was one and a half years before we even aired anything!" she says. "We were always accused of being left-wing biased."
11. The Big Bang Theory season seven episode The Focus Attenuation features a clip from the opening of Ghostbusters. It's the scene in which Bill Murray's Venkman explains his experiment is studying the effect of "negative reinforcement on ESP," about which The Big Bang Theory's Sheldon has a pedantic correction. The clip very nearly didn't feature in the episode as the show's writers weren't granted permission by the studio.
The Big Bang Theory writer Bill Prady, as he told the crowd at Comic-Con 2015, pulled a few strings. He called Bill Murray's brother Joel, with whom he'd worked on Dharma & Greg, and asked him to go direct to Bill. The next they knew, Bill Murray had phoned the studio and asked them "Why are you being so mean to the people at The Big Bang Theory?" then voila, permission was suddenly granted.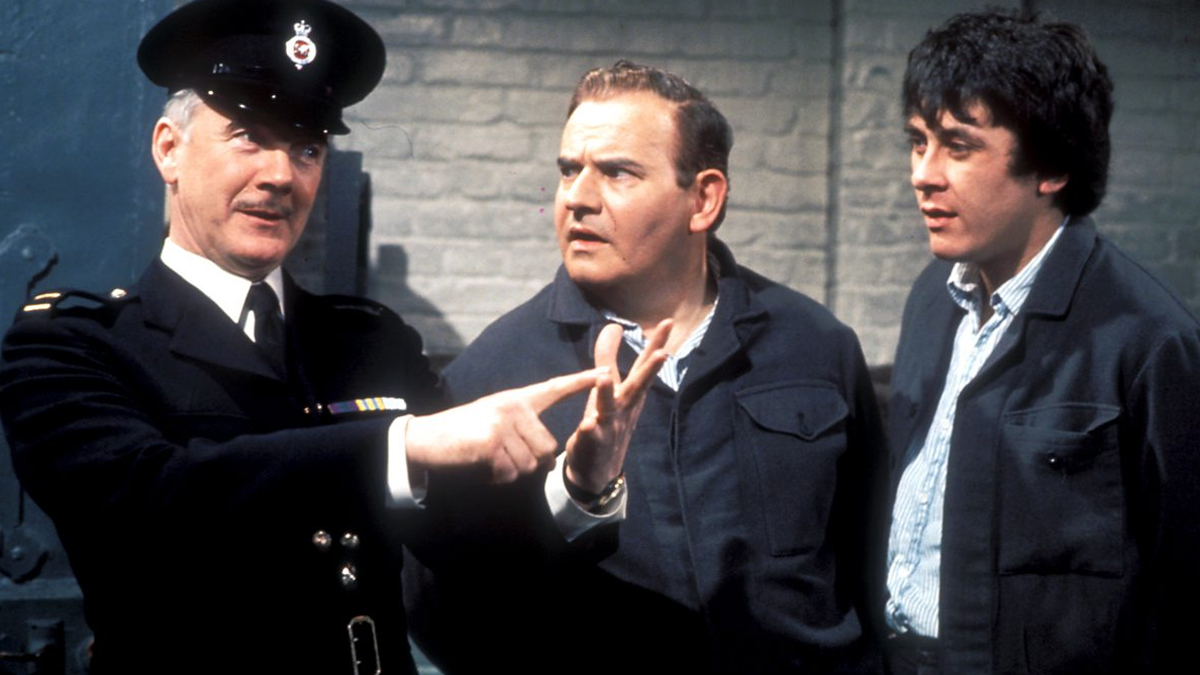 12. Classic Clement and La Frenais BBC sitcom Porridge applied three times to film scenes in a real prison, and were refused each time, it's reported here. Porridge producer Sydney Lotterby applied for permission to shoot exterior scenes of the fictional Slade Prison at a real British jail, but the requests were all turned down. Slade Prison gatehouse is actually that of the former St. Albans Prison, no longer a functioning jail at the time the series was filmed.
The Home Office, evidently viewers of the show if not exactly fans, commented that the existing sets were so lifelike that location filming was not necessary. The extra burden that filming at a real prison would place on governors and staff was therefore not merited, came the verdict.
13. Among others, HBO's The Pacific tells the story of real-life war hero John Basilone, whose heroism at Guadalcanal was co-opted for the war effort. Basilone was pulled out of service and paraded around as a poster boy for war bonds, a role he refused, choosing instead to return to active service. On his PR tour, The Pacific shows Basilone being honored by a group of Shriners, in their distinctive fez headgear and medals. The plaque Basilone receives in the show however, doesn't feature the Shriners' recognizable symbol. That's because the secretive organisation refused the production team permission to feature it. As writer-producer Bruce McKenna says here, "The Shriners wouldn't allow us to show them or name them on screen (can you believe it?), so what you see is our own creation."
14. The basement office set of The IT Crowd is packed with nerdy toys, comic books, games and computer paraphernalia. One piece in particular—a picture from 2008 musical comedy Doctor Horrible's Sing-Along Blog—needed special permission from co-creator Joss Whedon to be used. As The IT Crowd writer Graham Linehan noted during a set tour video, Whedon granted express permission that the photo be included among Roy and Moss' nerdy knick-knacks.
15. Finally, this one's less of a struggle than a fun story. When Channel 4 sitcom Raised By Wolves wanted to show its lead, teenager Germaine Garry, pleasuring herself to an episode of Question Time, it called for a delicate permissions request. As told to Alice Sinclair here, the comedy's co-creator Caitlin Moran, on whose teenage years it was loosely based, called upon an old friend.
"I know David Dimbleby's son," said Moran. "And I had to send him an email… 'Hi Henry, I haven't seen you in about a year… Could you just ask your Dad if it's okay if a character based on me has a wank while looking at your face?' And thankfully he sent an email back being like: 'Yes, that would be absolutely smashing!'"