Reviews
Wrath of Man: Jason Statham Still Kicks Ass Even Without the Quips
No quips are no problem for Jason Statham in this enjoyable, if otherwise forgettable, Guy Ritchie flick.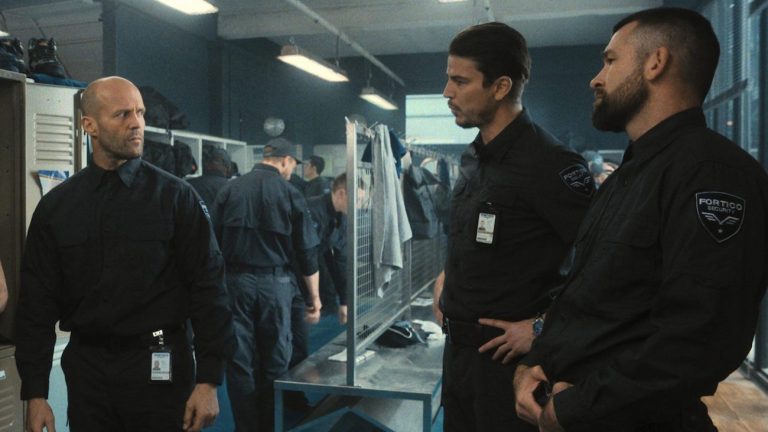 If audiences are expecting Wrath of Man, the fourth collaboration between director Guy Ritchie and star Jason Statham, to have the rollicking, quirky vibe of previous Ritchie/Statham action joints, they should temper expectations right now. While Statham has always been adept with a one-liner, and Ritchie is more than willing to provide him a memorable one, Wrath of Man doesn't have room for quips and giggles; Statham's tongue has been removed from his cheek and is seldom used.
This taut, suspenseful tale of vengeance is deathly serious and features one of the more stoic performances of Statham's career. While the script certainly robs Statham of one of his trademark charms, his ability to be equal parts fun and fierce, that doesn't mean Wrath of Man is a total drag; it's a fairly traditional heist flick buoyed by unnerving intensity from Statham. If only Ritchie could have infused more of his typical bombast behind the camera.
Yes, Wrath of Man feels much more like your standard Jason Statham vehicle than one of Ritchie's grimy, yet grooving gangster flicks. After helming adequate but unmemorable blockbusters for the last decade, Ritchie returned to form in 2019 with The Gentlemen, but whatever swagger that resurfaced in that action comedy is absent from Wrath of Man; besides a memorable opening scene featuring an unorthodox, fixed camera and his penchant for POV shots, Wrath of Man bears few of Ritchie's fingerprints.
Based on the 2004 French action-thriller Le Convoyeur, Wrath of Man follows a mysterious security guard named H (Statham) who harbors ulterior motives when taking a job working for an armored truck company that was recently the victim of a violent heist. H impresses his chatty co-worker Bullet (Holt McCallany) and oddly named Boy Sweat Dave (an impressively sleazy Josh Hartnett) with his facility for guns after another heist attempt, leading them to question who H really is and where he came from. H is tightlipped and no-nonsense, but has revenge on his mind.
The problem is that while we eventually understand his motivation, we never feel it. Statham is an expert at showcasing rage, but we never witness his pain. It's the movie's main fault.
Wrath of Man uses an unorthodox structure to tell a simple story, splitting its runtime into four acts and playing with the timeline to try and imbue a little intrigue and style. It doesn't amount to much, but that's okay because the fourth act delivers the best heist movie action scenes since Ben Affleck's The Town.
Wrath of Man also scores points for its extended ensemble featuring Jeffrey Donovan, Andy Garcia, Eddie Marsan, and The Boys' Laz Alonso. The only player not up to par is Scott Eastwood, who feels miscast as the vicious wild card Jan. Eastwood's performance is a little too keyed up when everyone else is going for understated naturalism. Also, a Post Malone appearance ruined the illusion of an otherwise engaging early action sequence.
Wrath of Man will certainly appeal to heist movie fans and satiate most moviegoers in need of a post-lockdown theater fix. The last half hour is truly gripping stuff, even if much of the plot hinges on coincidence and convenience. Statham fans will have little to quibble with here besides the fact that he doesn't get the chance to spout off some zingers. His stone-faced intensity adds the proper amount of tension even if it can't quite muster pathos. While Ritchie could have brought more of his signature flair, he gets the job done with workman like precision.
While it's no Lock Stock or Snatch, Wrath of Man will receive no wrath from us.
Wrath of Man is in theaters on Friday, May 7.