Features
Who Was Ma Rainey's Real Band?
Ma Rainey's Black Bottom gets the recording studio conditions right, but was "the father of Gospel music," backing up "Mother of the Blues?"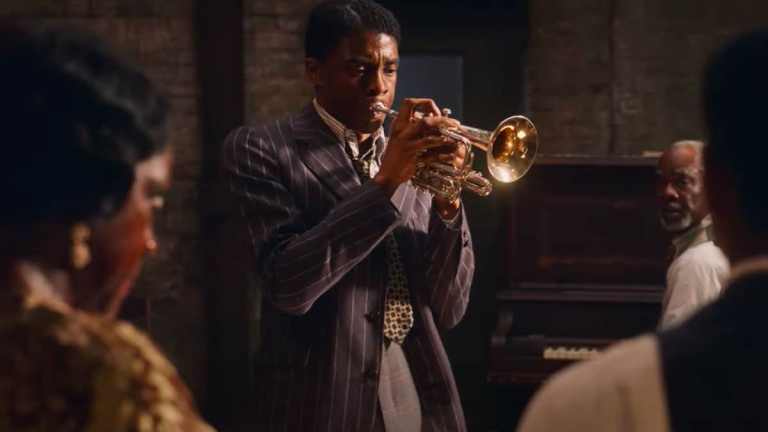 Ma Rainey's Black Bottom is one of those rare films with only one major setting: a Chicago recording studio in 1927. The entire film, and the play it was based on, tells the story of four backing musicians waiting for Madame "Ma" Rainey (Viola Davis) to arrive and cut some sides. According to the label on the 78, Rainey's 1927 recording of "'Ma' Rainey's Black Bottom" and her remake of "Moonshine Blues" of that year was done by "Ma" Rainey and her Georgia Jazz Band.
The Musicians
There are no session notes on the musicians who played on the title song of the Netflix film. Indeed, when Den of Geek sat down with the cast of Ma Rainey's Black Bottom actor Glynn Turman told us, "We found photographs of her band members, but that was the closest and most detailed information that we had. Not so much as any particular story about any one of the band members, but we did see photographs of the groups, and the sometimes different groups."
However, Ragtimedorianhenry.com does at least list three of the four musicians who backed Rainey on her ode to bootleg hooch. Albert Wynn played the tuba, which was translated into the upright bass for the film. The bassist in the film is named Slow Drag (Michael Potts), and according to a synopsis for the play it's based on, Slow Drag got his name from a gig where he slow-danced with women for hours for money. Conversely, low register horn player Wynn fronted many of his own bands: Al Wynn And His Gutbucket Five, Al Wynn's Gutbucket Seven, Albert Wynn's Creole Jazz Band, as well as filling a seat with Fletcher Henderson and His Orchestra.
The clarinet player on the record is Artie Starks, a steady reedman who played with outfits like Albert Ammons and His Rhythm Kings, Preston Jackson's Uptown Band, Richard Jones and His Jazz Wizards, and Starks Hot Five.
Levee (Chadwick Boseman) is the "talented and temperamental trumpet player" of the band, according to the playbill. He is the youngest, and is doing time playing in Rainey's group until he can put together his own band. The cornet player on the actual recording is Shirley Clay.
Clay started playing when he was a teenager in St. Louis, Missouri, sometime around 1920. His early gigs included touring with John Williams' Synco Jazzers. By the late 1920s and through the 1940s, he was a sought-out session player, backing artists like Billie Holiday, Cab Calloway, and The Mills Brothers, and swinging with Benny Goodman. He led his own band from 1944 to 1951.
The piano player is listed as unknown. While Rainey also worked with pianists Claude Hopkins and Willie "the Lion" Smith in this period, based on the date of the recording sessions, the pianist was probably Lillian Hardaway Henderson, the wife of cornetist Fletcher Henderson, who became the leader of Rainey's band. The play synopsis says guitar and trombone player Cutler (Colman Domingo) is the leader of all the other instrumentalists.
The film and play's piano player is Toledo (Glynn Turman), who doubles as the band philosopher. He loves books and believes style and musicianship are the main contributors to performance. Rainey's pianist also loved to read, and preferred musicians who could read notation.
Thomas A. Dorsey was also Ma's manager, and musical arranger. He spotted the talent for Rainey's touring ensemble, the Wild Cats Jazz Band. The musicians played blues, but also performed written sheet music for contemporary jazz numbers. Dorsey entered Rainey's world in 1924. He left the touring band in 1926, but is credited in later sessions, including her last in 1928, for the songs "Black Eye Blues," "Runaway Blues," and "Sleep Talking Blues" with guitarist Hudson "Tampa Red" Whittaker.
"Georgia Tom" Dorsey is best known as "the father of Gospel music," writing 3,000 songs, including "Peace in the Valley," and working with legends like Mahalia Jackson.
Most of "Ma" Rainey's songs were recorded under the name of "Ma" Rainey and her Georgia Jazz Band, which changed personnel frequently. It included such musicians as trombone players Wynn, Kid Ory, and Charlie Green and Al Wynn; reed players Don Redman, Buster Bailey, Coleman Hawkins, and Johnny Dodds. Rainey was also backed by pianist Jimmy Blythe and blues guitarist Blind Blake, as well as 12-string guitar player Miles Pruitt on the August 1924 eight-bar blues song "Shave 'Em Dry." Rainey was backed by trumpet players Tommy Ladnier, Artie Starks, Joe Smith, and Louis Armstrong.
Armstrong played cornet on her songs "Yonder Comes the Blues," "Jelly Bean Blues," "Moonshine Blues," and "Countin' the Blues." When Rainey recorded her blues masterpiece "See See Rider Blues" in a New York studio in mid-October 1924, the lineup was Armstrong and Buster Bailey on cornet, Henderson on piano, Charlie Green on trombone,and Charlie Dixon on banjo. Armstrong never knifed anyone over a pair of shoes, but he kills on those songs.
The Studio
The sign outside the studio in Ma Rainey's Black Bottom says the label is Hot Rhythm Recordings, a play on a nickname for the "rhythm and blues" and jazz music of that era. In truth, however, Rainey recorded with Paramount Records between 1923 and 1928. Formerly known as Black Swan, the company was founded in 1920, and was the second Black-owned record label in history. It was bought out in January 1924, by M. A. Supper, changing it to a white-owned company. But its output throughout both eras was called "race records," and they made bank.
"Ma" Rainey was immensely popular in the Southern theater circuit. She'd been a popular solo performer before she teamed with her husband William "Pa" Rainey, forming together the "Assassinators of the Blues." In 1916, Rainey separated from her husband and toured with her own band, Madam Gertrude "Ma" Rainey and Her Georgia Smart Sets. Her tent shows featured a chorus line, a Cotton Blossoms Show, and Donald McGregor's Carnival Show. Talent scout and recording session supervisor Mayo "Ink" Williams brought her in for her first Paramount recordings in 1923, three years after the first blues singles were recorded by Mamie Smith.
Williams was the first Black producer at a major record label, and the most successful blues producer of his time. He earned his nickname because he was very successful getting African American musicians signed to recording contracts. He'd move on to Decca Records in 1934 where he produced or wrote songs for a wide range of artists and genres, including jump blues, which became rock and roll.
Rainey was 37 years old when she signed with Paramount in December 1923. Rainey wrote 38 of the 92 songs she recorded, and her first session was recorded with Lovie Austin and Her Blue Serenaders. She and Lovie also recorded with Louis Armstrong for the label.
Bigger genre labels like Okeh Records and Columbia Records, where Bessie Smith was signed, had much better studios. This complaint makes it into Ma Rainey's Black Bottom several times, especially when a perfect performance never makes it through the needle because of a faulty microphone. Sound quality for most of Rainey's recordings suffered at Paramount. The company went bankrupt in the 1930s.
While recording at Paramount, the studio did arrange a very successful promotional tour. Ma Rainey's Black Bottom includes scenes from Rainey's run at the renowned Grand Theater on State Street in Chicago. Rainey was the first country-style blues artist to play the venerable room. This context is something the movie explores at length.
About that Windy City setting, Turman also tells us, "You got to remember, there had just been a race riot in Chicago [before the movie is set] because a young Black boy had gone swimming in the lake there. And there was a section that he was not supposed to cross as a result of the discrimination. And so they would not let him swim back to shore and he drowned… so we had to forge these characters with a certain amount of steel in their backbone, because these were guys who were going into an area that anything could happen to them at any time."
Over a period of five years, Rainey performed and recorded with her Georgia Jazz Band, her Tub Jug Washboard Band, and female bandleader and jazz pianist Lovie Austin and the Blues Serenaders.
As the movie points out, Rainey never stopped performing live. "Ma" toured with her Wild Jazz Cats on the Theater Owners Booking Association circuit consistently. The recordings were secondary, after all the sessions. "Ma" Rainey stayed on the road until she retired, and even then, she ran two theaters.
Ma Rainey's Black Bottom premieres on Netflix now.
*Additional reporting by Don Kaye.