Features
What the New Solo: A Star Wars Story Trailer Tells Us About Han's Early Days
The first Star Wars spin-off to focus on one character, Solo: A Star Wars Story fills in the history of the galaxy's greatest smuggler.
Whether you're lukewarm on the trailer or thrilled to see the Millennium Falcon back in action, it's hard to deny that Solo: A Star Wars Story is the next big push for the Star Wars franchise. This week's trailer showed us some more of what Han Solo was up to before he swaggered onto the silver screen in A New Hope, willing to take the Rebellion's money and step aside when the money ran out.
While Han's departure and subsequent return were a surprise last-minute heroic act in the very first saga film, he's well known as a scoundrel with a good heart now. Solo: A Star Wars Story shows some of the famous smuggler's early adventures and how he became the charming general who helped lead the Rebellion to victory.
The trailer released on Sunday shows some of his key moments audiences can expect to discover. Here it is in case you missed it…
Now, let's have a closer look…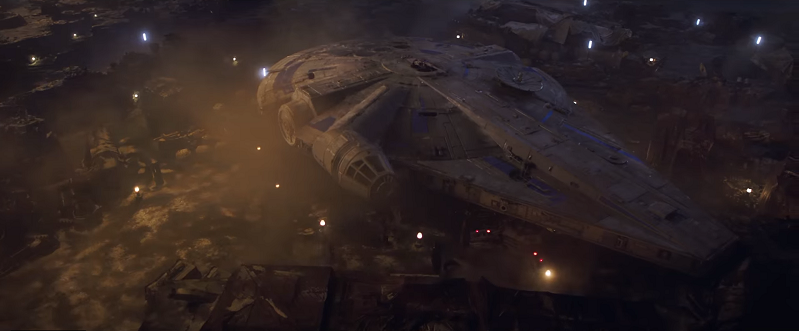 It's a Fast Ship
The Empire Strikes Back told us that Han won the Millennium Falcon from Lando in a card game at some point in his early days, and Solo gives us a look at what might be Han's first few trips as the new pilot. The ship that looks battered and piecemeal by A New Hope is pristine and uniform here, with the classic interior corridor a bright white and the outside covered by relatively sleek panels instead of open and exposed.
Could we possibly see the infamous Kessel Run in the film? With the way Han emphasizes that he can race and he can fly, we very well might.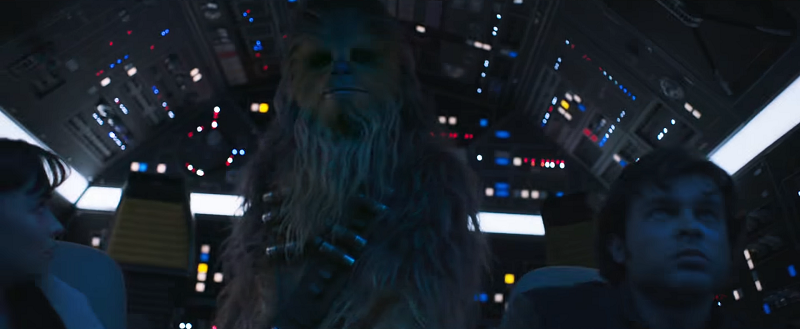 Man's Best Co-Pilot
One of the gags in the trailer shows Han learning a surprising fact about Chewbacca — the Wookiee is 190 years old. He's also an experienced pilot, and the trailer finds Han learning just how good as Chewie does some back-seat driving.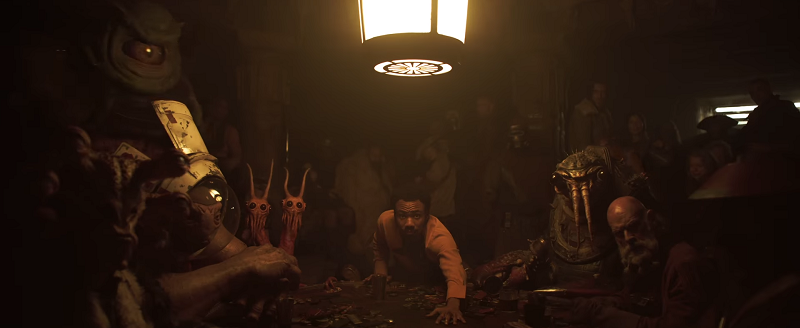 The Lando System
A smuggler's life is one of double- and triple-crosses, friendships for profit and profit above all. So it stands to reason that Lando and Han, later heroes of the noble Rebellion, would meet in a gambling den.
As Lando, Donald Glover is stealing fans' hearts already. He also has a droid companion named L3, perhaps a precursor to Lando's ill-fated later companion, Lobot.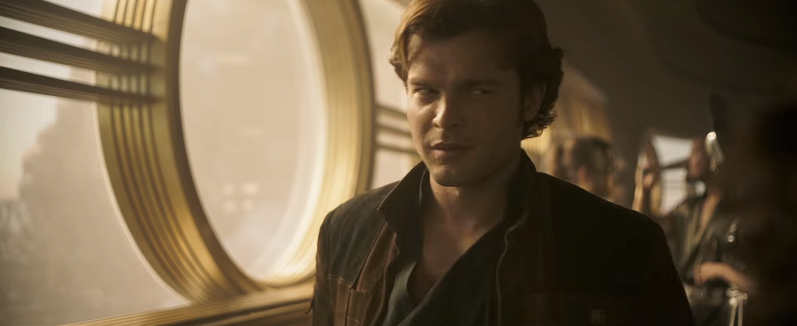 Trust No One
The Han of Solo's era is less jaded than he will become, more trusting and just as cocky. "Assume everyone will betray you and you will never be disappointed," says Beckett, the experienced criminal who takes Han under his wing. That sounds like foreshadowing as much as anything, so who will end up betraying Han? Maybe his old friend Qi'Ra, his glamorous co-conspirator who says she knows who Han really is. Or could the traitor be Beckett himself?
Something or someone will tarnish Han's relatively optimistic heart ("I have a good feeling about this!") and turn him into the person from A New Hope who values payment over a good cause.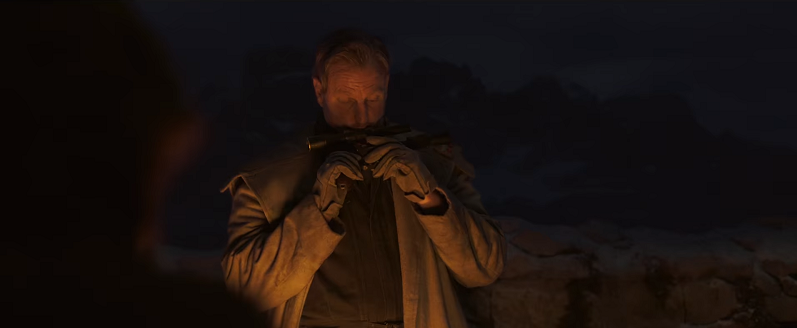 Han Shot First
Like many Star Wars characters, Han has his iconic weapon — the blaster he often fires from the hip. The Solo trailer highlights the blaster in a scene between Han and Beckett, where Beckett kisses the weapon before throwing it to Han.
There seems to be some kind of connection between Beckett and the gun, whether that's a personal legacy handed down to Beckett from his mentor or just an outlaw's appreciation for a reliable weapon.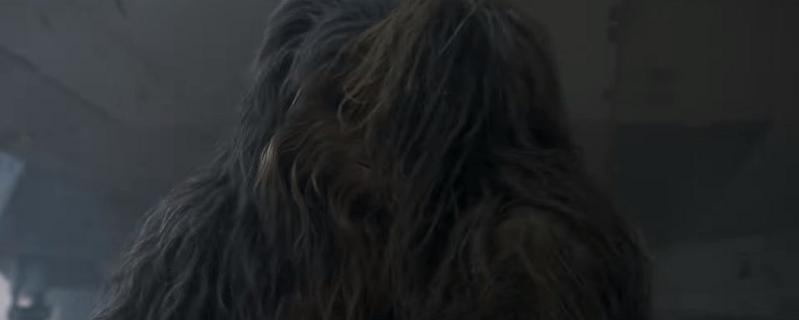 Chewie's History? 
In the Expanded Universe, Han rescued Chewbacca from Imperial slavery. While it's unknown whether that backstory will remain intact in Solo, Chewie does seem to get an emotional moment where he's either greeting or saying goodbye to another Wookiee.
The Wookiee in his embrace could be Malla, Chewie's wife in the Expanded Universe and the mother of their son, Lumparawaroo. They were re-canonized in the novel Aftermath: Empire's End, so it's possible this is our first look at the canon Malla on the big screen.