Reviews
Waves review: family drama with crests and troughs
Trey Shults' follow up to It Comes At Night is a heart-felt drama that doesn't always make a splash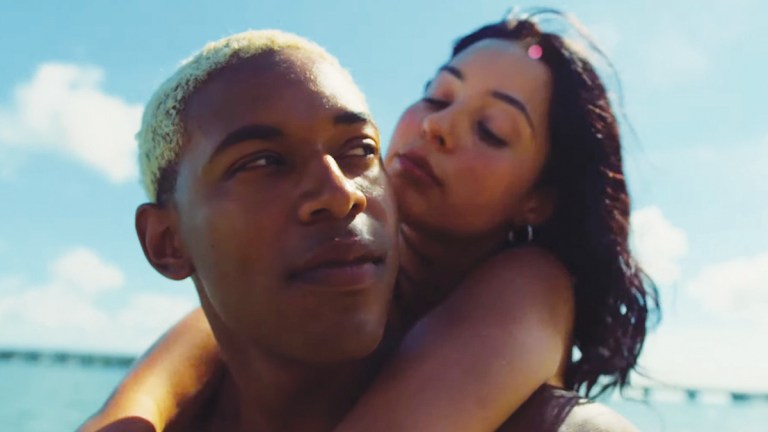 Waves opens with a car ride. A euphoric cruise down a South Florida highway in the brilliant sunshine, the camera spinning around the interior of the car as 18-year-old Tyler (Kelvin Harrison Jr.) and his girlfriend Alexis (Alexa Demie) sing to the stereo, draping arms and legs out of the windows joyfully, paying not enough heed to the road ahead. Are they heading for a car crash? Well actually yes, in a manner of speaking, but not for now… 
It's an easy metaphor for where this ambitious but intimate family drama from It Comes At Night director Trey Shults will take the two together – an anxiety-making opener that also speaks to the here-and-now elation of love and youth and how fragile that can be. 
If It Comes At Night was a horror movie which at heart was a traumatising coming-of-age story, Waves is almost the reverse (for the first half at least). A teenage journey of love and loss which at times feels like you're watching a chiller. It's a stylish movie packed with visual flair and standout performances which may capture hearts with its sympathetic picture of a young man dealt a tough hand and a family trying to hold it together in the wake of a tragedy. However a rather meandering story, long runtime and unusual structure mean Waves is at times hard work. And while it's undoubtedly an incredibly good-hearted film, its messages are neither profound or cohesive enough to quite carry the weight of a film with this much going on.
Toying with the trappings of a sports movie, part one of Waves (and it's very much a film of two halves) begins with promising athlete Tyler who learns he's suffered a serious shoulder injury that he's kept secret from his parents – his competitive father Ronald (Sterling K. Brown) who demands nothing less than excellence from his boy, and his more understanding step mother Catherine (Renée Elise Goldsberry). 
Faced with the end of his wrestling career, a passionate but highly fractious relationship with his girlfriend and the expectations of his well-meaning father and Tyler is a pressure cooker waiting to blow.
Bolstered by excellent performances from Harrison Jr and Brown in particular, Waves is at its best when it's up close and personal with its characters. A scene at a wrestling meet is shot in extreme close up and you can almost feel Tyler's pain; in an altercation with his parents their voices echo so we feel like we're in Tyler's head.
Sound comes in waves in Waves – blaring sirens and flashing lights feel ever-present, pounding beats are pervasive. It's a film packed with visual and aural ticks and tricks, and waves of light and colour but while it's sometimes incredibly effective, at others it's a bit of a barrage.
The second wave of Waves is gentler and more feminine where the focus is shifted to Tyler's sister Emilly (Taylor Russell – also excellent) and to an arc of love, compassion and redemption via her burgeoning romance with Lucas Hedges' awkward Luke. If part one sits alongside films like Spring Breakers or 13, part two is a far more conventional teen romance, more akin to something like The Fault In Our Stars. It's well handled and touching but also drawn out, and dare we say it, a bit boring.
Attempting to pack a lot in, Waves is experimental and ambitious, and tries very hard to bring something new to an oft-trod genre. And the high calibre performances, as well as several excellent set pieces, and moments of genuine shock make it worth a watch. 
But sadly a lack of clear focus and a flabby run time means Waves is frustrating as often as it is satisfying – definitely not a car crash, then, but perhaps more like an uber pool on a long journey.
Waves is out now in UK cinemas