News
Venom DVD/Blu-ray Release Date and Bonus Features
The Venom DVD and Blu-ray arrives in December and we have a list of what kind of bonus features it'll come with.
Ruben Fleischer's Venom was a bigger hit than expected. The supposed first step in Sony's "Venom Extended Universe" (which will include Morbius and Venom 2) has made more than $800 million internationally, meaning that we live in a world where a Venom solo film made more than the goddamn Justice League. Venom got plenty of love from the movie-going public, even if the critics panned it.
Even this very site gave it a bad review, but we're far from a hivemind. I loved the stupid movie for being a fun and funny exercise in Tom Hardy being as ridiculous as possible. I loved it enough that I've already pre-ordered the Blu-ray.
That's even before I found out what's even on said Blu-ray outside scenes of a raw lobster meals and goofy, red wigs.
Venom DVD/Blu-ray Release Date
Venom will be hitting digital on December 11, but the blu-ray, DVD, and 4K Ultra HD Combo Pack will be coming out on December 18. Which works out great because being a liquid lifeform, Venom is in fact the perfect stocking stuffer. You can pre-order it here.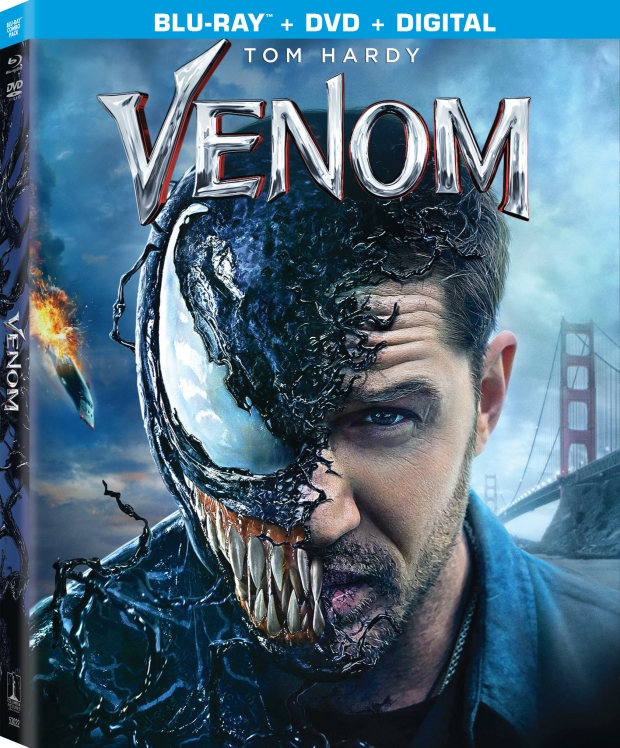 There's a lot of extra stuff in this baby – advertised as over an hour – which includes deleted scenes, extended scenes, a Pop-Up Video option called Venom Mode, behind-the-scenes documentaries, that Eminem music video, and some stuff on Spider-Man: Into the Spider-Verse.
Venom Bonus Features and Deleted Scenes
Here's the list of bonus features:
Venom Mode: When selecting this mode the film will engage informative pop-ups throughout the film to provide insight on the movie's relationship to the comics, and to reveal hidden references that even a seasoned Venom-fan may have missed!

Deleted & Extended Scenes: These deleted and extended scenes will give fans even more of the Venom action they loved in theaters!

Ride to Hospital – Eddie and Venom take a ride to the hospital.Car Alarm – Let's just say that Venom is not fond of car alarms.San Quentin – Extended post-credits scene at San Quentin.

From Symbiote to Screen: A mini documentary about the history of Venom in comics and his journey to the big screen. Interviews with Avi Arad, Matt Tolmach, Ruben Fleischer, Oliver Scholl, and Director and Comic Fanboy Kevin Smith.

The Lethal Protector in Action: Go behind the scenes with the production crew and learn the secrets behind the awesome Motorcycle stunts, wire stunts, and drones.

Venom Vision: A look at how Ruben Fleischer came to the project, gathered his team, and made Venom a reality. Utilizes interviews from cast, crew, and producers as well as Fleischer himself.

Designing Venom: Designing and creating Venom meant a huge challenge for VFX artists; follow the amazing journey.

Symbiote Secrets: Blink and you may have missed it! Enjoy the hidden references throughout the film.

8 Select Scenes Pre-Vis sequences: See the progression of the visual effects, storyboards and fight chorography compared to the finished film.

"Venom" by Eminem – Music Video

"Sunflower" by Post Malone, Swae Lee (From Spider-Man: Into the Spider-Verse)

Spider-Man: Into the Spider-Verse Sneak Peek: Meanwhile in another universe…
In the meantime, here's a new trailer to hype the home release that completely leans into the Tumblr read of the movie.
Anyone who hates that trailer suffers from Toxin masculinity.
…aw man, this is probably why they don't let me review movies on this site.
Gavin Jasper writes for Den of Geek and feels Venom makes a great double feature with the first Mortal Kombat. Read his other articles here and follow him on Twitter @Gavin4L