Reviews
Val Kilmer Documentary Punctures the Actor's Bad Boy Myth
Val Kilmer has always been on a journey to project his voice, which the Val documentary poignantly amplifies.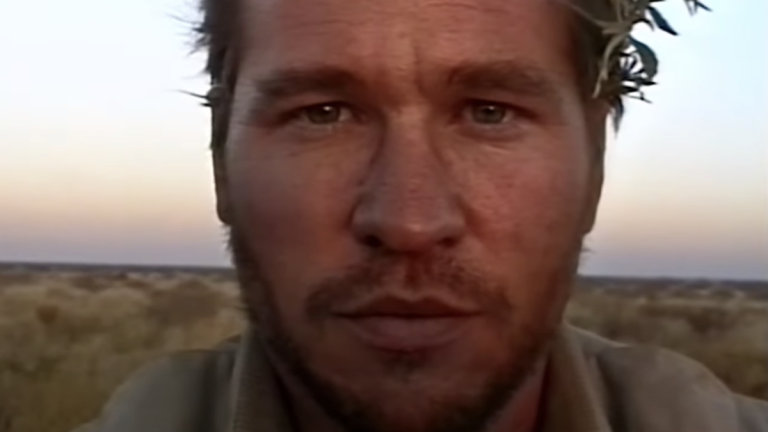 Leo Scott and Ting Poo's new documentary feature, Val, is not a mortality play. It is a rehearsal for an upcoming act. During a tour of his one-man stage show, Citizen Twain, Val Kilmer was diagnosed with throat cancer. The actor underwent two tracheostomies, and now can only speak while covering a tube. The narration of the new film is thus done by his son Jack Kilmer, allowing the pair to share a non-verbal connection throughout the journey, and through time and expression itself. While there are flourishes of humor, the documentary is a serious study of an artist who has always struggled to be understood, told through the selective memory of Kilmer's POV.
"I've wanted to tell a story about acting for a very long time," Kilmer says toward the beginning of the documentary. "And now that it's difficult to speak, I want to tell my story more than ever." Kilmer is an artist, one who takes his vocation very seriously and introspectively. An actor's voice is more than a tool, it is their primary source of communication. Non-verbal exchanges are important, but dialogue is the primary idea delivery system in staged and filmed works. Surgical procedures have split his throat, shredding the scope of his instrument. In the film, Kilmer is forced to project his story on the empty space between the notes.
Among Kilmer's many defining roles, the one which appears to ring truest is his encapsulation of Jim Morrison, the poet and lead vocalist of the Doors in Oliver Stone's 1991 biopic, The Doors. The young Kilmer is shown onstage in a small club, lost in the music, awaiting his cue to become one with the mic. Moments in Kilmer's personal history, like how the actor was tagged with a "difficult" label, are consigned to rests. The most overt reference to Kilmer's "bad boy" reputation comes from Robert Downey Jr., who smashes the notoriety to bits in a moment of impromptu dismissal.
There is no gossip here. There is no discussion of A-list-bad behavior. Kilmer sees it all as artistic license.  He was searching for honesty, he remembers. Choices like lying on top of a mattress filled with ice in order to feel a real pain during his last scene with Kurt Russell in Tombstone come across as perfectly valid. Kilmer is still bitter over spending four months learning to play guitar for Top Secret!, and his first note informs him the director thinks he looks funnier faking it. There is little evidence of unprofessionalism, only growing pains.
The bulk of Val comes from clips of 8mm home video footage Kilmer has been shooting most of his life. "I've kept everything, and it's been sitting in boxes for years," Kilmer informs us. The archive was intended to tell a story about "where you end and the acting begins." We are gifted with moon shots of both Kevin Bacon and Sean Penn, which have nothing to do with the films Apollo 13 or The First.
Early self-directed screen tests provoke a series of what-ifs. A tortuous encapsulation of a Juilliard acting class is a lesson in what-nots. Val's hand-held approach to The Island of Dr. Moreau is a highlight. The actor respectfully rocks his co-star and idol, Marlon Brando, on a hammock they both wish was strung to John Frankenheimer. Please turn off the camera, the film's replacement director demands. But Kilmer only hits pause when it's time to rehearse.
The behind-the-scenes camcorder footage from sets of Top Gun, Tombstone, and The Doors are treasure troves in themselves, and possibly underused. Most of the audience will be very interested in the candid youth and truth recorded over his career. Val uses the archival clips and unearthed b-roll to establish a chronology.
Many videos were made at home in Los Angeles with Kilmer's younger brother Wesley, who had an epileptic seizure and drowned at age 15. His death casts a mournful pall following the news that Val was the youngest applicant ever accepted as a drama student at Juilliard. Kilmer calls his brother "an artistic genius," and one of the most revealing things to come out of the documentary is how often Kilmer used this brother's art to augment the backgrounds of the sets he is living through on film.
Seeing how Stone speaks about Kilmer now makes me wonder if Val would have been able to put in the same performances in his movies if he knew it at the time. In his audition tapes for Full Metal Jacket and Goodfellas, we see an actor who needs to be taken seriously. He flies 6,000 miles to hand deliver his tape to Stanley Kubrick in London.
While he makes no comment, footage reveals Kilmer's favorite Batman was played by Adam West. "Every boy wants to be Batman," we hear, and see the Caped Crusader in every era of Kilmer's life. A short, animated film he and his brother made with what looks like crayon is a Batman spoof. He still glories in the moment he got deposited behind the classic TV series' iconic wheels as a youngster visiting the lot. It appears Kilmer still can't pass a grocery store Batmobile without feeding it quarters. He wears the classic blue Halloween ensemble expecting tricks and treats as a kid, and as a daddy with his kids.
Don't expect to see Kilmer wearing his cinematic puffed rubber suit at home, and it's not because he left it at the dry cleaners. Footage old and new, homemade or professionally recorded, presents the Batsuit as an albatross. Heavy rests the cowl. He has to be lifted from chairs, deposited on marks, and his only identifying feature on the set of Batman Forever is a chin and bottom lip. Anyone could have been behind the mask, and the human superhero envied the subhuman villains. Kilmer comes across as quite happy Jim Carrey and Tommy Lee Jones are able to create fully formed performance art in their portrayals. But he wanted to play with those toys.
"Batman Forever," Kilmer laments, "whatever boyish excitement I had going in was crushed by the reality of the Batsuit. I realized it was just my job to show up and stand where they told me." As the captured past footage is juxtaposed with modern sequences, we get an unfiltered glimpse of how little this has changed. The sequence of Kilmer at the Comic-Con autograph booth is wrenching. He initially didn't want to take the part of Iceman in Top Gun because he felt it glorified the military. So many fans ask him to sign "You can be my wingman" on their souvenirs. It turns his stomach. He throws up in a garbage can and wheeled through hallways with a blanket over his head. Trouper that he is, he returns to the booth to finish out the signatures.
Kilmer blurred himself into the role of Mark Twain. There is a beautiful sequence where the actor walks through town to the beach, in full stage makeup, dressed in the signature white suit and long mustache of his character. It is extremely telling when Kilmer tells the camera it's hard enough writing a good screenplay, much less a great one, which itself doesn't even match what he feels he needs to bring to a script of a film version of Citizen Twain. Kilmer sold his ranch in New Mexico to finance the project. The documentary only captures some of the frustrations.
Most of the anecdotes are guarded, and all the admissions are part of a subjective narrative. Kilmer's arc has rough edges, these tales are too smooth, and leave little room for impressionistic interpretation. Kilmer met his former wife, Joanne Whalley, when she was starring in a West End play directed by Danny Boyle, but he didn't approach her.
"She was brilliant, and I was in town making fluff," Kilmer concedes. It's all about the art, even appearances. The documentary hints that Kilmer's dedication to character did the most damage to their relationship. Wearing the same pair of leather pants for nine months could almost be on the books as probable cause for divorce in Hollywood.
Similarly, Kilmer's Christian Science upbringing is brought up, and dropped. There is a loving but ambiguous undertone to Kilmer's relationship with his once-rich-and-powerful father, who put his son in debt after trying to become a southern California land tycoon. But a sequence on his Swedish mother which juxtaposes a car ride he took with her when he was a child with one of being driven to her funeral speaks volumes without words.
Val is about the next step. "What's past is prologue" William Shakespeare wrote in The Tempest. Kilmer pondered the "too, too solid flesh" while rehearsing Hamlet, and the documentary opens after the actor faced his own mortality. Kilmer swears he feels better than he sounds and, while he finds little to regret in his memories, he expects less in the ones he has yet to create.
Val can be seen on Amazon Prime Video.