News
Train to Busan: Peninsula Trailer Promises Apocalyptic Mayhem
The sequel to cult horror-action darling, Train to Busan, is here, and now all of South Korea is riding the trails.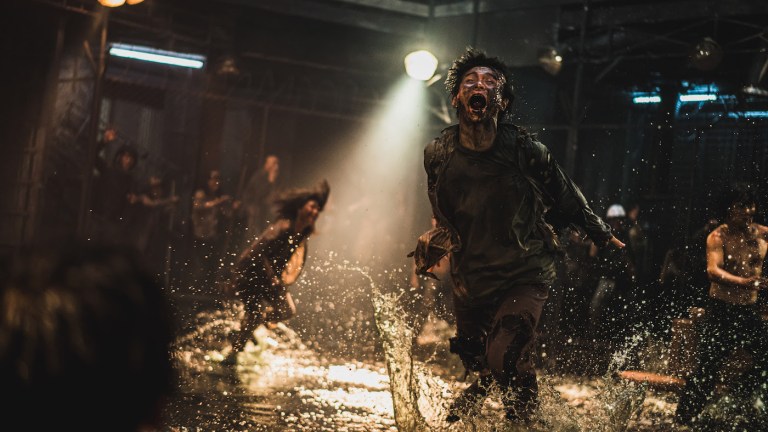 When Train to Busan premiered at the Cannes Film Festival as part of its midnight selection, it delighted and surprised as a South Korean zombie movie that kept things kinetic yet simultaneously claustrophobic on a train. The movie went on to be a darling among aficionados of action and chiller hybrids. Let's just say its anticipated sequel, Train to Busan Presents: Peninsula, is aiming to broaden the scope a bit.
Set four years later and in a post-apocalyptic hellscape where all of South Korea has been abandoned as a wasteland for the walking dead, Peninsula has turned a whole nation into a long-running train of death—somehow we suspect Snowpiercer director Bong Joon-ho would approve. With that said, Peninsula is not just going to be taking place in the wide-open spaces if its Mad Max-like remnants of "society" are any indication in the below trailer.
The official synopsis for the film is as follows: "Four years after the events of Train to Busan, all of Korea has been abandoned, and all that's left is its geography, zombies, and the ruins of South Korea. A group of marines on a retrieval mission gets trapped inside, and start to witness something that will test the fate of the world."
The film is directed by Yeon Sang-ho, who directed the first film. Yeon is also contributing as a screenwriter this time, partnering with the first movie's scribe, Park Joo-Suk. Train to Busan Presents: Peninsula also stars franchise newcomers Gang Dong-won Lee Jung-hyun and Lee Re.
Train to Busan Presents: Peninsula was supposed to have its world premiere at Cannes Film Festival last month, but the physical event was postponed and then cancelled altogether due to the coronavirus pandemic. Nevertheless, Peninsula is part of the 2020 Official Selection.
The film has no official release date in the U.S. yet, but already has releases slated for August in European markets, so it seems possible to expect this thriller at the end of summer. We imagine it'll still be fitting to have a zombie movie for these times even then.