News
The War with Grandpa Trailer Shows Robert De Niro Taking on His Grandson
Robert De Niro and Christopher Walken reunite to take on the younger generation in The War with Grandpa.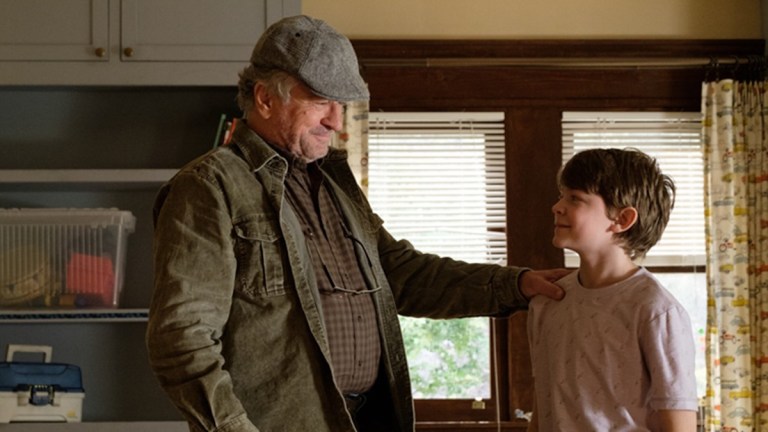 "I think your grandpa might be a Ninja," a frightened child warns the younger half of a warring faction in the new The War with Grandpa trailer. Robert De Niro, who survived the Vietnam War in The Deer Hunter, mob wars in Goodfellas and The Godfather Part II, and battled Sugar Ray Robinson in Raging Bull, is taking off his fiercest enemy yet. And may finally be outmatched in this conflict of pranks in the family movie.
Initially scheduled for release on Feb. 23, 2018, The War with Grandpa was one of the films to suffer from the fallout of the collapse of The Weinstein Company. Now 101 Studios has acquired the distribution rights and is setting the release date for Oct. 9. Under new COVID-19 restrictions, movie theaters are reopening with capacity limits, so there will be less competition for screens. Which is ironic since the crux of the new movie is a generational war over room and space privileges, albeit here it's more of a battle of wits.
De Niro stars as the titular Grandpa, a man named Ed who moves in with his daughter, played by Uma Thurman, when his old ways clash with modern living. It looks to be a loving and supportive reunion until the grandfather takes over the bedroom of his grandson Peter, played by Oakes Fegley (The Goldfinch), who really likes his room. Ed tells the kid he "didn't want it to be this way either," but is met with a declaration of war. The terms of which are laid out by Peter's learned young friend Billy (Juliocesar Chavez): "Give me back what is mine or face the consequences."
"Sixth grader Peter is pretty much your average kid—he likes gaming, hanging with his friends and his beloved pair of Air Jordans," reads the official synopsis. "But when his recently widowed grandfather Ed moves in with Peter's family, the boy is forced to give up his most prized possession of all, his bedroom. Unwilling to let such an injustice stand, Peter devises a series of increasingly elaborate pranks to drive out the interloper, but Grandpa Ed won't go without a fight. Soon, the friendly combatants are engaged in an all-out war with side-splitting consequences."
It starts with small skirmishes like putting quick drying foam sealant in the shaving cream, turning a phonograph into a vinyl record propulsion system before it escalates and reinforcements are called in on both sides. Ed recruits his friends, played by Christopher Walken, Jane Seymour, and Cheech Martin. The film also stars Rob Riggle and Laura Marano (Austin & Ally), who also performs its original song "Point of War."
Based on the award-winning book by Robert Kimmel Smith, the screenplay for The War with Grandpa was written by Matt Ember and Tom Astle (Get Smart), and directed by Tim Hill (Alvin and the Chipmunks, Hop).
The War with Grandpa release date is Oct. 9.