Features
The Twilight Saga: Best Movie Watch Order
Can't tell your New Moons from your Eclipses? We have a guide to all of the movies in The Twilight Saga, in the proper watch order.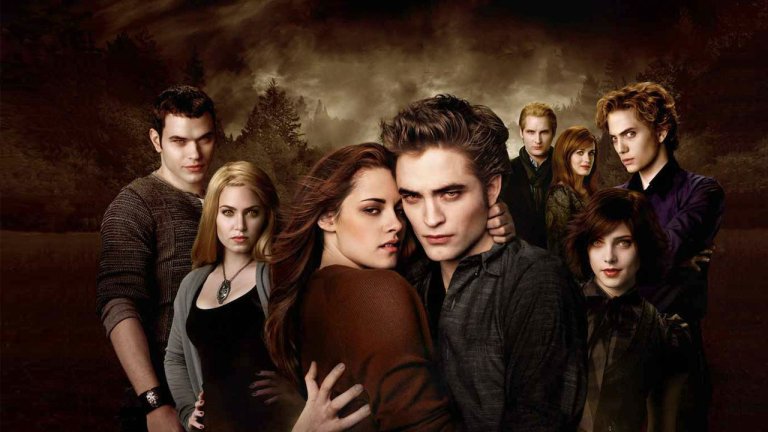 Are we in the midst of a Twilight-naissance? All five movies from the vampire romance are now available to stream on Netflix, giving old and new viewers alike the excuse to visit the overcast world of Forks, Washington, and dive into the love story of brooding vampire Edward Cullen and clumsy human teenager Bella Swan.
But unlike other film franchises, the order of The Twilight Saga is not super intuitive. Although the films are chronological, aside from the final two films in the franchise, they aren't numbered, which can leave viewers who haven't read the books a bit confused.
If you're new to the sometimes-sparkly world of Twilight and need some help figuring out which order to watch these films, we've got you…
Twilight (2008)
Director: Catherine Hardwicke
Writer: Melissa Rosenberg
Um, watch Twilight first. This first installment in the film series follows Bella as she first arrives in Forks, Washington to live with her father, local cop (and Twilight Saga character standout) Charlie. Once there, Bella becomes intrigued by Edward Cullen, a surly (and extremely attractive) teen who attends her local high school… you know, when it's not sunny out. As the story progresses, Bella learns that Edward is part of a family of ("vegetarian") vampires, and that the mind-reading vampire is equally intrigued with Bella, whose mind he cannot read. They fall in love and, when Bella becomes the target of a group of hostile vampires, Edward and his family step up to protect her.
The Twilight Saga: New Moon (2009)
Director: Chris Weitz
Writer: Melissa Rosenberg
This follow-up to the massively successful first film in the franchise got a much bigger budget and replaced Twilight director Catherine Hardwicke (😒) with The Golden Compass' Chris Weitz to continue the roller coaster love story of Edward and Bella. When Edward unilaterally decides that he is a danger to Bella, he and the rest of the Cullens up and leave Forks with barely a goodbye, and Bella falls into a deep depression. The one relative light in Bella's life is friend Jacob Black, a local (werewolf) teen who helps Bella fix up her truck. An iconic love triangle is born.
The Twilight Saga: Eclipse (2010)
Director: David Slade
Writer: Melissa Rosenberg
Director David Slade (Black Mirror: Bandersnatch) takes over for this third film in the franchise, which sees Bella and Edward back together, baby! … And engaged to be married, which is Edward's stipulation for turning Bella into a vampire. Meanwhile, some bad guy vampires are hatching a plan to take out Bella, and they're building a vampire army to do it. Will this lead Edward and Jacob to begrudgingly work together to keep the girl they both love safe?
The Twilight Saga: Breaking Dawn — Part 1 (2011)
Director: Bill Condon
Writer: Melissa Rosenberg
A new Twilight movie, a new director. This time, we have Dreamgirls' Bill Condon coming on board for the final two films in the franchise. Looking to cash in on more of that blockbuster money, Summit Entertainment decided to pull a Harry Potter and split the final book in Stephenie Meyer's series into two films. Does the plot necessitate it? No. Is it still a hell of a good time? Yes.
In this first installment, we get to see Bella and Edward's wedding and honeymoon, as they both commit to a life together. The honeymoon quickly ends, however, when Bella becomes pregnant with a half-human, half-vampire baby who is sucking the life out of her. Decisions are made.
The Twilight Saga: Breaking Dawn — Part 2 (2012)
Director: Bill Condon
Writer: Melissa Rosenberg
Bella is a vampire! And it seems pretty awesome. Of course, nothing can be easy for Cullens & co. for long. Edward and Bella's hybrid daughter, Renesmee, is growing very quickly and seems to have some powers of her own. When vampire mafia The Volturi catch wind of the half-human, half-vampire kid, they come to Forks to confront the Cullens. The vampire world will never be the same.
Do you have a favorite film in The Twilight Saga? Let us know in the comments below.