News
The Show Trailer: Alan Moore Movie Teases Trippy Nightmare
A trailer has arrived for The Show, showcasing a surreal subconscious-driven cinematic story written by Alan Moore.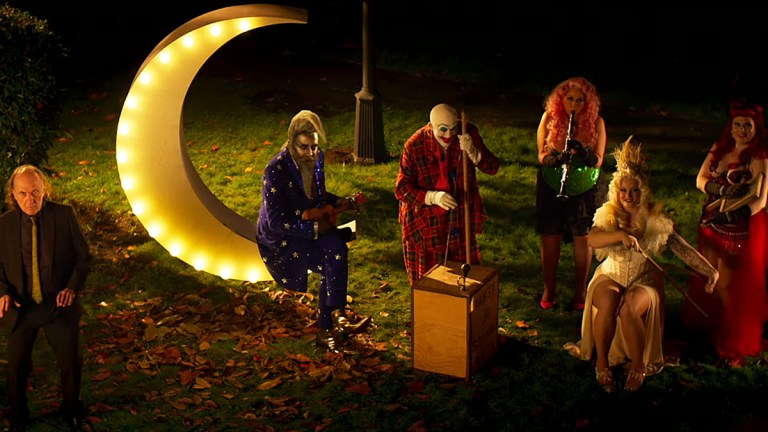 Alan Moore has often seen his iconic comic book creations—be it Watchmen, V for Vendetta or The League of Extraordinary Gentlemen—get adapted as big screen efforts that typically end up being the focus of his own critical wrath, but an upcoming passion project film, bearing the deceptively-generic title, The Show, will likely avoid that fate, since he not only penned the script, but actually fields an onscreen role.
Mitch Jenkins directed The Show off Moore's script, continuing behind-camera work he did for three shorts from Moore's 2014 anthology fantasy film, Show Pieces, to which this film bears a thematic connection, and similarly features Moore's onscreen reverie-riding character named Frank Metterton. Check out the trailer for The Show just below.
The Show Trailer
To attempt to analyze and interpret the montage of madness in The Show trailer would likely be a futile effort, seeing as it seems to showcase an odd crossing of planes—between the waking and dream worlds, along with the afterlife—that manifests as something that dwells in the more acerbically surreal arena of David Lynch's resume. Thus, all that seems apparent is that the central character, Fletcher Dennis (Tom Burke) is in store for an ordeal consisting of the typically bleak trippy tenets of Moore's wheelhouse. Compounding the clip's amalgamated form is hip-hop track "Bloodrush" by Andrew Broder featuring Denzel Curry. As the logline for the film (kind of) explains of the plot:
"A frighteningly focused man of many talents, passports and identities arrives at England's broken heart, a haunted midlands town that has collapsed to a black hole of dreams, only to find that this new territory is as at least as strange and dangerous as he is. Attempting to locate a certain person and a certain artefact for his insistent client, he finds himself sinking in a quicksand twilight world of dead Lotharios, comatose sleeping beauties, Voodoo gangsters, masked adventurers, unlikely 1930s private eyes and violent chiaroscuro women…and this is Northampton when it's still awake. Once the town closes its eyes there is another world entirely going on beneath the twitching lids, a world of glittering and sinister delirium much worse than any social or economic devastation. Welcome to the British nightmare, with its gorgeous flesh, its tinsel and its luminous light-entertainment monsters; its hallucinatory austerity."
Joining star Tom Burke (and Moore himself,) in The Show are cast members such as Ellie Bamber (The Nutcracker and the Four Realms), Siobhan Hewlett (Country of Hotels), Sheila Atim (Bruised) and Darrell D'Silva (Informer). Additionally, the film is the first feature from director Mitch Jenkins—a photographer by trade featured in Time Magazine—who only fielded the aforementioned entries from the Kickstarter-funded anthology, Show Pieces, "Act of Faith," "His Heavy Heart," and "Jimmy's End." Moore and Jenkins are joined by producers Mike Elliott, Tom Brown and Jim Mooney.
The Show doesn't have a general public release date to cite as of yet. However, the film is scheduled to premiere at the Sitges Film Festival (Spain) on October 12.