News
The Matrix Resurrections: Tom Hardy's Potential Surprise Cameo Revealed
Exclusive: The Matrix Resurrections and Venom 2 connections don't end with those helicopters. Tom Hardy may have entered the Matrix, too.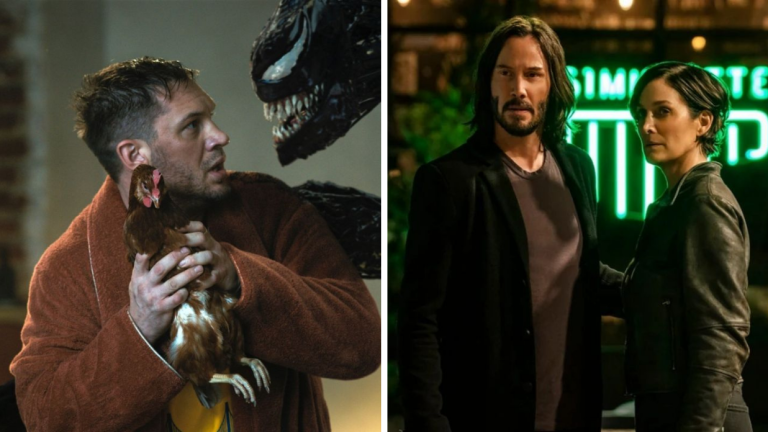 There's already so much to look forward to in regards to The Matrix Resurrections, our first Matrix movie in almost two decades, and that's without taking a potential Tom Hardy cameo into account. Venom 2 was filming in San Francisco at the same time as The Matrix Resurrections, with helicopters from Matrix production even making it into the background of the final Venom 2 edit, but what about the reverse? Will we see any hints of Venom 2 production in The Matrix Resurrections? Actually, we may even see Eddie Brock himself…
Well, not the character of Venom, but the actor behind the role. According to Matrix Resurrections star Jessica Henwick, who plays Bugs in the new film, Hardy stopped by during production and popped into the background of one of the scenes being filmed, alongside Henwick.
"We were filming in San Francisco at the same time as Venom 2, and I met Tom Hardy," Henwick tells Den of Geek. "And so, Tom Hardy and I are running in the background of one of the scenes. And I'm so curious to see whether it made the cut."
If the scene does make the cut, it's likely the Hardy "cameos" will be very minor, and that it will only be obvious via very close inspection.
"I can't wait to get a digital copy of the film, because I'm actually in the background in a bunch of scenes as me, Jess," says Henwick, who added she would often go to set on days when she wasn't filming just to watch Keanu Reeves and Carrie-Anne Moss in action. "So if someone zooms in, they'll be like, 'Wait. Is that Bugs in the background, in the mob, running?'"
Speaking more generally about the film, which Henwick has seen, the actress said: "It's a trip. It's the nostalgia and seeing Keanu and Carrie Anne on screen, it's magical to see these two absolute Hollywood heavyweights returning to the characters that made them famous. As a fan, I loved it."
If Hardy does make the cut, I'm entertaining head canons as to the larger MCU-Matrix universe connections, given that Venom is now officially part of the Marvel Cinematic Universe. Is the MCU part of the Matrix? How would Eddie Brock and Venom feel about Neo and Trinity? Can these two fictional universes be melded in any way that makes sense, especially given the MCU's latest multiversal moves? Let us know in the comments below…
The Matrix Resurrections is in cinemas and on HBO Max on Dec. 22.