News
The Goonies 4K Blu-ray Release Date, Bonus Features and Cover Art
Hey you guys! The Goonies is about to get a highly-requested 4K home release. Here are the details...
Goonies never say die, and neither do serious physical media collectors, so it's about time that Richard Donner's 1985 kids adventure classic got the 4K treatment. Indeed, a limited edition 4K Ultra HD and Blu-ray box set is on the way (along with a more modest single release) and we've got all the details you need to decide whether this is an essential purchase or not. Regardless, it's almost certainly time to update your Betamax copy.
This is the part of the article where I tell you what The Goonies is about and a little history on the film. Feel free to skim past this. Real talk, if you're thinking of chucking a wad of cash at a 4K release, you probably already know a fair amount about The Goonies. Starring Sean Astin, Joey Pants, Corey Feldman and a pre-mega fame Josh Brolin, Donner's movie was built from a screenplay by Chris Columbus and based on an original story by Mr. Steven Spielberg. The story follows a band of kids from Astoria in Oregon whose houses are about to be foreclosed on by some cash-hungry developers. The only possible way to save their beloved Goon Docks neighborhood? Finding a mythical pirate treasure left behind by a 17th-century pirate attempt called One-Eyed Willy to buy their way out of trouble, but a gang of local criminals called the Fratellis are hot on their heels.
There's been talk of making a sequel to The Goonies for decades behind the scenes. Spielberg revealed in a recent cast and crew reunion that "Chris, Dick and I — and Lauren [Shuler Donner] — have had a lot of conversations about it. Every couple of years we come up with an idea but then it doesn't hold water."
The team have never managed to settle on the right way to follow up on or update the story. "Until we do, people are just going to have to look at this [livestream] a hundred times!"
So, if it's a new extremely limited edition box set of The Goonies you've got your eye on in the meantime, you can take a look at what one is going to manifest as down yonder, although this particular image originally sent out by Warner Bros. includes the temporary cover. The glorious package does include a map, a patch, and buttons, all wrapped up in a treasure chest box, and you'll get the 4K disc with a standard Blu-ray and a digital code.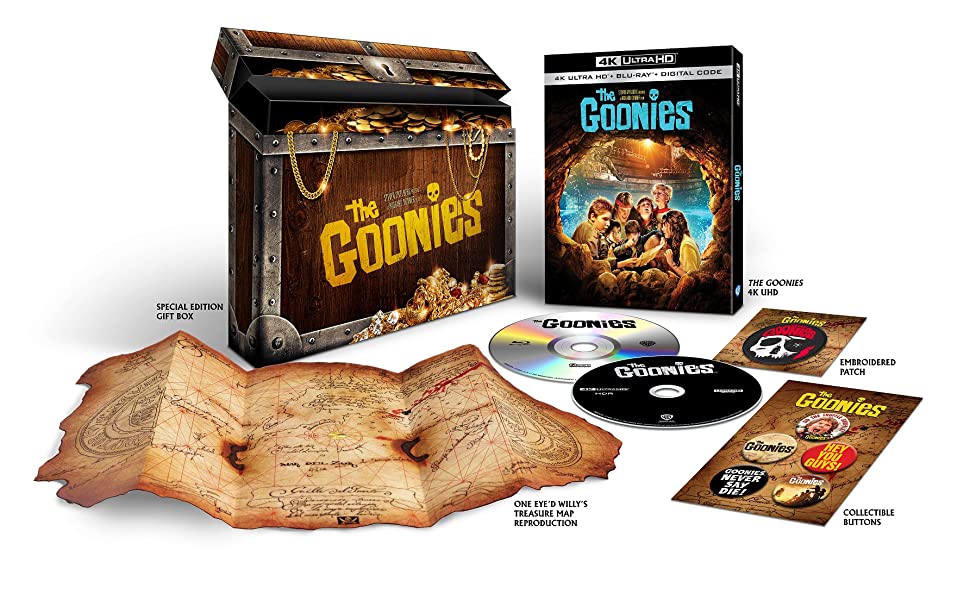 Bosslogic has now revealed his new cover art for this new 4K release, and you can clap your eyes on it below. It's terrific, naturally.
Here's a list of what's being included in this new The Goonies set, including the bonus content revealed so far:
The Goonies on 4K Ultra HD Blu-ray + HD Blu-ray + Digital Code​
Replica of the One Eyed Willy's treasure map featured in the film​
5 collectible pin-on buttons​
1 iron-on embroidered patch​
House all of your Goonies collectible "rich stuff" in this unique treasure chest package​
Commentary (with Hidden Video Treasures) by director Richard Donner and Select Cast Members
The Making of The Goonies Featurette
Cyndi Lauper "The Goonies 'r' Good Enough" Music Video
Deleted Scenes
Theatrical Trailer
You can pre-order the very limited set now for $49.99 on Amazon. In the UK, it's retailing for around £37.99. It will be released in the US on September 1, and a day earlier in the UK on August 31.