Reviews
The Eyes of Tammy Faye Review: Jessica Chastain Buries a Soul Somewhere in There
The Eyes of Tammy Faye features a dazzling performance by Jessica Chastain, but the movie never seems quite sure what to do with it.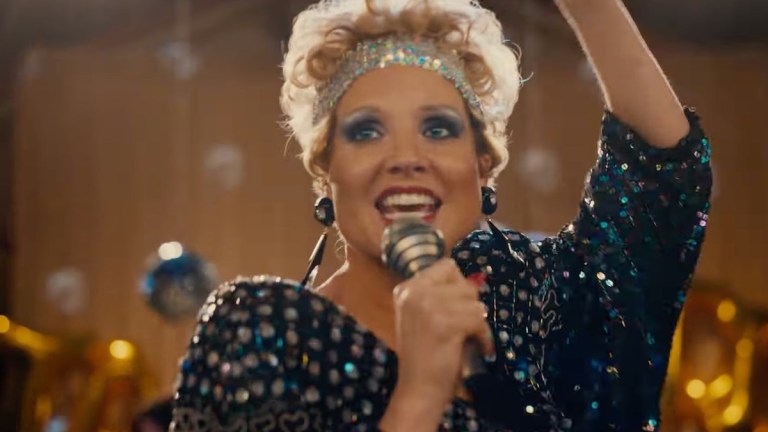 The Bible says eyes are a window to the soul, and the scripture ain't lying when it comes to The Eyes of Tammy Faye. If you can look past all the clutter and myriad distractions, there is a resilient and even boisterous spirit radiating from Jessica Chastain every time you meet her gaze. Yet it's sometimes hard to notice—and not because of all the makeup and prosthetics they add to the actress' face as the movie goes along. Rather what traps this richly textured performance is the glossy and fairly shallow biopic in which it's situated. Here is a Hollywood movie that has bottomless reservoirs of empathy for its real life subject matter, but little interest in understanding or digging deep into the world that used and abused her.
The window reveals a soul, but what good is it if the curtains are half-drawn?
As a narrative, The Eyes of Tammy Faye dutifully follows a clear-cut rise and fall structure. Born into a cold Christian home with a domineering mother (Cherry Jones) as its matriarch, young Tammy Faye (Chastain) is eager to get out and find God in her own way. Instead she settles on a seemingly nice Christian boy named Jim Bakker (an impressively underplayed Andrew Garfield) at school. The young pair elope and then decide to skip finishing college in favor of going straight into the world of evangelical preaching, first as a traveling ministry team and then as some of the country's first televangelist stars.
Jim rises to the top of the 20th century Christian industrial complex, founding his own TV show called The PTL Club—Jim would preach and beg for money, Tammy Faye would sing—and he then goes on to build a Christian theme park while rubbing shoulders with the severe Jerry Falwell Sr. (Vincent D'Onofrio). Meanwhile Tammy Faye attempts to go her own way as much as her extravagant yet claustrophobic lifestyle will allow: She supports the LGBTQ community during the AIDS epidemic and has her own affair after her husband's eye begins to wander. At the peak of their power, the Bakkers were cozying up with President Ronald Reagan… but that all changes once Jim is investigated for fraud.
Arriving as one of the marquee titles and major world premieres at this year's Toronto International Film Festival, there's plenty of hype around Thee Eyes of Tammy Faye. And it very much should put Chastain in awards consideration for her big and admirably gaudy turn. Tammy Faye was never a woman that even her most ardent fans would describe as subtle, and from the way Chastain embraces the television personality's sing-songy Betty Boop voice to how she actually sings many of Tammy Faye's kitschy Christian ballads, the actress relishes this showcase of her talents. In fact, she may never have been better than in this stunning character creation.
So if the movie, which Chastain is also a producer on, is designed to get her back on the awards circuit, then it's likely already received its benediction. She's fabulous. However, as an actual viewing experience, I couldn't escape the overall disappointment that stems from Tammy Faye refusing to dive deeper into its world than the surface level. Director Michael Showalter (The Big Sick) offers some token gestures toward exploring the sordid laissez-faire attitudes of big business Christianity in America, yet just as Tammy Faye avoids looking too closely into Jim's business dealings, the film itself mostly turns a blind eye to the darker shadows behind all this Sunday morning sunshine.
The one exception in this regard is how D'Onofrio's Jerry Falwell Sr. is depicted. Since he's the closest thing the movie has to a heavy—and indeed, the hypocrisy of the megachurch Southern Baptist flinching at the greed of another preacher is thick—D'Onofrio is free to lean into the character's arrogance and self-importance. His scenes come off a little like a mob movie set a Richmond country club.
Which is not to say the whole film needed to vilify or crucify this world. Rather it simply would've been better served by having a strong opinion one way or another on such larger than life personalities. The Eyes of Tammy Faye has plenty of time to weep for Tammy's heartbreak as she realizes her husband will not touch her, and admire her relatively progressive positions on social issues. But it also wants to revel in the extensiveness of the mountains of makeup the film slowly submerges Chastain beneath, even beginning the movie with the actress at her most concealed before jumping backward in time. The attempts to have it both ways, to be a love letter biopic and also court some laughs like the more risky and successful I, Tonya, causes the film's tears for Tammy Faye to seem a little forced.
What we're therefore left with is a strikingly familiar prestige product out of the Dewey Cox playbook (even if Tammy Faye's singing hymns instead of "At Fulsome Prison"), complete with estranged paternal relationships and glittering montages through the years. For an ostensibly serious movie standing before us with something to preach about God and the people who follow Him, it's surprising how thin its platitudes actually play.
The Eyes of Tammy Faye premiered at the Toronto International Film Festival on Sept. 12. It opens in U.S. theaters on Sept. 17.