Features
The Reason Behind The Exorcist: Believer's Biggest Change from the Original
Exclusive: David Gordon Green discusses why The Exorcist: Believer has a more ecumenical vision for driving the demons out.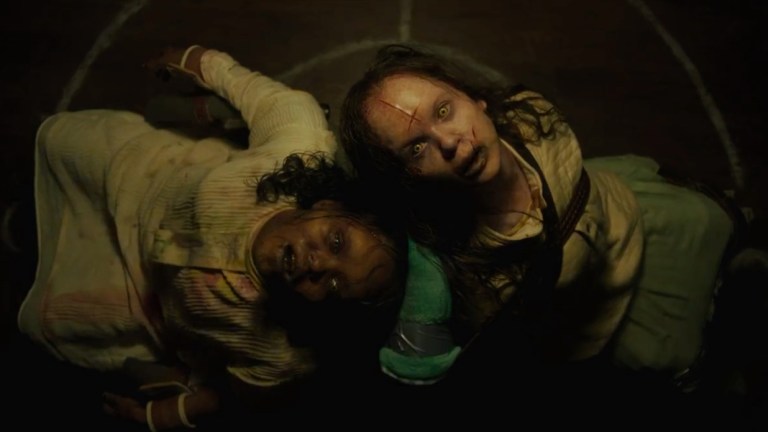 "Exorcism is a ritual. Every culture, every religion, they all use different methods… and it's going to take all of them." These are the words of Ellen Burstyn's Chris MacNeil, who's come a long way since we last saw her in 1973's The Exorcist. But then she saw the face of the Devil in that film, and 50 years later she now seems intent on offering a different kind of grace in David Gordon Green's The Exorcist: Believer. In the biggest horror movie of the Halloween season, Catholics, Baptists, Pentecostals, and even an African root doctor, will come together to face evil.
It's a far more inclusive and diverse vision of good than the narrow definition provided in the original Exorcist, a film where Jesuit priests resemble knights of the Holy Order, out to battle Satan to the death. Yet for writer-director Green, it was his first brush with the Jesuits and The Exorcist classic that informed his legacy sequel.
"I was a kid raised to go to church on Sunday at a Presbyterian Church," Green says when we catch up with him over the phone, "and then my parents sent me to a Jesuit prep school for a year in ninth grade. I was 15 years old, and I'm [now] looking at the Catholic texts in a different way from how I had grown up. I was thinking something was one way, and now I am talking intimately and being educated by people that think things in a different way."
Ironically, this coincided with the first time the burgeoning filmmaker watched Friedkin's The Exorcist on VHS.
"I'm watching a movie that is, at that point in my life, not the traditional horror movie I had been watching—A Nightmare on Elm Street or Halloween. It is something that feels very clinical and documentary-like, and it really affected me."
Thus when the opportunity came to tread horror cinema's holiest of grounds—a chance to make a sequel to The Exorcist just as he had made a sequel to John Carpenter's slasher masterpiece, Halloween (1978)—Green was taken back to memories of the Jesuits broadening his horizon. It was a favor he saw worth returning to the classic horror franchise.
Says Green, "The idea of acknowledging, if not honoring, religious perspectives of many varieties was a goal I had for this movie. To use a synchronized possession, two girls possessed by the same entity, was a way to explore different perspectives of parents and their communities."
Enter Angela and Katherine (Lidya Jewett and Olivia O'Neill), two little girls from different backgrounds. Angela's father Vic (Leslie Odom Jr.) is a secular single father; Katherine's parents are Southern Baptists. Yet both will have to test their faiths and turn to a spectrum of Christianity when the children are possessed by a demon—and not just the Catholic Church.
"I think we've seen so much of the man in the white collar and the Roman right," says Green. "I'm trying to make something that's distinctive, sure, in a world of possession movies, but I'm also trying to make something that's personal to me."
Green admits that, unlike The Exorcist's screenwriter and author, William Peter Blatty, he doesn't believe in literal demonic possession (and neither did Friedkin when he directed that film). However, he considers belief to be a "buffet of so many religions," and he came to appreciate a line in Blatty's novel about how possession can occur in the "little things." Like a doctor who washes their hands of a patient difficult to diagnose, or a nursing home that's abandoned all hope.
"I definitely talked to people that were devout about things that I thought sounded preposterous until I got to know them," Green considers. "You ask where their devotion came from, and how they got here on their journey. I'm a very malleable person affected by the sensitivity of others, and I think once people can strip away the academic absurdity of anything, and find things that feel more intuitive, then there's a lot more that we have in common than not."
The Exorcist: Believer opens Friday, Oct. 6.