Reviews
The Equalizer 3 Is the Perfect Movie to Release During a Strike
Strike or no strike, Denzel Washington's The Equalizer 3 knows exactly what it is and what its audience wants…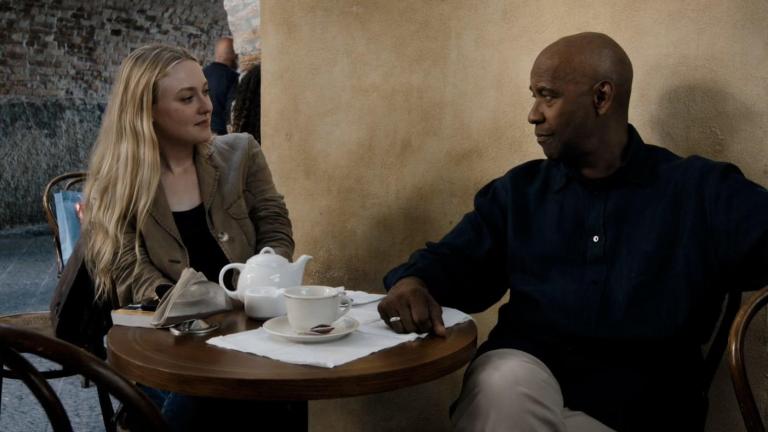 In the opening scene of Antoine Fuqua's The Equalizer 3, Denzel Washington shoots a bad guy in the ass. This is not a metaphor. Two-time Oscar-winner, and nine-time-nominated, Denzel Washington picks up a shotgun and blows a second hole into the il culo of a Sicilian gangster; which gives new meaning to making someone's ass grass.
It is also entirely on this wavelength that The Equalizer 3 coasts, flatly, gorily, but not altogether unpleasantly. For an actor of Washington's caliber, it's slumming, but his charm suggests he doesn't much mind. Like his character, the performer seems to be on a working vacation where the midday cappuccinos and late night glasses of vino at a picturesque Italian cafe (at which Washington always has the best and same exact seat) make up for all the drudgery he must trudge through.
And trudge, Equalizer 3 does. That's probably why Sony is perfectly satisfied to put it into cinemas over this extended holiday weekend.
As you've likely noticed in the last few months, the writers and actors unions (the WGA and SAG-AFTRA, respectively) continue to strike in the face of studio and streaming service bargaining power, which has so far declined to reach a deal that fairly compensates its talent through the industry upheaval caused by streaming and artificial intelligence. As a consequence, a lot of films have been delayed, from Oscar hopefuls like Yorgos Lanthimos and Emma Stone's Poor Things to hotly anticipated blockbusters, a la Denis Villeneuve's Dune: Part Two.
However, despite coming out right in what always seemed likely to be the middle of the strike—Labor Day weekend—Washington and director Antoine Fuqua's The Equalizer 3 sat as confidently and unhurried as Washington's Robert McCall sits at those aforementioned cafes. There's a reason for this.
While there is a certain justifiable logic to Warner Bros. deciding they need Timothée Chalamet and Zendaya to promote Dune 2 (all while the studio apparently has written off the strike being concluded by early October), or certainly Luca Guadagnino's tiny indie Challengers likewise feeling it must feature Zendaya on late night talk shows in order to generate awareness of that film's existence (hence it moving to next spring), Denzel and the audience he courts with the Equalizer flicks is operating at a different, more deliberate frequency.
Like a lot of actors of a certain age—your Liam Neesons, Sean Penns, or Kevin Costners—Denzel Washington has found new life in his advancing years as an action movie hero in dirty, mean, and often R-rated actioners obsessed with revenge. He just tends to do them with more debonair flair than most. Be that as it may, a movie like The Equalizer 3 is reliant on two things: older-skewing audiences recognizing Denzel on the poster and MLB TV spots, and those same potential viewers being tickled to see an old favorite go on another killing spree.
The audience in question will probably not be seeing funny junket interview games going viral on TikTok or YouTube, nor will they really need to know how much fun Washington had shooting that movie at the tip of the Italian boot—just look at that million-wattage smile up on the screen!
While Sony Pictures, which is releasing The Equalizer 3, almost certainly would've loved Washington promoting the film on the late night talk shows that still attract an audience who can remember when Washington was trading one-liners with Leno or Letterman 30 years ago, it really isn't necessary for a film that itself was always intended to release during Labor Day weekend, which in the U.S. is historically a slower moviegoing frame due to it marking the cultural end of summer for most families as school starts the following Tuesday.
But then, The Equalizer 3 isn't a family movie, is it? It's a happily gruesome revenge rampage which is fairly interchangeable with the last two Equalizer movies Washington and Fuqua partnered on, or for that matter Neeson's A Walk Through the Tombstones and Run All Night. In Equalizer 3, Washington's Robert McCall is trying to find peace and semi-retirement again, only now in Italy (and after the aforementioned kill-a-thon in a nearby mobbed up Sicilian vineyard). Alas, bad men doing bad things won't let him be and, shockingly, there's a mafia element in the old country that ruins McCall's calm. Who knew? So it's time to do what audiences have enjoyed watching Washington do for decades.
Indeed, the film is even a reunion of sorts for Washington and his once pint-sized costar from another revenge programmer, Dakota Fanning. The two previously partnered in Tony Scott's infinitely more stylish and satisfying Man on Fire (2004) where the kidnapping Fanning's nine-year-old Lupita similarly motivates Washington to go medieval on other non-American bad guys' tushies. That film even lived up to its genre visions of grandeur which were expressed by Christopher Walken in the film as thus: "[Washington's] art is death, and he's about to paint his masterpiece."
No one would accuse Washington's character in Equalizer 3 of achieving that. He's dabbling in his paints like a retiree with Bob Ross on the tele in the back. Even after the life of his new favorite CIA young blood (Fanning again) is left hanging in the balance, it might as well be another day at the winery for McCall.
At one point earlier in the picture, Fanning even badly attempts to spy on Robert, sneaking a photo while he sits sipping espresso and foam at that picture perfect cafe table. He turns to reveal he knows she's there, offering a big irresistible smile for the camera. The whole film is basically that pose, be it while holding a wine glass or a derrière-destroying shotgun. It's all vicarious for audiences. And with that modest ambition, Equalizer 3 will likely work for its target demo in the last gasps of summer.
The Equalizer 3 is in theaters now.