Features
The Bottom Shelf: The Lair Of The White Worm, Hausu, Der Todesking and more
Our latest round-up of genre DVDs and Blu-rays covers Ken Russell, Scalpel and Jorg Buttgereit...
With the #MeToo and Time's Up movements the dominant force of this year's awards season and Hollywood sexism under the spotlight perhaps more than ever before, it's interesting to consider where the late, great, Ken Russell would fit into today's film industry. The answer, of course, is probably not at all, and that's likely exactly how he would have wanted it, going by his utterly bonkers and kind of brilliant reptilian-tits-bash, The Lair Of The White Worm, out now on Vestron Bluray. Not necessarily the controversial director of The Devils, Women In Love and Altered States' most accomplished film, though perhaps his most ludicrous, Russell's very loose 1986 adaptation of Bram Stoker's novel of the same name sees erstwhile Emmerdale star and Adam Ant's former squeeze Amanda Donohoe camping it up as a snake-god-worshipping aristocrat turned semi-naked-strap-on-sporting vampire posho (just like her role in the long-running ITV soap). Peter Capaldi is a kilt-wearing, bagpipe-playing archaeologist named Angus, investigating the mythical "d'Ampton Worm", whom the ancestor of the Lord of the Manor, Hugh Grant (playing Hugh Grant), according to legend slayed in days of yore.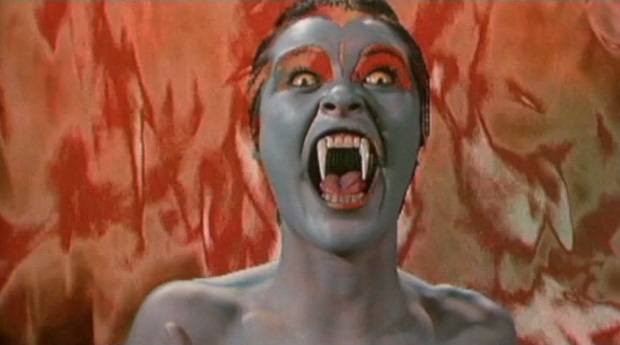 Turns out this beastie is more than a tall tale, though, as locals with northern accents worse than Daphne in Frasier start getting offed in sacrifice and lashings and lashings of heavy-handed images (satanic phallic loofah, anyone?) are chucked lovingly at the screen by a presumably guffawing, mad-eyed director. Some great psychedelic dream sequences involving Roman soldiers, slithering nemeses and, of course, nuns, abound as the perennial Russell preoccupations of sex and religion collide in what is, essentially, a tongue-fully-in-cheek Jim'll Paint It version of the lost Bram Stoker-scripted Heartbeat episode.
Taking a slightly more subtle (as in not so many knobs everywhere), approach to Freudianism – though to be fair, that could apply to literally any film – Blood Rage director John Grissmer's twisted 1978 psychological horror Scalpel, up next and out now on Arrow Bluray, sees the definitely-not-dodgy TV rent-a-baddie Robert Lansing as a widowed plastic surgeon with a penchant for breaching NICE guidelines.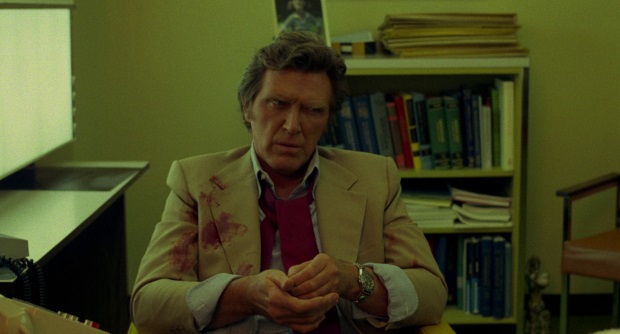 So, following the death of his wife and disappearance of his estranged daughter, our seemingly suave medical professional does what anyone else in that situation would do- find a badly disfigured hooker (Judith Chapman) and nurse her back to health under the proviso she will become the exact doppleganger of his daughter. Cue a Columbo-style scam regarding using this surgically-altered substitute daughter to claim her rich grandfather's inheritance as cinematographer Edward Lachman's muted colour filters make the whole thing look like a messed up seventies detective show to boot.
Turns out, though, that things are more creepy than that as surgeon and hooker get jiggy and the somewhat familiar actual daughter enters the scene to carry out the sort of unpleasant mind games only family can pull off just right. A delirious, deliciously nasty climax draws near as things start to implode for the suitably sleazy Lansing and Bob Cobert's searing strings drive the point home in nicely melodramatic fashion.
Furthering the sexy (or, more accurately, not at all) shenanigans, also out on Black House Bluray is French vampirotica (is that a word?) director Jean Rollin's 1979 return to more straightforward(ish) horror following years in the hardcore porn wilderness, Fascination. Rollin's film tells the heart-warming tale of a petty criminal in turn of the century France who Robin Askwiths his way around the countryside, only to stumble upon a coven of blood-drinking women (we've all been there, eh, lads? Eh? EH?) as the bodycount slowly rises.
Despite the film's obvious USP, Rollin's talent lies in creating a delirious, genuinely woozy soft-focus dream world as things that make no sense happen for no reason and Jean Lorrain's original short story, A Glass Of Blood, on which Fascination is based, lends an almost literary air to proceedings. The film's climactic scene featuring a scantily clad woman wielding a phallic scythe just about treads the fine line between sexism and feminism as Rollin himself does the same.
So, we've covered sex so far. How about a little death to complement our little pop psychology session? Writer-director Jorg Buttgereit focused on both in his own inimitable style with his Nekromantik films, and with 1990's Der Todesking (The King Of Death), out now on Arrow Bluray, the German auteur shows no sign of lightening up.
It's difficult not to imagine Buttgereit as one of the Big Lebowski nihilists, sat in a black-walled box room, editing his films before tea, though that belies the sheer quality and creativity behind this portmanteau of seven suicides (one for each day of the week, each a different type of death).
Meditating on life, existence, art and the creative process through the medium of decaying naked bodies, violent demises and the obligatory quirky synth score (included in full on CD here by the way), Buttgereit's film remains distinctive and oddly profound. Packaged with various short films and documentaries, the crisp Bluray transfer only highlights the extreme grubbiness that makes this film-maker so much of an acquired, and unique, taste.
We end this delightful trawl through mankind's morbid urges with some light relief, coming in the guise of Nobuhiko Obayashi's gloriously deranged Japanese schoolgirl massacre movie House (Hausu originally), which says a lot for the depths plumbed in this month's blog.
Released on Eureka's Masters of Cinema Bluray range, Obayashi's 1977 none-more-cult classic sees a group of teenage girls set out to visit one of their aunts at her isolated, wouldn't-be-at-all-surprised-were-it-haunted mansion house that, you guessed it, turns out to be, erm, haunted. Starting out as a cheesy, soft focus teen melodrama, with the screen filled with pastels and the necessary pillow fights and taunts you'd expect of all fictional teenage girl gatherings, things soon take a turn for the weird as we descend into an almost Vic 'n' Bob surrealist cheese dream.
With bizarre watermelon-head interaction, violent mattress attacks and possessed, bitey pianos the order of the day, our group of increasingly ridiculously-named protagonists high-kick their way through this gaudy, massively enjoyable rites-de-passage romp. Unbridled creativity abounds as stop-motion, animatronics and puppetry are woven together skilfully by experimental director Obayashi, all in the name of extreme, if grisly, silliness.