Features
The Bottom Shelf: The Endless, Xtro, The Asphyx
It's our monthly genre DVD round-up! This one includes Xtro, The Asphyx and the unmissable indie gem, The Endless...
One curious result of writing this blog is the regular criticism of covering some films just too good for the low grade bilge standard we expect to see coming through these waters. Previously we had Threads, Ray Harryhausen classics and They Live earning the ire of aficionados of bad movies this way. Now we have Justin Benson and Aaron Moorhead's haunting tale of doomsday cult survivors, The Endless, on Arrow Blu-ray, perhaps too good to cover here, though more likely too good not to.
The critically acclaimed writing-directing duo behind horrors Resolution and Spring also impress with their acting abilities here, playing two brothers, one (Benson) a cynic who instigated their escape from the apparently suicide-bound Camp Arcadia cult, the other (Moorhead), nostalgic and younger, eager to return to a simpler time when all their decisions were made for them. Of course, the simpler time isn't that simple, though, as our writer/director team with previous in mind-bending psychological unpleasantness demonstrate with aplomb.
As the you-don't-say words from his counsellor – "Are you sure it's a good idea to go back to the cult?" – ring true in darkly comic fashion, Benson's older sibling reluctantly agrees to bring his brother back to Arcadia for 'just one night', to get a sense of closure on their time there. We meet genial host and down-to-earth group leader Hal (Tate Ellington), who comes out with great lines such as "I don't want to come across as too cult-y here" as the compassionate script allows him to be a human rather than cliché and his motivations make as much sense as those of our somewhat foolish protagonists.
Trance-like circle patterns rendered beautifully, if subtly in lovely HD, appear in landscapes and housing and everywhere as more and more inexplicable phenomena takes place with sudden, jarring impact and we start to suspect there's more to this suspiciously youthful group than happy-clappy sing-alongs, spiked Kool-Aid and liberal amounts of Botox.
Encompassing such tomfoolery as self-trepanation (drilling a hole into the skull to relieve pressure), games of tug-of-war with invisible wood-bound entities and creepy time loops, Moorhead and Benson essentially expand their own cinematic universe established in their earlier films, fusing Lynchian nightmare logic (or lack thereof) with a genuinely satisfying emotional core. Skilfully unreliant on traditional shock tactics, The Endless' quality lies in its slow-burning sense of unease.
More supernatural eeriness unfolds next in the form of Tales Of The Unexpected regular Peter Newbrook's 1972 feature length Victorian chiller The Aspyhx, also making its way toward a worthy Blu-ray release. Proper Shakespearian thespian Robert Stephens slums it slightly here as an aristocratic photographer who becomes obsessed with the idea he can picture the soul leaving the body of the dying, though his and Robert Powell's haunted visages add some class to proceedings.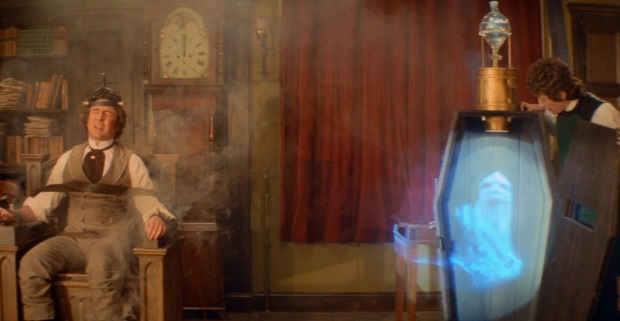 This whole sorry charade comes about when Stephens' posh cameraman and keen parapsychological society member films his fiancée and son on an afternoon punting trip along a quiet river that takes a turn for the worse when the two clumsy oafs go and drown, all captured conveniently on film. On closer inspection, it turns out that the footage, when treated with a certain substance (not mushrooms), reveals the Asphyx, an ancient spectre that comes for the souls of the dead like Donald Trump going for the children of immigrants. All of the above is, well, a bit mad, so his assistant (Powell) takes some convincing and bribing to get involved until the two stumble upon a way to capture one's own Asphyx and court the idea of immortality.
So, all of the above offers a nice metaphor for the sometimes disastrous effects grief can have on a person (whilst some disastrous visual effects hammer the point home as Stephens physically deteriorates) and our heroes go about slowly losing their own souls whilst dallying with those of others. Newbrook's use of a pleasantly bleak colour palette alongside the star of the show, an actual guinea pig (next to the human guinea pigs) sets the scene for a grimly entertaining morality tale.
Next up, we have less in the way of metaphysics and philosophy, and more in the way of tits (Bond girl Ursula Andress', no less) and violence as June also sees the release of 2019: After The Fall Of New York director Sergio Martino's 1978 jungle romp, Mountain Of The Cannibal God on Shameless Blu-ray. Starring Andress as the wife of a missing anthropologist and a pre-Mike Hammer Stacy Keach as the professor enlisted to help her track him down in the jungles of Papua New Guinea, this curiously uneven release begins as an almost Indiana Jones (well, sub Richard Chamberlain King Solomon's Mines, if we're honest) pulp adventure, albeit with more booby-trap deaths and a distasteful side helping of animal cruelty (thankfully edited down to something less offensive in this latest version).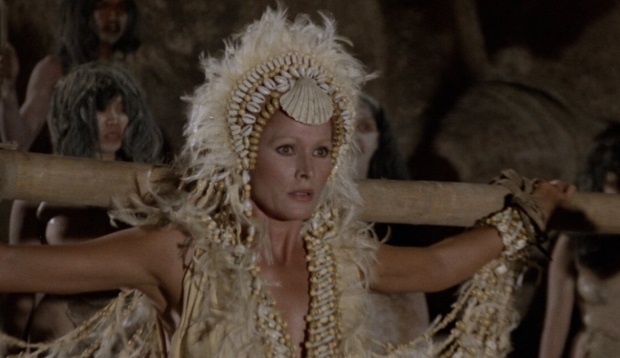 An almost wholesome (in comparison to Cannibal Holocaust at least, also out via Shameless in July) romp through the rainforest sees crocodiles gnaw on expendable local guides, tarantulas creeping around menacingly and the most brilliantly casual near-death encounter with an anaconda you'll see on film. Ridiculously chirpy synth music from Guido and Maurizio De Angelis plays and all is good with the world, if casual racism, mild peril and gentle gore is your kind of thing.
Then, the titular cannibals suddenly do their thing and Martino's whole movie becomes the video nasty it was originally banned in the UK for being: helpings of genital mutilation, masturbation and porcine David Cameron-ation (allegedly) are sandwiched between Ursula Andress being topless for some reason and general delirium. The charm wears off a little after the umpteenth mirthless massacre (should massacres really be mirthful? Yes) and we move swiftly on.
This month's final movie comes in the form of Second Sight's Blu-ray release of the British-produced, wonderfully ridiculous eighties alien splatter-fest, Xtro, bundled with a nice batch of new documentaries, original soundtrack CD (think of classic Sega Megadrive game Another World and you're halfway there) and preview of upcoming reboot, Xtro – The Big One for good measure. Coming together in one neat Garth Marenghi-shaped horror blob, this quirky encounter spawned two sequels, though surely very little could match the shakey puppetry and synthy score of the original.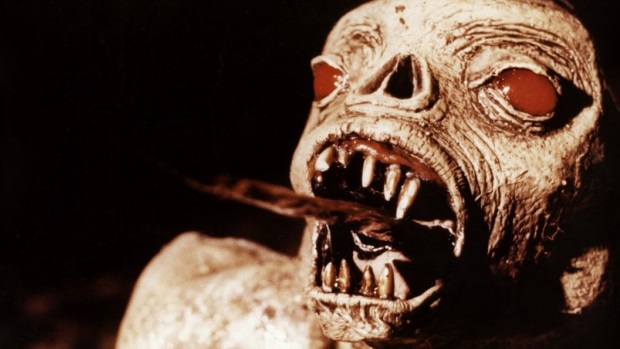 Director Harry Bromley-Davenport's endearingly cheap effort ticks all the right Alien copycat horror boxes – artificial alien insemination, creepy abduction and bloody murder are all rendered through gaudy, gloriously, agreeably shoddy effects as our young protagonist Tony (Simon Philips) embarks on an increasingly feverish adventure. Xtro's real strength, though, lies in its oddball flourishes – children's toys become vicious weapons whilst half-extra-terrestrial humans shag their way about town in sub-Body Snatchers fashion. Keeping with the unexpected Bond theme, The Living Daylights star Maryam D'Abo appears in her first film apparently just for two reasons (you can guess) as exquisitely silly, quintessentially British horror madness unfolds in all its bug-eyed glory.