News
Tenet Online Release: How to Stream the Christopher Nolan Movie
For those who are waiting to finally see Christopher Nolan's Tenet for themselves, and without wearing a mask, you're in luck!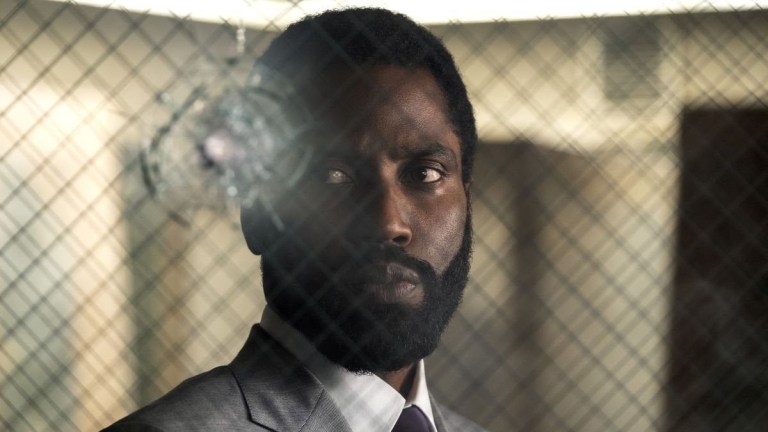 Christopher Nolan's Tenet was supposed to be the movie that saved moviegoing. The picture that would jumpstart an interest in returning to cinemas around the world, and enjoying the shared communal experience of watching films with strangers in the dark. It didn't really pan out that way, at least in the U.S. and parts of Europe, but it still grossed nearly $350 million worldwide. Granted, this is far below the standards of usual Nolan sci-fi epic like Interstellar, which earned $678 million, but hey, that means a lot of folks are about to see it for the first time ever at home!
Indeed, Warner Bros. announced Thursday afternoon Nolan's Tenet will become safely available for home media via Blu-ray and VOD beginning on Dec. 15, 2020. Just in time for the holidays, you can scratch your head on what the hell "inversion" means.
The film, which will also be made available for DVD and a 4K UHD Combo Pack, will come with a special feature called "Looking at the World in a New Way: The Making of 'Tenet.'" And price tags will range between $29.98 (for the DVD) to $44.95 (for the 4K UHD Combo Pack).
Tenet was, and for many people remains, one of the most anticipated movies of 2020. Originally set to premiere in July, the film was delayed multiple times due to the coronavirus pandemic. However, unlike most other Hollywood blockbusters, Nolan and WB felt bullish about staying in 2020, in large part because the writer-director believed Tenet could light the spark of renewed interest in moviegoing. Nolan has written extensively about how he considers movie theaters "a vital part" of our shared public life, and hoped to aid movie theaters trying to make ends meet. The picture was released in European markets in late August and in the U.S. in early September.
The film significantly underperformed in its domestic sphere, where it played only in markets with local governments that allowed theaters to reopen. This means the picture has still not played in the country's biggest moviegoing markets, including Los Angeles, New York City, and San Francisco. To date Tenet has only grossed $53.8 million in North America, and $347.1 million worldwide. The larger $293 million international cume is apparently in large part due to Asian markets, which have seen a greater return to cinema-going than the west.
Nonetheless, Nolan himself has recently revealed he is satisfied with Tenet's box office journey and role as the only major theatrical release in 2020 since March.
"Warner Bros. released 'Tenet,' and I'm thrilled that it has made almost $350 million," Nolan penned in The Los Angeles Times. "But I am worried that the studios are drawing the wrong conclusions from our release—that rather than looking at where the film has worked well and how that can provide them with much needed revenue, they're looking at where it hasn't lived up to pre-COVID expectations and will start using that as an excuse to make exhibition take all the losses from the pandemic."
Nolan went on to say he thinks the movie industry, like restaurants, can and should adapt to a new reality. Be that as it may, for the moviegoers who are less keen to do so inside of a movie house, Tenet will soon be available from the safety of home.