News
Taylor Swift Finds Political Voice in Miss Americana Trailer
Taylor Swift and Netflix reveal new trailer for Miss Americana, a documentary about the pop star becoming politically active.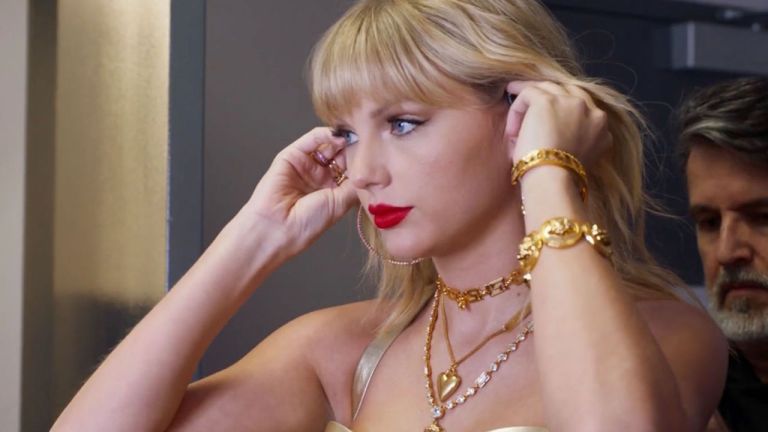 For more than a decade(!) in the spotlight of pop stardom, Taylor Swift has shaken off the need to get political or strongly suggest her opinions beyond critiques of past boyfriends (or other musicians she has "Bad Blood" with). But since revealing her political views in 2018, she has entered the fray of American discourse. And now she has the documentary to prove it.
Taylor Swift: Miss Americana is Netflix's first major doc of the New Year, one that partners the streaming service with one of the most popular musicians in the world. Already scheduled for a major premiere at the Sundance Film Festival ahead of its Jan. 31 streaming debut, the film comes with pedigree as director Lana Wilson previously won an Emmy for her documentary After Tiller.
The film follows Swift after the year she took off from touring and publicity, and in which she apparently contemplated her social utility. Following the country music standard in a post-Dixie Chicks world of not saying anything potentially political or controversial, Swift refused to detail her political views until 2018 when she came out to endorse Democratic candidates in her home state of Tennessee, citing specifically an equal pay amendment for women and the Re-Authorization of the Violence Against Women Act being motivators for her opposition against the current Republican Party.
"It's been a long time coming," Swift said in a tweet accompanying the trailer's online debut. This echoes the earnest tone of the trailer itself, in which Swift considers the weight of her platform.
"I became the person everyone wanted me to be," she says in the trailer. "I had to deconstruct an entire belief system, toss it out and reject it."
With that said, the music doc's belief system appears to be holding strong, including snippets of her writing future hit song "ME!" with Brendon Urie. Hopefully the movie can be as groundbreaking as Swift's apparent intentions are.
David Crow is the Film Section Editor at Den of Geek. He's also a member of the Critics Choice Association and the Online Film Critics Society. Read more of his work here. You can follow him on Twitter @DCrowsNest.