News
Super Troopers 3 And More On The Horizon For Broken Lizard
We caught up with Broken Lizard's Kevin Heffernan and Steve Lemme and discuss what's ahead for their feature film slate.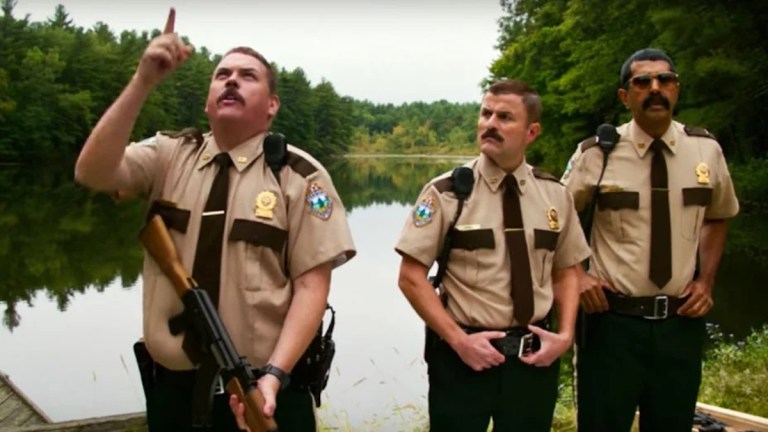 Steve Lemme and Kevin Heffernan of the Broken Lizard comedy troupe have forged a strong name for themselves in the comedy world. The collective started as a NYC-based sketch group, but slowly parlayed their talents to the big screen. Many people still regard Broken Lizard's Super Troopers to be their strongest feature, but over the years they've put out a number of memorable, irreverent comedies like Beerfest and Club Dread. Lemme and Heffernan's latest efforts have taken them over to television with TruTV's Tacoma FD. The hilarious firefighter series is well in production on their second season, but just because they've found success on TV doesn't mean that they've turned their backs on cinema. Quite the contrary.
Heffernan and Lemme are having a blast on Tacoma FD, but they announced at this year's New York Comic Con that they hope to soon be returning to familiar territory, most notably, a Super Troopers 3.
"It's a very real possibility and probably going to happen," Lemme says on the prospect of another Super Troopers joint. "We're a few drafts in on it—we usually like to turn out about ten drafts for our films—but we like what we've got so far."
While the duo said that Super Troopers is by far their film that they get the most questions about regarding a sequel, it's not the only one that they have under consideration.
"There's been talk about Potfest, which would be the sequel to Beerfest," Heffernan says. Admittedly, the two didn't have that many details on the project other than it's something that they've been spitballing ideas on. Presumably, this sequel would shift the film's chosen vice from alcohol to marijuana.
read more: The Story Behind The Long-Awaited Super Troopers 2
"That one's still a lot further out," Lemme clarifies. "We're not at the draft stage and it's still on the backburner, but something we'd like to get to in time."
Even though the future of Broken Lizard may see some sequels and recurring characters, they're far from finished with original ideas. In fact, before a Super Troopers 3 or Potfest takes place, they've already got another feature project nearly ready to go.
"There is a new idea that we've got that we should be working on as soon as this season of Tacoma wraps," explains Lemme. "It's totally finished on the script side of things and the furthest along, so that will be our next project before we return to anything else."
It will still likely be at least a year until the next Broken Lizard venture hits theaters and even longer before the next Super Troopers, but it looks like their keeping themselves very busy. In the meantime, the next season of Tacoma FD should be hitting TruTV in 2020 and help make the wait more tolerable.
Daniel Kurland is a published writer, comedian, and critic whose work can be read on Den of Geek, Vulture, and Bloody Disgusting. Daniel knows that the owls are not what they seem, that Psycho II is better than the original, and that Hannibal is the greatest love story ever told. His perma-neurotic thought process can be followed at @DanielKurlansky.