News
Could Sucker Punch Become the Next Justice League Snyder Cut?
Zack Snyder says that, like Justice League, there's a director's cut for Sucker Punch waiting to be released.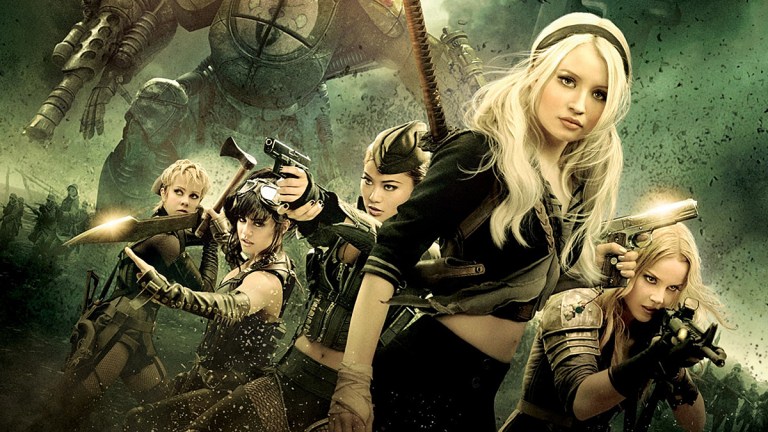 Sucker Punch, Zack Snyder's sexified 2011 action-fantasy mashup, hit shortly after the director had come off his ambitious (although reliably divisive) movie adaptation of Alan Moore's groundbreaking Watchmen comic title. With the director having notably made waves behind the camera for 2004's Dawn of the Dead and 2006's 300, Snyder's perceived genre gravitas—and imagery of scantily-clad women with swords and guns—was a clear selling point. While the film flopped, a recent reveal has, curiously, ignited fervor for a Sucker Punch Snyder Cut.
Snyder's attention at the moment clearly centers on the premiere of Netflix film Army of the Dead, which stands as his first all-new feature since 2016's Batman v Superman: Dawn of Justice, not counting his recently released HBO Max redux of 2017's Justice League, the original of which saw him replaced by Joss Whedon. However, Snyder provided an intriguing update on the now-decade-old dormant topic of Sucker Punch in a recent video interview with Vanity Fair in which he breaks down notable entries on his film CV. It seems that, similar to Justice League, Snyder shot enough footage from the 2011 film to justify a lengthy re-release—at least, if anyone's actually interested.
"[Sucker Punch] was the first time where I really faced, like, a true radical restructuring of the film for it to be more commercial," says Snyder. "And there is a director's cut of that movie that has yet to be released. I'll say that out loud."
Snyder's surprise disclosure of a Sucker Punch director's cut could make momentous waves across the vocal fandom that managed the monumental feat of hash-tagging the $70 million-boosted release of the Justice League Snyder Cut into actual existence, an act that has to be seen as a clear-cut victory, regardless of where a movie fan may fall on the proverbial Snyder spectrum. However, unlike the reworked DC megamovie, the obstacles standing in the way of a Snyder Cut of the 2011 film are more numerous and formidable.
The prospective redux's most immediate impediment is Snyder's massive, recently-revealed post-DC Extended Universe fallout with studio Warner Bros., which had been behind his signature films, including Sucker Punch, which—even during the better times of his partnership with the studio—was not exactly a high point. Moreover, the subset of an already-niche audience who might actually want more of the film already have it, since an extended cut already exists. Released on Blu-ray, that version adds 18 minutes to the originally 110-minute movie that also alters the PG-13 rating of the theatrical release to an R.
Sucker Punch, which Snyder co-wrote with Steve Shibuya, takes place in the 1960s, centered on the ordeal of a young girl named Babydoll (Emily Browning), who is framed by an abusive stepfather for the murder (he actually committed) of her sister, and is institutionalized in a Vermont insane asylum. Unable to directly deal with the horror of her dilemma, Babydoll constructs an elaborate fantasy world through which to interpret her new normal. Her fantasies, which reimagine the facility as a high-end brothel, take shape through stylistically anachronistic action mishmashes of Steampunk, World War I, and quasi-anime giant-robot imagery. However, the fantasy starts to bear real-world consequences once an elaborate escape plan is concocted along with fellow inmates Sweet Pea (Abbie Cornish), Rocket (Jena Malone), Blondie (Vanessa Hudgens) and Amber (Jamie Chung), all of whom appear in the sequences.
Unfortunately, the splattered nature of Snyder's cinematic canvas, along with the film's perceived sexually-exploitative imagery, opened Sucker Punch to substantial criticism, which certainly contributed to the film's downfall. But one whole decade removed from the film's failure, Snyder not only remains a believer, but even makes an argument for its unrecognized social poignancy.
"The movie to me is—you know, people don't acknowledge it—but it's a protest movie in a lot of ways. It's a movie about genre," explains Snyder. "I was asked at the time, 'Why did you dress the girls like that?' and I always go, 'I didn't dress them like that, you did.' I always saw it as an indictment, in some ways, of popular culture. I think, at the time, I was criticized for it being the opposite, like some sort of sexist rant, but it was fun to make and I still love it to this day."
While Snyder may see Sucker Punch as a misunderstood agitprop piece (albeit one with leggy women in lingerie swinging swords at monsters), most moviegoers—I daresay many of whom are actual fans of Snyder's darkness-driven visions—still see the film as a forgettable curiosity. Moreover, there also happens to be a lack of bottom-line motivation, seeing as the film bombed spectacularly at the box office upon its March 24, 2011 premiere, having ultimately grossed a paltry $89.8 million worldwide against an $82 million budget, which had to have left Warner Bros. in the red after expenses.
Justice League remains an unlikely exception in the director's cut craze, since the hashtag campaign that propelled it hinged on curiosity over what Snyder's version would yield in contrast to Whedon's. There's no such curiosity for Sucker Punch, which was the full fruit of Snyder's vision, and is hardly a beloved cult classic ripe for re-cuts like, say, Blade Runner.
Zack Snyder's Army of the Dead, however, has arrived unimpeded on Netflix, and can be watched right now in all its Viva Las Vegas zombie-wrecking glory.