News
Star Wars: The Rise of Skywalker Box Office Hits $1 Billion
The Rise of Skywalker is the fourth Star Wars movie to cross $1 billion, and Disney's seventh 2019 release to do so.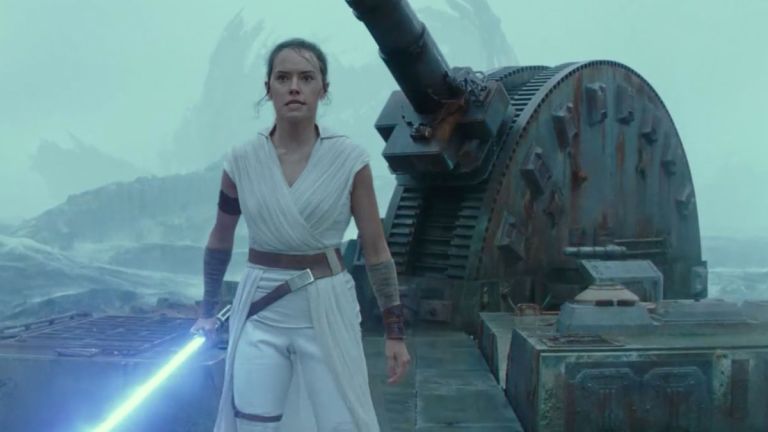 The Force is strong with this one. It certainly must feel that way inside Disney's accounting division after a disappointing opening weekend for Star Wars: The Rise of Skywalker still yielded a major milestone for both the Lucasfilm franchise and the Mouse House who owns it.
On Tuesday, The Rise of Skywalker crossed $481.3 million domestically and $519.7 million internationally. When tallied together, the final chapter of the Skywalker Saga has rallied $1.001 billion to its Resistance beacon. This is a major achievement for both Lucasfilm under Kathleen Kennedy's stewardship as president and for Disney. It is the fourth Star Wars movie to get over the perception-defining $1 billion milestone, shattering whispered negativity among critics and fans after Solo: A Star Wars Story sank like a stone in 2018, earning just under $393 million globally.
For Disney, this is also another flex on what has been a historic year for the studio that Walt built. The Rise of Skywalker is their seventh 2019 release to cross $1 billion, following in the footsteps of Captain Marvel, Avengers: Endgame, Aladdin, Toy Story 4, The Lion King, and Frozen II.
This is likewise a boon for the Star Wars brand's value, which is often written about in the media as being in decline. After The Force Awakens set records by having the then-highest opening of all time in 2015, the film's $2.1 billion total was followed up by The Last Jedi with $1.3 billion. The latter number was considerably down, yet it was also considered respectable since it wasn't coming off decades of anticipation to see Harrison Ford, Mark Hamill, and Carrie Fisher back in their iconic roles. But the film was also at least somewhat divisive among the Star Wars fanbase, and The Rise of Skywalker proved to also be that—only more so.
Whereas The Last Jedi earned enthusiastic critical raves and high marks from audiences polled by CinemaScore, The Rise of Skywalker earned a mediocre critical reception and a more mixed CinemaScore rating too. Its divisiveness is further reflected in how much it has lagged week-to-week compared to The Last Jedi. For instance, the 2017 Star Wars pic crossed $620 million in North America, but The Rise of Skywalker is still fighting its way to $500 million after five weeks.
read more: Why Kylo Ren's Redemption Arc Misses the Point
However, lest one get caught up in the narrative of diminished returns, the fact The Rise of Skywalker still earned $1 billion and counting dispels any truly negative media narratives. Audiences overall are still embracing the film, even if less so than the last two Skywalker Saga installments, and the franchise is still one of the most popular in the world, even if it is noticeably unable to build upon its successes as easily as Marvel Studios does.
The Force is still strong with Star Wars, which will figure greatly into Disney and Kennedy's thinking as they decide where to go next now that the Skywalker Saga has come into a safe landing.
David Crow is the Film Section Editor at Den of Geek. He's also a member of the Online Film Critics Society. Read more of his work here. You can follow him on Twitter @DCrowsNest.