News
Rare Star Wars Script Protects Empire's Darth Vader Secret
An upcoming auction for David Prowse's Empire Strikes Back script reveals the lengths that were taken to avoid Star Wars plot leaks over four decades ago.
This article contains spoilers for Star Wars: The Empire Strikes Back, Avengers: Endgame and Spider-Man: Far From Home.
These days, you'd lose a metaphorical hand to a studio's red lightsaber if you dished details on any major upcoming plot twists. Media training for interviews, fake scripts, and so much green screen that the actors couldn't even really tell you what was happening on set if they tried are all extremely commonplace behind the scenes of the big franchises, so that invested audiences get to experience that collective shock when Cap wields Mjolnir, or J. Jonah Jameson live-streams the doxxing of Peter Parker. Witnessing those moments without the internet ruining them first is a regular gauntlet, as you may be aware.
Back in 1979, when Irvin Kershner was making his highly anticipated follow up to George Lucas' Star Wars, the interminable chore of keeping movie secrets away from prying eyes was still a pretty rare occurrence, so it's quite fascinating to see late Darth Vader actor David Prowse's Empire Strikes Back script preserving its big twist and leaving its actor in the dark.
The Empire script in question is set to be on the block this Star Wars Day (May 4th for the uninitiated) at East Bristol Auctions in the UK, and confirms that Prowse was none the wiser about James Earl Jones' imminent voiceover revealing that Luke Skywalker was Darth Vader's son, a cinematic moment so iconic that it's regularly cited as one of the greatest plot twists in film history.
Star Wars: The Empire Strikes Back takes place three years after the events of Lucas' ground-breaking space opera. Darth Vader is determined to track down the Rebel Alliance and eventually lures Luke Skywalker (Mark Hamill) to Bespin, where he implores him to join the dark side of the Force. When Luke refuses, Vader drops the mother of all truth bombs on him.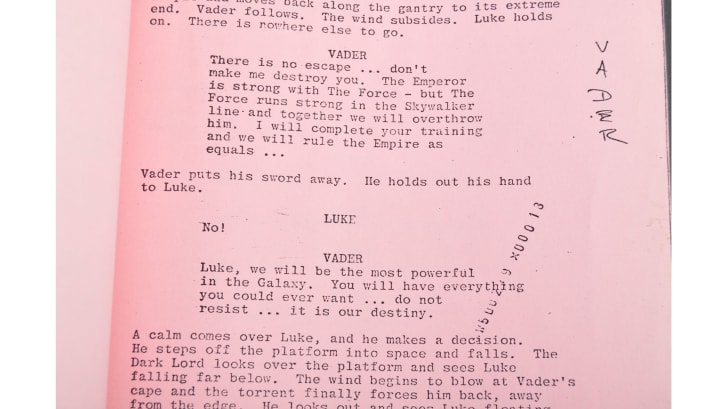 Prowse's altered Star Wars script reads "Luke, we will be the most powerful in the galaxy. You will have everything you could ever want… do not resist… it is our destiny." Not an "I am your father" in sight.
Jones had originally been brought in to provide the villainous Vader's voiceover after Prowse's regional accent was deemed inappropriate for the part. "[Prowse] was very much hired for his physical attributes. The only people that knew [about the twist] I think were about three or four members of the cast," auctioneer Andy Stowe told CNN.
In fact, only three people knew the twist: Lucas, Kershner and Hamill, who was only told about it just before they filmed his close-up.
Stowe predicts Prowse's incomplete script will sell for between £2,500-4,000 ($3,490-5,580) at auction next month.