Features
Space Sweepers and the History of Working Class People In Space
You don't have to be a scientist, a hot shot pilot or a billionaire to go to space... but it helps. We explore the legacy of blue collar explorers and Netflix movie Space Sweepers.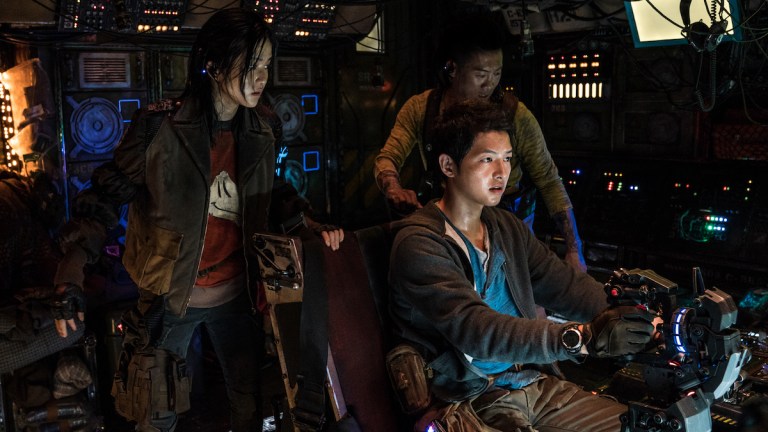 This week saw the release of Space Sweepers, Korea's first big budget special effects space movie extravaganza. There are a lot of interesting things to say about this movie, but one of the things that makes it stand out is it's an excellent portrayal of people in space who are skint.
See, I hate to break it to you, but you're probably never going into space. Unless you're a highly trained technical specialist (well done!) or a billionaire (pay your taxes!), your best shot at seeing Earth from space within your lifetime is the development of realistic-yet-cheap VR headsets.
And the thing is, a lot of the time this holds up in sci-fi as well. Space travellers are either living in a post-scarcity utopia, are part of the military, or are some kind of genius scientists.
Even where we see supposedly salt-of-the-Earth relatable types, like Han Solo or Mal Reynolds, their scruffy outfits and roguish ways can't quite cover for the fact that they own and live in the equivalent of a massive luxury yacht or private plane. Serenity may look like a rust bucket, but it's far from the equivalent of a white van, and while Mal is constantly complaining about the costs of fuel and repairs, that doesn't change the fact that he seems to own the ship outright, and in "Oxygen" he appears ready to buy the ship for cash.
As for Han Solo, leaving for a moment his humble origins and that he won the ship in a card game, within the Galaxy Far Far Away the ratio of space travellers to non-space travellers doesn't seem that different from the one on Earth. Yes, there are lots of smugglers and Tie-fighter pilots and interplanetary bounty hunters, but for every one of them there are millions of Tusken sand raiders, Jawa scrap merchants, moisture farmers and Corellian street rats. Spacecraft might come and go from the spires of Coruscant as regularly as buses, but the population density is such that most people on that planet will be lucky to see sunlight, let alone the stars.
Meanwhile, back in the real world, the chances of an ordinary person getting into space even in the foreseeable future vary between Willy Wonka Golden ticket level lucky, or truly dystopian. On the one hand, Elon Musk has announced the first all-civilian mission to space, led by billionaire Jared Isaacman (so, not what you'd call an everyman), two seats given to people who have won a place by donating to St Jude's Hospital (it probably won't be one of the smaller donors), and finally, one lucky front-line health worker.
But Elon Musk wants to colonise Mars, and sadly billionaires still need people to clean the toilets, so Musk has other ideas for how ordinary people might get into space. Unfortunately that idea is indentured slavery, demonstrating that the most prescient science fiction writers of our generation are the writers of first-person shooters.
This is why, outside of post-scarcity-fully-automated-luxury-space-communism, and the military, science fiction is always oddly quiet about money. With a few honourable exceptions.
We Just Work Here
The first and most obvious reason why any ordinary working-class person would end up in space is "they're paid to".
Pretty much the codifier of working-class people in space is Alien. The crew of Nostromo aren't scientists, they've not got The Right Stuff. Nobody on that ship is getting a high school named after them. The crew of the Nostromo are basically truck drivers who venture off the highway and run into something nasty. Yes, ironically they show a great deal more competence, professionalism and intelligence in encountering an alien threat than the actual scientists in the prequel movie, but the first conversation these characters have when they come out of hyper sleep is about money. From the outset, these are people in a place of work.
It's a model that set the format for gritty-industrial-working-class-people in space movies going forward for better or worse. Event Horizon just lifts Alien's aesthetic completely for the rescue ship Lewis & Clark, as does the videogame series Dead Space, like Alien, set aboard a mining ship.
Away from the horror genre, Outland sees Sean Connery play sheriff in a final frontier mining town that could have taken place in the same world as Alien.
And of course, Red Dwarf, which not only made good use of the Alien aesthetic, but also cast the colony commander from Aliens as their Captain, to tell the story of chicken soup repairmen in space.
Across all of these stories, and of course the aforementioned videogames, the life of the blue collar space traveller is an unpleasant one, exploited by a company that not only controls your life while you work, but also owns all of your food, water and air. Indeed, it's not rare for them to go further. In Moon, another film where the spacemen-to-earthmen ratio seems not far what it is now, Sam Bell's employer decides to save the cost of training employees and ferrying them back and forth from Earth to the Moon by taking one employee and filling a cellar full of his pre-programmed, short-lived disposable clones.
Public Transport
But maybe you don't want to work for "the Man", not an unwise call given the Man is probably trying to feed you to something horrible in the hope of creating a new bioweapon. One surprisingly under-utilised method of getting into space is public transport.
In The Fifth Element, Bruce Willis plays a special-forces-operative-turned-cab-driver who, as part of his cover, wins a ticket to go on a space cruise. Although looking at the sets and the extras in this movie, as well as the packed-in-as-tightly-as-we-can apartments back on Earth, one gets the impression this is not an option open to the majority of working joes.
Perhaps the best example of this is in the shockingly under-loved 2018 flick, Prospect, featuring future Mandalorian Pedro Pascal.
In Prospect, the spaceship is little more than a rotating framework filled with cargo containers in front of a massive engine. The father and daughter prospecting team are on board a lander that resembles nothing so much as an old Apollo Lunar Lander on the inside, and as the mothership approaches their destination the ship doesn't even stop, it just releases the lander, tells them when the ship is going to be passing back that way and warns them the line is being terminated, so there won't be another ship passing that way.
This is a model it would be fantastic to see more of. The landing module is small enough that it's entirely plausible that even these not-very-well-off characters could buy, hire or rent one. Rather than having the freedom of the space ways like Mal or Han, their travel options are entirely restricted by what destinations are profitable for large shipping companies and whether they'll let you tag along. And while on the surface the aesthetic looks a bit Alien, in truth it feels far more like it's cobbled together from relics of the actual space age.
Borrow Your Way Into Space
And finally, of course, there's the Elon Musk solution. Borrow your way into space. One of the early places to use this idea was Gateway, by Frederik Pohl. Frederik Pohl in particular is fantastic at writing science fiction worlds where people actually have to worry about money. In Gateway and its sequels humanity has discovered Ancient Aliens left a space station nearby, stocked with a lot of spaceships. Being alien technology, humans can't control the ships accurately, they're limited pretty much to pressing the "Stop" and "Go" buttons, and when the ship flies off it might land on a world of fabulous riches, or it might chuck you into the heart of a star.
Prospectors who want to try their luck in these ships have to take out a loan to get to the station, and throughout the novel the protagonist is constantly aware of how many credits are in his account.
Which brings us back around to Space Sweepers. At first glance the Space Sweepers set-up might seem similar to that of the Millennium Falcon or Serenity – an extremely "used" looking ship run by a rag-tag bunch of misfits. But the first time we see the protagonist, Tae-ho, he's in a pawn shop. As soon as he gets back to the ship we learn the crew are still paying off the cost of the ship, as well as the costs of repairs and parts.
We see an awful lot of "Space sweepers" throughout the film, junk collectors gathering up salvage from Earth's orbiting collection of derelict spacecraft and defunct satellites. But these people don't seem like roguish space pirates, the impression they give is more akin to app-based gig workers.
This is compounded by another issue – that to work in space you need a visa, with citizenship limited to the wealthy few who are able to afford a place on the deluxe orbiting space habitats.
Everything in Space Sweepers is driven by money, whether it's Tao-Ho's attempts to raise enough money to find his daughter, the robot, Bubs, and her attempt to get a humanoid body that reflects her gender, and of course, the $2 million reward for "Dorothy" which drives the whole plot.
Often space-based sci-fi is about the fantasy of freedom, of exploration. Even shows like Star Trek give us characters whose job isn't much more than to fly around having adventures. But there is rich storytelling to be done about the people who have to clean the space toilets.
Chris Farnell's novella series, Fermi's Progress, is about a ship whose FTL drive vaporises planets, and features at least one space traveller who isn't a scientist, super soldier or billionaire (although to be fair the other three characters are exactly that). You can find part one here.