Features
Scream 6 Trailer Honors Franchise's Most Iconic Kill with Easter Egg
The new trailer for Scream 6 introduces us to "a shrine" dedicated to the Ghostface killings, and it's stuffed with macabre easter eggs... including to the franchise's most horrifying moment.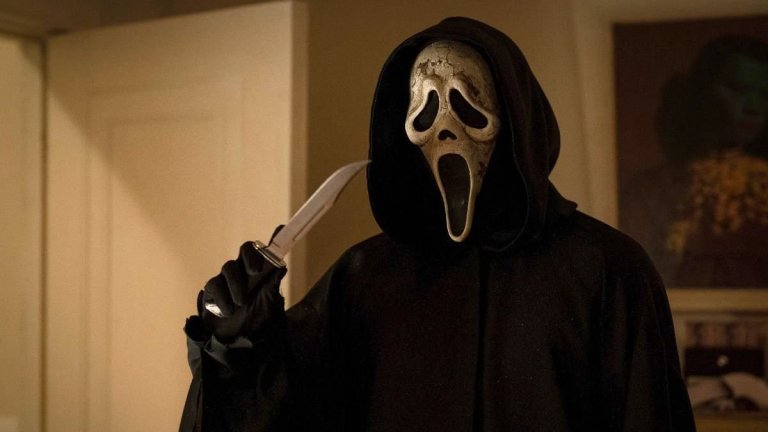 It may have taken 11 years for Hollywood to deliver a fifth Scream movie, but 2022's soft reboot took off its black gloves and butchered the competition via Matt Bettinelli-Olpin and Tyler Gillett's genre-defining requel. And now it's "New York, new rules" for Scream 6, as the previous film's surviving crop of tormented teens leaves Woodsboro for the Big Apple.
Scream 6 is poised to be one of 2023's biggest horrors, and it's already honored its history with a brilliant marketing poster which retraced the past 27 years of spills and kills. Now the first full trailer confirms the next chapter will go back to the start of the slasher series. If you were watching the trailer closely, you might've noticed that Scream 6 homages the franchise's most iconic kill.
Although Scream 6 is hyped as something new because it's riding the subway all the way to New York, remember we've previously left Woodsboro for Scream 2's Windsor College and Los Angeles in Scream 3. Even though the latter proved a new locale doesn't always breathe new life into a stalling series, this doesn't look like it'll be a problem in the high-octane Scream 6. A change of scenery has drawn Ghostface(s) closer, with the trailer's most talked-about scene being an Easter egg hunt for the Scream movies that have come before.
As well as more from Sam and Tara Carpenter (Melissa Barrera and Jenna Ortega), we see the welcome return of franchise staple Gale Weathers (Courteney Cox) and even Kirby Reed (Hayden Panettiere)—the latter of whom was presumed died in Scream 4. When trying to guide the younger survivors, Gale tells us this unknown warehouse is a "shrine" to the previous killers. Our attention is drawn to the nine Ghostface costumes at the back of the room, which we assume belonged to each of the killers because there have been nine of them across five movies.
Away from the Ghostfaces of Scream past, the standout Easter egg harks back to Wes Craven's original Scream. If you look to the right of the shot, you'll be able to spot a mannequin wearing the bloodied outfit of Tatum Riley. Played by Rose McGowan in 1996's Scream, Tatum was famously killed by Billy Loomis (Skeet Ulrich) while at the party of her boyfriend, Stu Macher (Matthew Lillard). We see Tatum's lime turtleneck and psychedelic skirt, which are still stained with her blood.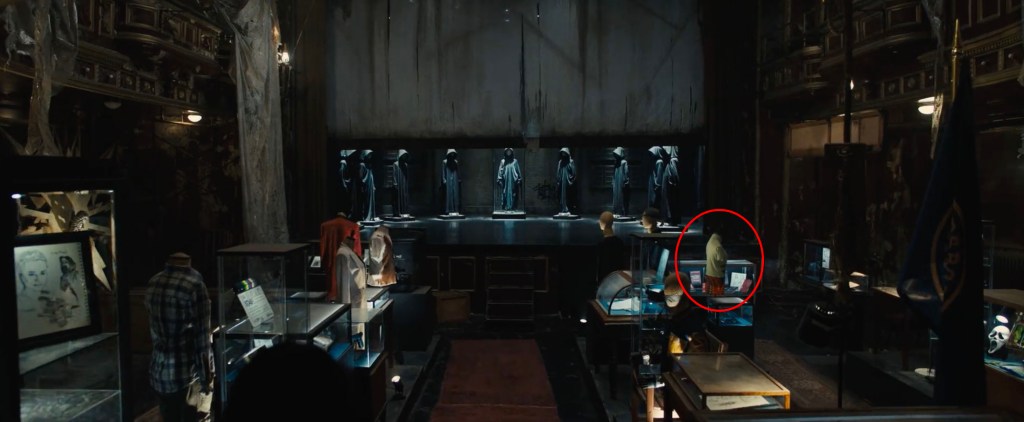 From the opening kill of Casey Becker (Drew Barrymore) in the first Scream to Cici Cooper (Sarah Michelle Gellar) in Scream 2, Jill Roberts (Emma Roberts) from Scream 4 to Dewey Riley (David Arquette) in Scream (2022), there are too many standout kills to count. Still, the scene of Tatum trying to escape Ghostface through a cat flap—and then being discovered later by Sidney (Neve Campbell)—has become synonymous with the franchise's best. Like Scream 2 homaged the kills from the first massacre, we wonder if Scream 6's love of nostalgia will recreate some of these iconic deaths.
This shrine is a treasure trove of outfits and props that belong to killers and their victims. To the very left is the stage prop Derek (Jerry O'Connell) was tied to in Scream 2 while you'll also spot the white trench coat worn by killer Debbie Loomis (Laurie Metcalf). There's the blood-soaked t-shirt worn by Billy when he faked his murder in Scream, the letterman jacket of Casey's boyfriend, and Jill's plaid shirt. Looking at more obscure Easter eggs, we've spotted a clapperboard from the fictional Stab film series, as well as what looks like the TV that Sidney famously dropped on Stu.
Scream's big twist kickstarted the franchise's trope of multiple killers when Billy and Stu were revealed to be in cahoots. A de-aged version of Ulrich appeared in last year's fifth Scream film, with a shocking family connection confirming Sam is his illegitimate daughter. We don't know how someone has acquired the outfits of murder victims, but this Aladdin's cave of Ghostface memorabilia shows this killer/killers have been brushing up on their Woodsboro history. We've already covered the wild theory that Stu could be revealed as the big bad, while a brief shot of some graffiti further leans into the idea of a Ghostface cult. Whatever is going on, prepare your best Gale Weathers snooping skills and rewatch the Scream 6 trailer to see what else you can spot.