News
Saint Maud To Get Nationwide Theatrical Release on July 17
Saint Maud, the first horror movie to hit theaters since the pandemic, promises mayhem and martyrdom.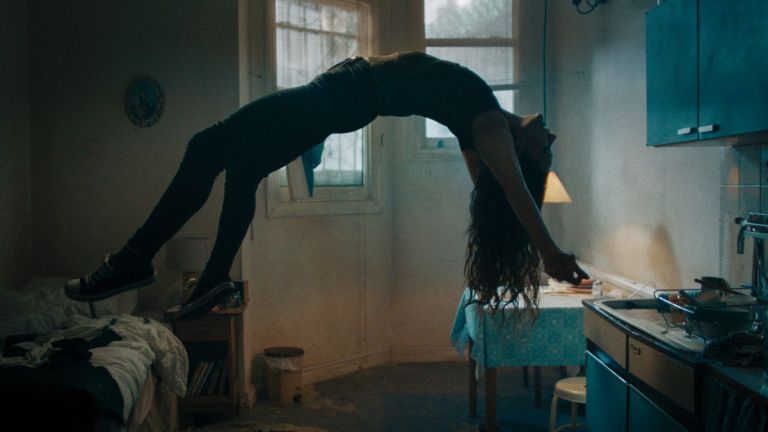 All hail Saint Maud as we prepare to rejoice in her ascension. A24's psycho-evangelical thriller will be the first horror movie shown in theaters since COVID-19 Stephen-King-novelized us all. And if that's not scary enough, it's being compared to Hereditary and The Witch as the next great modern horror film. The film will open nationwide on July 17.
Saint Maud is a "chilling and boldly original vision of faith, madness, and salvation in a fallen world," according to its official website. "Maud, a newly devout hospice nurse, becomes obsessed with saving her dying patient's soul — but sinister forces, and her own sinful past, threaten to put an end to her holy calling." This is the first feature from writer/director Rose Glass, who brings a vibe similar to the claustrophobic horror classics Rosemary's Baby (1968) and Repulsion (1965).
The film stars Morfydd Clark (The Personal History of David Copperfield, Love & Friendship) in the title role, a private estate nurse named Maud who hears the voice of God. Jennifer Ehle (Zero Dark Thirty, The Miseducation of Cameron Post), who won a Tony and a BAFTA, plays Maud's latest patient, a dance enthusiast named Amanda Kohl. Saint Maud also stars Lily Knight, Lily Frazer, Turlough Convery, Rosie Sansom, Marcus Hufton, Carl Prekopp, and Noa Bodner.
The trailers have been incendiary and painful, as Maud, who left her last job because "that's what God wanted" explores extreme physical therapy. She also levitates, makes mini-whirlpools form in drink glasses and burns herself in effigy.
You can watch the trailer here:
"Dear God, it takes nothing special to mop up after the decrepit and drying," Maud says in the latest trailer. "But to save a soul, that's something." The newly converted and very devout nurse finds a mind which is shrouded in darkness and turns on the lights. God has never been so scary as when she assures her patient, "He's everywhere."
And here is an additional trailer:
Saint Maud made its world premiere on Sept. 8, 2019 at the Toronto International Film Festival. It was originally set to hit theaters on April 10 but theater closures held it back. It is described as genuinely chilling, and mesmerizing, and Clark's fanatically religious performance is being called hypnotic. But will audiences risk their health for the sake of a sinful saint? God only knows, although A24 thinks this may be the answer to many prayers.
Saint Maud will grace theaters on July 17.