Features
Sabrina The Teenage Witch: Looking Back at the 90s TV Show
With The Chilling Adventures Of Sabrina reboot on its way this October, we take a look back at the 90s Melissa Joan Hart show...
This article comes from Den of Geek UK.
Among the many, many 1990s reboots coming your way over the next few years (Buffy The Vampire Slayer! Frasier! The Simpsons is actually still going by the way!), Netflix is developing a new, recast, and rebooted series focusing on Sabrina The Teenage Witch. Originally created by Archie Comics in the 1960s, there have been four animated series and several made-for-TV movies about Sabrina, but the character is best known from the sitcom that aired between 1996 and 2003, starring Melissa Joan Hart.
Netflix's new show, The Chilling Adventures Of Sabrina, will be a completely different series with a very different tone to the light-hearted animations, 1960s comic strips, TV movies, and the sitcom. It's based on a new horror comic strip that has been running under the same title since 2014, and has relocated Sabrina from the fictional town of Westbridge, Massachusetts to 'Greendale' (Community fans – begin speculation on how much of Community this could explain!). A companion series to similarly Archie Comics-inspired Riverdale, this show will be 'darker' and 'more macabre' according to showrunner Roberto Aguirre-Sacasa. This tone is reflected in the spooky teasers, and a quick, but potentially spoilery, glance at the Wikipedia page for the comic indicates just how dark it could get (there's a lot more Satan involved than we remember from the sitcom, and a storyline or two that might be more expected on Game Of Thrones).
This is as different a show as we could imagine from its fondly remembered 1990s predecessor. Sabrina The Teenage Witch aired on channel ABC for its first four years, in a primetime slot as part of a line-up called TGIF ('Thank God It's Friday'). It was aimed at a broad family audience, including both adults and children. For its last three years, the show transferred to the WB channel, which at the time was focusing heavily on witty teen dramas including Buffy The Vampire Slayer and Dawson's Creek. However, the tone and content of the show was nowhere near the maturity level of those series.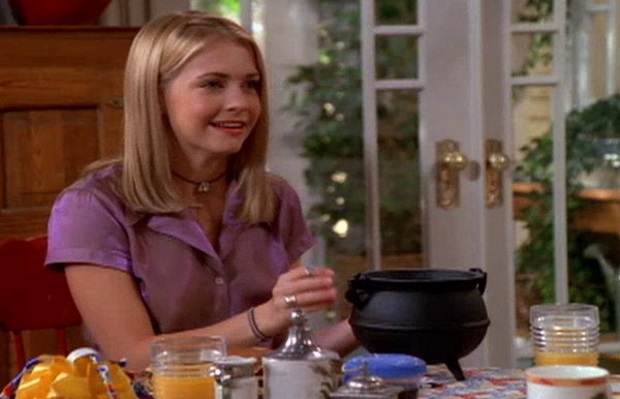 Looking back, there was some content in the Sabrina sitcom that, if not quite dark or mature, was certainly weird and somewhat horrifying. The Witches Council appears to be a highly repressive and prejudiced (racist? speciesist? Mugglist?) regime, controlling every aspect of witches' lives whether they live in the magical Other Realm or in the mortal world. Sabrina's mortal mother, for example, cannot lay eyes on her daughter without turning into a ball of wax, a possibility horrifyingly actually rendered in season six episode The Whole Ball Of Wax.
The Witches' Council's draconian rules were just the start. Celebrities were regularly snatched from whatever they were doing for bizarre experiences they had to assume were dreams. Sabrina's mortal boyfriend Harvey walks away for a long time after finally discovering the truth and realizing just how often she'd manipulated him, mind and body, for years. And the loveable family cat, Salem, could talk because he was actually a warlock who was serving 100 years as a cat as punishment for trying to take over the world in what appears to have been a major military operation, in which Sabrina's aunt Hilda was also involved. In the sitcom, however, none of these things were ever taken terribly seriously. There were occasional moments of pathos, particularly in Sabrina and Harvey's relationship, but the tone remained resolutely light no matter what horrors might be imagined to lurk behind the story.
The show's move to the WB came with a change in the setting. Like so many high-school-set shows, pretending that all the actors were under 18 was becoming unsustainable and the setting switched to follow Sabrina to college. However, the tone remained largely the same. While Sabrina now had college experiences like room-mates and balancing work and social life to contend with, it was still light and fluffy enough to be on Nickelodeon. In the final season, Sabrina left college and her aunts were no longer regular characters, but darkness or even great emotional depth was still a long way from the series' aims.
All this may sound critical, but that's not the intention. The show was light and fluffy because it was supposed to be. If you look for a carefully thought out system in the rules of magic on this series, or any kind of sense to the Other Realm's laws, you'll be disappointed. Sabrina was an indulgent half hour of light wish fulfilment, as the title character tried to solve all her problems with magic and inevitably failed horribly. Clearly inspired by the 1960s TV show Bewitched as well as the comics, it offered a joyous way to think through exactly how life might or might not be easier with a bit of extra sparkle to it. This light tone also allowed the show to do some horror-flavoured storylines without being excessively gory or scary to the point children couldn't watch. Season three's Good Will Haunting, for example, had Sabrina and her friends terrorised by the Molly Dolly, a doll that was both genuinely creepy and unsettling, while also being funny and appropriate viewing for children, a trick that can be hard to pull off.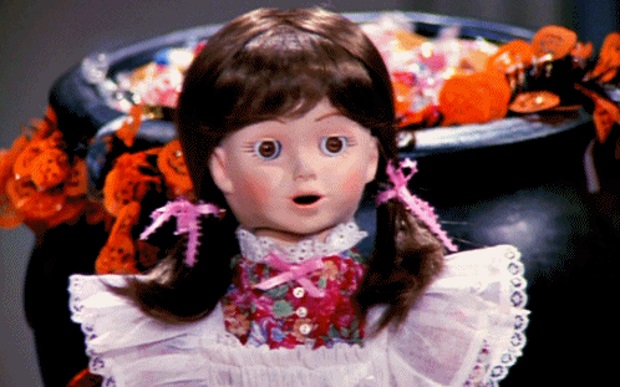 There are so many reasons to enjoy Sabrina in this form. The show was genuinely funny – all the cast including Hart have the skill of broad sitcom comic timing down pat. Beth Broderick and Caroline Rhea brought warmth and endless patience to Sabrina's aunts Zelda and Hilda. While friends and love interests came and went, all put in fondly remembered performances, especially Nate Richert as primary love interest Harvey Kinkle. Best of all was certainly Nick Bakay as the voice of Salem the world conqueror turned (animatronic) cat, the only other regular to appear in every episode of all seven seasons alongside Hart. Salem's dry sarcasm and no nonsense attitude were the perfect foil to Sabrina's earnest, youthful optimism.
The show featured numerous appearances from other well known faces, especially musicians, who seem to have been lining up to say a few lines and to strut their stuff – and so, Britney Spears gives Sabrina some advice while arguing over dance moves, Sabrina uses magic ID to sneak into an N*Sync concert, and Avril Lavigne just randomly turns up at a gig. An incomplete list of musical guest stars on Sabrina would include Coolio, the Backstreet Boys, SisQó, Paula Abdul, Ashanti, Hanson, Daniel Bedingfield, the Violent Femmes, and 10,000 Maniacs, while Usher turned up as the Love Doctor in season six's I Think I Love You.
Our favorite musical guest appearance, though, appeared in season 2's Dante's Inferno, in which Aunt Hilda suffers from a magical illness that makes everything she says come literally true. When she says there's a monkey on her shoulder, Davy Jones suddenly appears, wrapped around her shoulder, and is forced to hang out for the rest of the episode (singing and playing the guitar, naturally). Celebrity appearances were by no means limited to musicians either – Andy Roddick, Jerry Springer, and Sally Jessy Raphael played themselves, while Dick van Dyke and Raquel Welch guest-starred, and the head of the Witches' Council was played by real life magician Penn Jilette.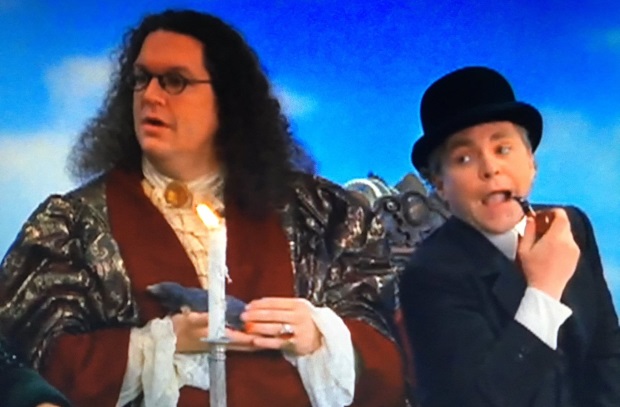 Some of the now famous faces who appeared in Sabrina were less well known at the time. Donald Faison played an early love interest, Bryan Cranston appeared in the days before he was quite as well known as he is now, while other small parts were played by RuPaul, Simon Helberg, and Milo Ventimiglia. Our favourite of these actors who had yet to reach their full potential was one of season one's regular cast; Sabrina's hapless science teacher Mr Pool was played by none other than future Bridesmaids and Ghostbusters director Paul Feig. He was dropped from the show after that first season, at which point he went off to make Freaks And Geeks.
As with so many great shows, though, what really appealed about Sabrina was its heart. The show had such good will towards all its characters (cheerleader Libby aside) and they cared so much about each other, these were people you wanted to spend time with. Nearly everyone in Sabrina is, deep down, a good person just trying to do their best, and even Libby was humanised at times. There's a lot of dark television full of unpleasant characters around at the moment, like big hitters The Handmaid's Tale or Game Of Thrones. That can make for awesome television, but let's hope the makers of the new Sabrina series remember, however 'dark' they want their show to be, that television about good people who care about each other can be great television as well.
Read the latest Den of Geek Special Edition Magazine Here!