Features
Robert Zemeckis and the Split Filming of Cast Away
How director Robert Zemeckis filmed the two parts of Cast Away - starring Tom Hanks - with a year gap in the middle...
Cast Away was the film that belatedly convinced me that Tom Hanks really is a very special actor. Yeah, I know. I don't know what took me so long either. But as I sat watching the film, I marvelled at how one person on screen for pretty much the entire running time of the film could be so compelling. Aside from the top and tail of the film, Hanks – and a volleyball – is the only character on screen.
What's also remarkable, and a story that doesn't deserve to be lost to film history, is the story of the film's split production. The sheer logistical effort involved, and the brain of director Robert Zemeckis, resulted in something really quite special.
In theory, the setup was simple. A man gets marooned on a desert island. He survives, adapts, and then tries to escape. It's not the freshest story ever told, and given that most of the movie takes place on one location, logistically it sounded quite straightforward.
But that didn't take into account the passage of time. The story of Cast Away, from Hanks' Chuck Noland finding himself stranded, through to the end of the film, covers four years. Rather than adopt technical wizardry to get this across, Hanks opted to do things the old fashioned way: to gain a lot of weight, and lose it again. Not without consequence, either. Hanks now has Type 2 Diabetes, and has said he'd never do something as dramatic to his body for a role again.
Yet back in the later 1990s, he was in a position to do so. As such, as pre-production ramped up, he began gaining weight.
Hanks, it should be noted, was the original driving force behind Cast Away. He had worked on a draft with Bill Broyles, and a year after they'd completed Forrest Gump together, he sent it to Zemeckis. It took years before the script would join up into something they'd all want to make.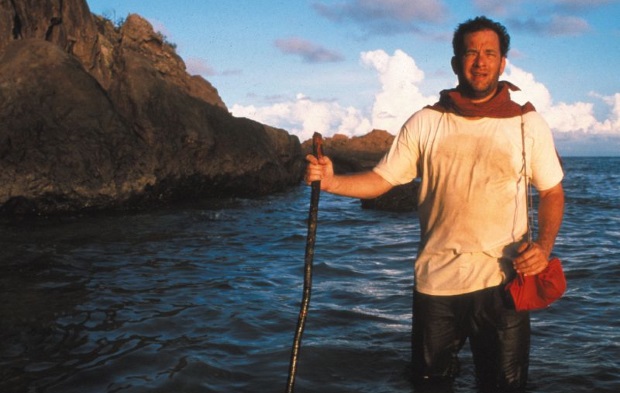 In all, he gained around 50 pounds to play the version of Chuck that we see at the start of the movie. Zemeckis and his crew duly started production, and the first part of Cast Away was shot. That took Chuck from the crash to the first part of his adventure stranded on the island. The film then jumps so we see the character many years later. But that footage? It was filmed a year after the first part of the movie.
That gap allowed two things. Firstly, it allowed Hanks to lose the weight, and to grow the raggedy beard his character is ultimately seen with. It also let him get a good suntan. For the crew, though, they didn't hang around and watch. Instead, they set off to make an entirely different movie inbetween. Recently, Steven Spielberg shot and released The Post while Ready Player One was in post-production. But what Zemeckis did with Cast Away was arguably more audacious and ground breaking. And it was his own suggestion, too.
For in the intervening year, while Hanks changed his body dramatically, he went off and made What Lies Beneath, starring Harrison Ford and Michelle Pfeiffer. Hanks would occasionally pop by the What Lies Beneath set, so that everyone there – who knew what was happening – could check in on him. The whole dual projects at the same time was also possible thanks to a deal between 20th Century Fox and DreamWorks, that allowed both films to schedule in a way that got them both made, and ultimately released in the same year.
Thus, with What Lies Beneath all but edited – and Zemeckis had form of shooting films back to back with the Back To The Future sequels, but never making an entirely different live action movie in between the production of a film – the Cast Away crew would reassemble. A year after the previous footage had been shot, the production ramped back up, and the back end of the movie was filmed. The intervening year had seen them cautious and nervous about the gamble of doing the film like this. Not without good reason.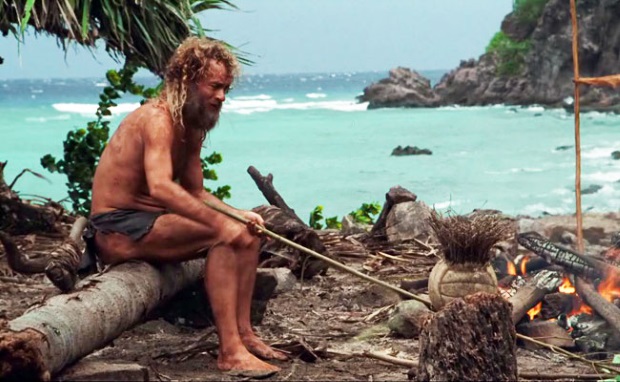 For it should be remembered that they were two very different films this time, too. Zemeckis was open about the fact that What Lies Beneath was a movie about style, positing what would Alfred Hitchcock had done had he had computer effects at his disposal. Zemeckis sought to make that film. Cast Away was a very different beast, and Zemeckis had to seamlessly slip from one film, to the next, then back again.
Both films, ultimately, proved to be notable successes too. Both scored strong box office, and solid- to middling-reviews. For Hanks in particular, his performance won him another round of (deserved) rave reviews, and more awards attention. But what's particularly astounding is just how good that performance of his is, and how well around him the film holds together. Sure, it's a bit too long, but I was long past the point of minding cutting it some slack. And yeah, the FedEx stuff is a bit heavy (no wonder they didn't mind lending their name to the movie). Yet it's a staggering achievement, and the kind of audacious approach to making films that's in part defined Robert Zemeckis' career in the first place. Even if the volleyball took a good chunk of the glory…