News
Rebecca Netflix Remake Release Date Revealed with First Photos
Netflix's remake of classic drama Rebecca sets an October release date, teasing images of stars Lilly James and Armie Hammer.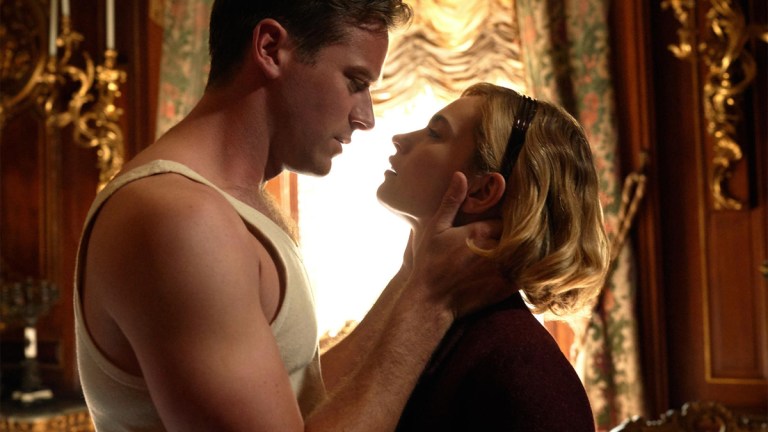 Rebecca, an important piece of psychological drama literature famously adapted by Alfred Hitchcock's 1940 film, is about to be reinvented as a Netflix feature starring Lily James and Armie Hammer.
Director Ben Wheatley updates this classic story of a young newlywed to an aristocrat, finding herself in the shadow of his recently-deceased first wife, with whom the estate's housekeeper has a dangerous obsession. Now, the new movie has a release date firmly set, and you can check out its first official images (which you can view below).
Rebecca Netflix Release Date
Rebecca is set to hit Netflix on Wednesday, October 21.
Rebecca Netflix Story
"After a whirlwind romance in Monte Carlo with handsome widower Maxim de Winter (Armie Hammer), a newly married young woman (Lily James) arrives at Manderley, her new husband's imposing family estate on a windswept English coast. Naive and inexperienced, she begins to settle into the trappings of her new life, but finds herself battling the shadow of Maxim's first wife, the elegant and urbane Rebecca, whose haunting legacy is kept alive by Manderley's sinister housekeeper Mrs. Danvers (Kristin Scott Thomas)."
Rebecca Netflix Details
Ben Wheatley was at the helm for Rebecca, bringing experience from films such as Brie Larson-headlined comedy Free Fire (in which Hammer co-starred), Tom Hiddelston-starring horror film High Rise, along with television runs on CBS All Access's (now canceled) Strange Angel and two 2014 episodes of Doctor Who. He is also the appointed director of the developing Tomb Raider 2, which will see star Alicia Vikander reprise her role from 2018's previous film as Lara Croft. Wheatley works on Rebecca off a screenplay by Jane Goldman, Joe Shrapnel and Anna Waterhouse that adapts the 1938 novel of the same name by Daphne du Maurier. Also onboard the film are producers Eric Fellner, Tim Bevan and Nira Park.
Stars Lily James, Armie Hammer and Kristin Scott Thomas are joined in the Rebecca cast by notable names such as Keeley Hawes, Sam Riley, Tom Goodman-Hill, Ann Dowd, Ben Crompton and Jane Lapotaire.
Being a famous property, there are, of course, several existing adaptations of Rebecca in multiple mediums, notably a 1997 TV movie starring Charles Dance and Emilia Fox and even the realm of Bollywood has covered it with 1964's Kohraa, 1969's Urangatha Sundary and most recently with 2008's Anamika. However, Hitchock's 1940 film, starring Joan Fontaine and Laurence Olivier, remains the definitive version, and even reaped Oscar success in 1941, winning "Best Picture" and "Best Cinematography" (for George Barnes) off a total of 11 nominations. Thus, Netflix, Wheatley and the film's stars are filling some mighty big shoes with this remake.
Rebcecca Netflix Photos
Following the title image, here are the rest of the official images from Netflix's Rebecca.