Features
Our pick of the best projector screens
Bag a front row seat in your front room and settle in for big-screen thrills
So you've invested in a projector to enhance your home movie marathons, box set binges and gaming sessions? Great stuff. Now you'll want to pair it with a quality projector screen. Sure, you can project images straight onto a wall but it's easy to spot imperfections on even the smoothest and whitest of backgrounds. For a super-sharp picture, it pays to splash out on an accessory that will elevate your home cinema experience.
There are two main types of projector screen to choose from – wall-mounted and roll-away. Wall-mounted screens sit in a fixed frame and are ideal if you have a dedicated cinema room (lucky you!) or are looking to replace your regular TV. If your 'cinema room' also doubles as a lounge, a playroom or an office, your best bet is a flexible roll-away screen that can be whipped out and hidden away as and when you need it. Motorised roll-away screens that can be fitted to the ceiling and unravelled at the flick of a switch are space-saving and add a cinematic quality to home movie nights.
Most projectors and projector screens have an aspect ratio of 16:9, which is pretty much the standard format for HD material. But you might want to consider a 2.35:1 widescreen cinemascope screen, which is what the majority of big releases (and Blu-rays) are shot in these days. Bear in mind that you'll need a projector with the same ratio to make this work though and investing in this kind of set up won't leave you with much change for microwave popcorn.
Here's our rundown of the best projector screens to buy for home movies and gaming
Full disclosure: If you click on some of the links in this article, we may earn revenue to support the site. Up to you!
The best cheap projector screen: Duronic Projector Screen MPS80/42
Price when reviewed: £65 | Buy from Amazon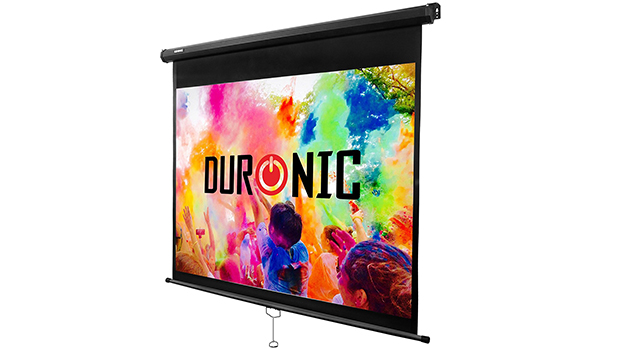 For the price, this neat roll-away screen is hard to beat. You can attach it to the wall or the ceiling and the matte white screen pulls down smoothly from its metal casing when you need to use it. It's a little fiddly to put up (you'll definitely need more than one pair of hands) but once it's in place you can enjoy sharp images from HD and 3D projectors. Go for the MPS100 (221x125cm) model if you're looking for a 16:9 aspect ratio.
The best budget projector screen: Ayaoqiang 120-inch projector screen
Price: £21 | Buy from Amazon
If you're dead set on buying a projector screen but don't have the funds necessary for one of the deluxe versions, then this is definitely a great option. The screen houses images of up to 120-inches, and it's incredibly easy to position given the hooks included and there are multiple holes around the rim so you can get it just right. It's washable, compatible with 4K, wrinkle-resistant even after folding, and you can project to either the front or the rear of the screen.
The best freestanding projector screen: Optoma DP-3084MWL 84-in
Price when reviewed: £170  | Buy from Currys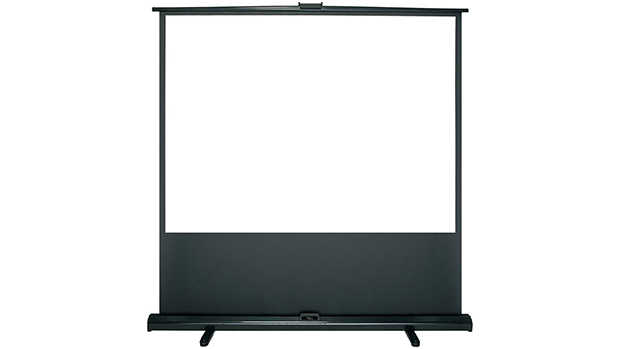 If you want to chop and change the location of your home movie nights or shy away from DIY projects that involve wall plugs and drills, this freestanding screen by Optoma could be just the ticket. It's ready to go straight from the box and pulls out smoothly from the ground up. It's compact and lightweight so it's easy to store and move around and the height-adjustable stand with its hidden support legs are surprisingly sturdy. Oh, and the image quality is great for the price.
The best fixed frame projector screen: Grandview Cyber Series 16:9 HD screen
Price when reviewed: £550 | Buy from Amazon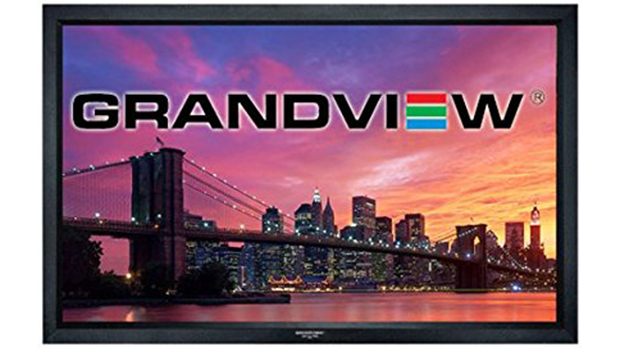 If you have a dedicated movie room, it pays to invest in a fixed frame projector screen for an authentic cinema experience. This Cyber Series model from Grandview uses the same perforated screen technology found in commercial cinema screens and is specifically designed to minimise stray light and allow for better acoustics. The aluminium frame is covered in black velvet to absorb excess light and the screen surface is kept completely flat by tensioning rods that fit around the edges of the frame to keep things evenly taut from all sides. It may be pricey but if you've splashed out on a top-notch projector, it's only fair to pair it with a quality screen.
The best motorised projector screen: Homegear HD/3D Electric Motorised Projector Screen
Price when reviewed: £96 | Buy from Amazon
To add a bit of drama to your home movie nights, consider a motorised screen that drops down from the ceiling at the flick of a switch. For less than £100, this budget buy from Homegear is a solid choice. The thick triple-layer screen is made from black PVC, crease-resistant terylene and matte white PVC to provide a rich background to keep your pictures sharp and the drop down mechanism (controlled by a remote) is really quiet. You'll need to plug it in but you can hide the wire in the ceiling void or run it along the wall to keep things neat.
The best outdoor projector screen: Airblown 123 x 77-in
Price when reviewed: £165 | Buy from Amazon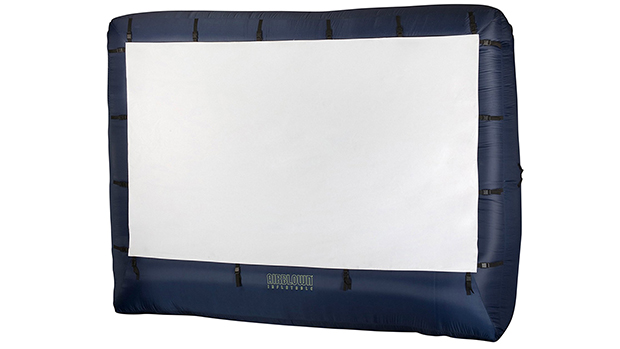 Create a pop-up cinema in your back garden with this jumbo inflatable screen and impress/annoy the neighbours with alfresco movie nights. It's really easy to set up and self inflates in just two minutes so you can whip it out when the weather's nice. A few things to note: it's fitted with a US plug so you'll need an adapter, the blowers can be a little noisy so you might need to crank up the volume a notch and you'll need to fold things down neatly to avoid creasing. It's definitely more of a novelty buy for occasional use than an investment for projector purists but it's a fun outdoor accessory nonetheless.