News
Will Nightbooks 2 Happen?
Parents, Nightbooks might not be for children of all ages, but if your family loved this Netflix horror movie, here's what we know about a potential sequel.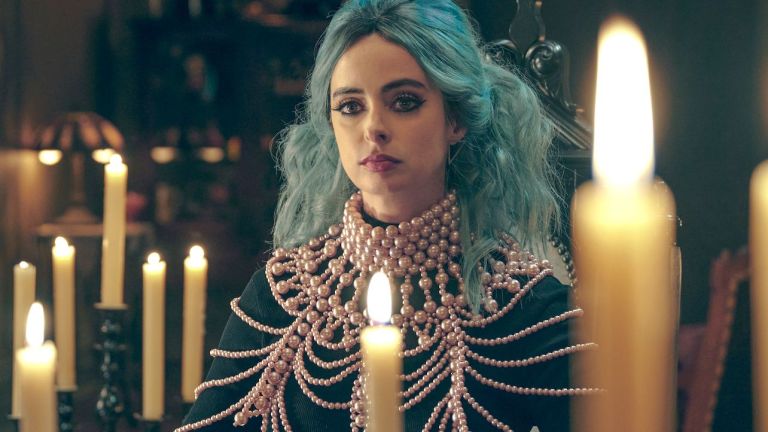 You've just watched Nightbooks with your family, and depending on how your kids reacted to this frightening children's horror movie, you've either been left wanting more or are wondering if you've traumatized your little ones for good. Indeed, the latest Netflix chiller from director David Yarovesky (Brightburn), based on the children's book by J.A. White, is genuinely scary in a way that might take you back to your days of watching Are You Afraid of the Dark? or Goosebumps as a kid.
While the movie is ostensibly about two kids stuck in a fairy tale being spun by a cruel witch (played with relish by Krysten Ritter), Nightbooks cuts much deeper than that, delivering some truly bone-chilling set pieces as protagonists Alex (Winslow Fegley) and Yazmin (Lidya Jewett) try to escape their terrifying surroundings (and a very mean cat). Tackling themes of child abuse, bullying, and identity, Nightbooks might be best for tweens about to turn the page to their teen years, although every kid is different, of course.
But if you and your kids loved this movie — and you should because it's quite good — you might be wondering if there are more Nightbooks movies in the pipeline at Netflix. While the final shot of the movie does leave the door open for another visit to Natacha's haunted apartment, the streamer has yet to officially announce that a sequel is in the works. Ultimately, that will all depend on how many people sit down to stream the movie in the next few weeks.
That said, Yarovesky is up for making a sequel.
"The author of the book, like baked into the book an allusion to more coming. Who knows?" Yarovesky told Decider. "Who knows what the future holds? But I think that there's a lot more story in this universe, and I think that this story could be the start of so much more… I love this universe. I love the characters. If I was lucky enough to be able to make more of these, I would of course happily make more of them."
So, as Alex and Yazmin learned in the movie, never lose hope.
Yarovesky also addressed the horror in the movie, describing how he and Netflix approached balancing the scares with the age group they were intended for. The director said that Netflix did a lot of market research, which revealed in part the "mental health benefits of kids seeing horror." According to Yarovesky, horror provides kids with "a way to confront your fears in a safe environment." But he also acknowledged that not all kids will be ready for the frights in Nightbooks and that he felt the movie was told in a way that children can stop watching if they get too scared and then return to it when they feel they're more ready.
"If you notice, the movie is built like a ramp. They're calling it 'gateway horror,'" Yarovesky explained. "We made this ramp and we're slowly turning the knob, making it scarier and scarier. When it gets too scary, just stop there. Stop there, go do something else, watch a comedy, chill out, come back to it in a year or six months or tomorrow when you feel strong, whatever. By the end, it's balls-to-the-wall horror, but in a totally safe way. Like you do a big horror gag, but it's candy and not anything actually violent. It's trying to recreate that experience of taking the whole family to a haunted hayride, and holding each other and covering each other's eyes and being afraid together, and making it through together."
Nightbooks is streaming on Netflix now.