News
Monty Python Founder Terry Jones Dies at 77
Monty Python creator, writer and director Terry Jones threw away punchlines to refresh comedy.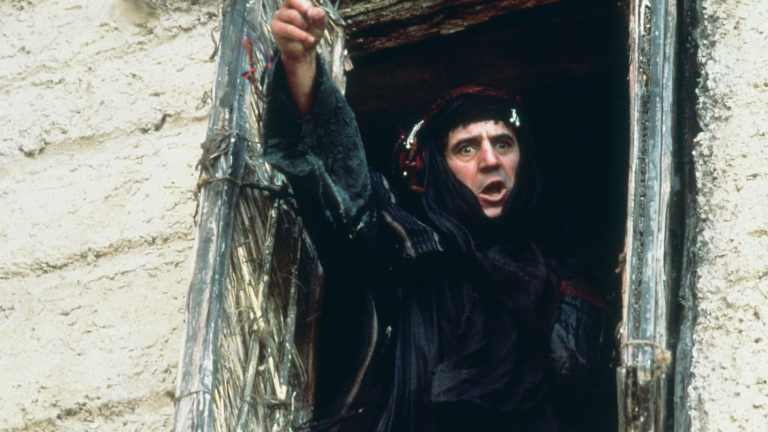 Screenwriter, director, and author Terry Jones, a founding member of Monty Python, died at the age of 77, according to Variety. He had been suffering from frontotemporal dementia, which his son Bill revealed publicly in September 2016. The disease left the comedian unable to speak.
"Over the past few days his wife, children, extended family and many close friends have been constantly with Terry as he gently slipped away at his home in North London," Jones' family said in a statement. "We have all lost a kind, funny, warm, creative and truly loving man whose uncompromising individuality, relentless intellect and extraordinary humour has given pleasure to countless millions across six decades."
Terence Graham Parry Jones was born in North Wales on Feb. 1, 1942. He met his long-term collaborator Michael Palin while studying English at Oxford University. The pair starred in The Oxford Revue, the college's comedy troupe. After graduation, they appeared in the 1967 TV sketch comedy Twice a Fortnight, along with Graeme Garden, Bill Oddie and Jonathan Lynn. In 1969, they created the series The Complete and Utter History of Britain, which presented comedy skits from history as they would have been shown if television was around. Jones also wrote for The Frost Report and other David Frost shows.
Jones and Palin met Eric Idle on the series Do Not Adjust Your Set, which they appeared on from December 1967 to May 1969. Idle had starred alongside John Cleese and Graham Chapman at Cambridge University's theatrical club the Footlights. Following the success of Do Not Adjust Your Set, Thames Television offered the players their own late-night adult comedy series. According to their official website, Monty Python's Flying Circus was formed in a Kashmir tandoori restaurant in Hampstead on May 11, 1969, after Jones, Chapman, Idle, Cleese, Palin and American animator Terry Gilliam "first sat down to discuss working together on" the series.
Inspired by British "satire boom" shows like Beyond the Fringe and Not Only… But Also, Monty Python's Flying Circus ran for five years until 1974. Jones suggested abandoning punch lines at the end of sketches. He played a cardinal in the Spanish Inquisition, a member of Hell's Grannies, an apologetic French waiter, a pianist who played naked, apart from a collar and tie, and the waitress who promised the greasy spoon she worked for only used "the finest baby frogs, dew picked and flown from Iraq, cleansed in finest quality spring water, lightly killed, and then sealed in a succulent Swiss quintuple smooth treble cream milk chocolate envelope and lovingly frosted with glucose."
Jones co-directed the troupe's first movie, 1975's Monty Python and the Holy Grail, with Gilliam, and played Sir Belvedere, the pompous knight who oversees a witch trial. He also played the left head of the three headed monster. Jones played Poacher in the troupe's 1977 film Jabberwocky.
Jones directed the 1979 religious satire Life of Brian, which was produced by George Harrison just because he wanted to see it. Jones played Brian's mother, and delivered the film's defining line "He's not the Messiah, he's a very naughty boy." Jones also directed Monty Python's The Meaning of Life (1983), and played the memorable role of the over-indulged gourmand who explodes after eating a dinner mint.  
Jones and Palin co-wrote the series Ripping Yarns which ran from January 1976 to October 1977. They also wrote the play Underwood's Finest Hour, which played at the Lyric Theatre, Hammersmith, in 1981.
Jones is the only credited screenwriter for the 1986 cult classic Labyrinth, which starred David Bowie. Jones directed the comedy Personal Services (1987), which was loosely based on the real-life story of Cynthia Payne, who was charged with running a brothel in the suburbs of London. Jones co-created the animated TV series Blazing Dragons with Gavin Scott. The series ran from 1996–1998.
Jones wrote a series of children's books between 1981 and 2002, including Fantastic Stories, The Beast with a Thousand Teeth, The Curse of the Vampire's Socks, and The Saga of Erik the Viking, which he adapted into the 1989 movie Erik the Viking, which he directed, starring Tim Robbins and Mickey Rooney.
He was nominated for an Emmy in 2004 for Terry Jones' Medieval Lives. Jones' editorials criticizing the Iraq War, which were published in British newspapers The Guardian, The Daily Telegraph and The Observer, were collected in the 2004 book Terry Jones's War on the War on Terror.
Jones played Chapman's mother in the 2012 film A Liar's Autobiography: The Untrue Story of Monty Python's Graham Chapman, which he co-directed with his son Bill. Jones reunited with the troupe on stage in 2014 for Monty Python Live (Mostly), which was staged at London's O2 arena. It was supposed to be a one-night show, but it was so popular they had to add nine extra dates.
His final directorial credit is the 2015 sci-fi comedy Absolutely Anything, which starred Simon Pegg and featured the voices of Palin, Gilliam, Cleese, Idle and Robin Williams, in his last film role.
In 1970, Jones married biochemist Alison Telfer, with whom he had two children Sally and Bill. He married Anna Söderström in 2009. The couple had a daughter, Siri.
Culture Editor Tony Sokol cut his teeth on the wire services and also wrote and produced New York City's Vampyr Theatre and the rock opera AssassiNation: We Killed JFK. Read more of his work here or find him on Twitter @tsokol.