Features
Mission: Impossible – Ghost Protocol Is Where It Became a True Team Ensemble
Mission: Impossible was always a spy series about a team, but Ghost Protocol was the movie where the ensemble fully acted like one.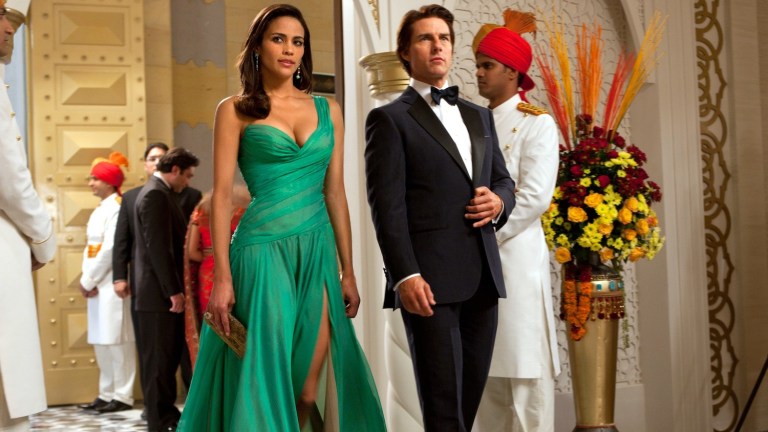 Don't worry; this message will not self-destruct. Tom Cruise is flying high following the box office haul of Top Gun: Maverick this summer. And next year, Cruise will look to unseat his now highest domestic earner with the next installment in the Mission: Impossible franchise, Mission: Impossible – Dead Reckoning Part One. While Top Gun: Maverick was a triumphant return to mega-star status, cashing in on the legacy sequel trend with a lean, effective script and dazzling practical stunts, it can be argued that Cruise's recent M:I films laid the groundwork with audiences.
It's easy to forget, but the mid-2000s were a lean period for Cruise's stardom. The actor's involvement with Scientology and subsequent bizarre media appearances led to the end of a 14-year relationship between Cruise and Paramount Pictures. Underwhelming box office performances for Cruise-led films like Lions for Lambs, Valkyrie, and Knight and Day also suggested that maybe it took more than Cruise alone to sell a picture. However, Cruise's fortunes appeared to turn in 2011 with Mission: Impossible — Ghost Protocol, the fourth film in the franchise. 
Under the impressive direction of Brad Bird, Ghost Protocol not only reminded audiences of the unique magnetism that Cruise possesses, but it revitalized the franchise by placing a new, stronger emphasis on practical action sequence spectacles while also expanding its focus beyond protagonist Ethan Hunt. Top Gun: Maverick succeeded by making the film almost a treatise on Cruise's career as a movie star, keeping the actor firmly at the center of the action. Conversely, he Mission: Impossible films really improved, and subsequently helped improve Cruise's standing with audiences, by leaning into its ensemble nature.
In the world of Mission: Impossible, Ethan Hunt never does things completely alone, but Ghost Protocol was the first time that Hunt's IMF colleagues feel like a real crew rather than passing sidekicks. Perhaps it was the influence of the massively successful Fast & Furious franchise, which similarly revitalized itself by injecting new blood in 2011 and always afterward placing an emphasis on the "family," or the burgeoning Marvel Cinematic Universe, which also discovered that team-ups led to larger box office hauls and fan interest, but Mission: Impossible tweaked its formula by spreading the action out across an ensemble.
Knowing this, it's funny to revisit 1996's Mission: Impossible, directed by Brian De Palma, which begins with Ethan working as a part of what appears to be a close-knit crew, only for that team to implode due to betrayal. In the entire film, Ving Rhames' Luther is the only IMF team member that doesn't either betray Ethan or die because of betrayal. The first Mission: Impossible movie seems to suggest that Hunt is best as a superspy wary of others and reliant on his own near-superhuman abilities.
John Woo's entry in the franchise, Mission: Impossible II, has minimal character development but maximalist action. The film is heavily invested in the love triangle between Hunt, Thandiwe Newton's master thief Nyah, and Dougray Scott's rogue IMF agent Sean Ambrose. Rhames' Luther appears again alongside John Polson's Billy Baird to help Ethan in his pursuit of the deadly Chimera virus, but their presence is fleeting and fades into the background. This is still Cruise's show; there's just more opportunity to showcase him as a romantic lead. In this way, Mission: Impossible II most closely resembles Roger Moore-era James Bond films; it's loud, silly, globe-trotting, action-packed, and the only true co-leads are the love interest and villain.
Mission: Impossible III is where the franchise flirts with the idea of featuring a more prominent ensemble. Maggie Q, Johnathan Rhys Myers, Keri Russell, and Simon Pegg all leave an impression as IMF agents that assist Hunt on his missions at the Vatican and Shanghai. However, the movie's central story about Hunt both avenging the death of Russell's Lindsey Farris and rescuing his wife Julia (Michelle Monaghan) from the hands of Phillip Seymour Hoffman's baddie is too personal. Despite the efforts to expand the IMF cast, this is Ethan's story through and through. However, credit to director J.J, Abrams for seeing how the team dynamic from the opening of the first film could be re-explored.
It is Bird's Ghost Protocol takes that ball and runs with it. Jeremy Renner's William Brandt and Paula Patton's Jane Carter are introduced into the franchise as IMF agents that can hold their own in a fight, and Simon Pegg's Benji returns as a newly minted field agent. All three have spotlights in the film, with Patton's fight against Léa Seydoux's Sabine Moreau being a memorable scene-stealer. The trio are more than just lackeys meant to assist Hunt; they are integral parts of the operation that the film treats just as seriously as Hunt.
In this film, Ethan Hunt goes from being James Bond surrounded by a cast of Felix Leiters to John "Hannibal" Smith, managing his own version of the A-Team. The following sequels would lose Patton and eventually Renner due to scheduling conflicts, but the ensemble spirit established in Ghost Protocol carried forward.
So while Top Gun: Maverick found that centering on Cruise was the way to revisit a prime piece of '80s ephemera, the Mission: Impossible franchise found more fun and fan interest by expanding beyond the purview of Ethan Hunt. It's interesting that in the teaser trailer for Dead Reckoning, we see Luther, Benji, and Rebecca Ferguson's Ilsa Faust (who is introduced in 2015's Rogue Nation), before Cruise even appears. Fans want assurance that all their IMF favorites, not just Hunt, will be back.
While Cruise is back at the top of the Hollywood totem pole, perhaps there's a squad to thank.