News
Men in Black Almost Didn't Land One of Its Big Stars
It took Steven Spielberg and a chopper to get Will Smith to star in the sci-fi classic Men in Black.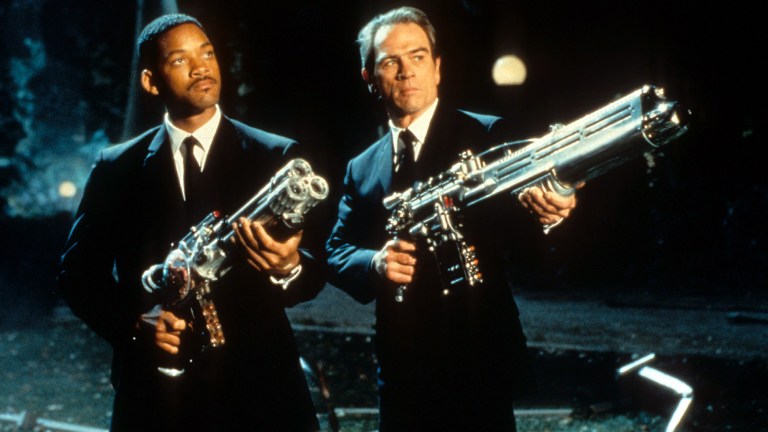 You know the difference between Will Smith and any other young star of the mid-90s? He makes alien policing look good. As new recruit Agent J, Smith brought perfect energy to bounce off of crusty veteran Agent K, played by Tommy Lee Jones. With those two in the lead, Men in Black became an instant classic, brimming with buddy chemistry as the titular agents hunt down a rogue bug alien played by a transcendent Vincent D'Onofrio.
And yet, it took one of the most powerful men in Hollywood to get Will Smith on board. The rapper-turned-actor was a known quality during the long pre-production of Men in Black, having transitioned from sitcom star of The Fresh Prince of Bel–Air to blockbuster star with the back-to-back hits of Bad Boys and Independence Day. So when he was pitched a role in a Barry Sonnenfeld-directed adaptation of a little-known comic book, Smith decided to pass.
Speaking with comedian Kevin Hart on the talk show Hart to Heart, Smith admitted his trepidation with signing on to the film stemmed from the success of Independence Day. "I kind of understood Men in Black, but … I didn't want to make two alien movies back to back," he recalled. So what did it take to get Smith on board?
"Steven Spielberg sent a helicopter for me," Smith declared. As the producer of Men in Black, Spielberg really wanted Smith for the part. So he flew Smith to his home, where he served the actor lemonade with carbonated water ("But you had to act like you had it before," Hart quipped) and asked a direct question.
"Tell me why you don't want to be in my movie…" Spielberg asked Smith, with an intentional pause after the command. "He put the ellipses at the end," Smith pointed out. "[I]f he had continued, he woulda said, 'Joker, you know I made Jaws, right? You know I made E.T?'."
Of course, Smith signed on and added another hit to his amazing '90s filmography, establishing himself as one of the era's greatest stars. But that did not make for smooth sailing for the rest of the shoot.
Writer Ed Solomon, who also co-wrote classics such as Bill and Ted's Excellent Adventure, has been very open about Jones's displeasure during filming Men in Black, stemming partially from Smith's presence in the film. In a Twitter thread from 2019, Solomon claimed that Jones felt threatened by the younger actor upstaging him and struggled with the idea of a sci-fi comedy hybrid.
Despite these difficulties behind the scenes, Smith and Jones achieved perfect chemistry on-screen. Sonnenfeld and his collaborators managed to make a film in which both leads felt they were in charge, and both get upstaged by the other at different terms, creating classic buddy comedy energy. For Jones, it took finally understanding what movie he was in. For Smith, it was a helicopter ride from one of the greatest filmmakers of all time. Whatever the method, the result was clear: they made that movie look so, so good.